Say the words "budget hotel" and you probably imagine a run-down, flea-infested shack that reeks of cigarette smoke and is full of adulterers, escaped cons, and homicidal maniacs. And, in some cases, that rep may not be totally undeserved. But for the most part, the bar for budget hotels across the country has gone up over the years; as in, some previously icky motel chains are now almost upscale. (And they don't charge for Wi-Fi or breakfast!)
We wanted to know, however, which specific location of each budget-chain hotel is its nicest, fanciest, and almost-better-than-a-more-expensive-hotel property. Essentially, the "best of" the budget hotels. So we asked reps from a bunch of brands what they consider to be their sexiest space in all the land, and these are their picks.
Palm Springs, CA
Rates from: $75/night
If you're a hotel that was once used as a backdrop in old-school Hollywood productions, you're either a "restored" luxury property charging $500 a night or you were torn down in the 1970s for condos. Or... you're the Days Inn Palm Springs, a four-acre compound formerly known as the Sands Hotel. And while it has indeed been renovated, this hotel near Downtown maintains budget- and family-friendly rates, free Wi-Fi, a gym, a hot tub, and swimming pools from Hollywood's golden age, all for under $100 a night.
Roanoke, TX
Rates from: $45.99/night
If you're the odd NASCAR fan who doesn't bring his house with him to races, there may be no finer racetrack accommodations than the Motel 6 Northlake. Located just a mile from the Texas Motor Speedway, the hotel features room designs that... wait for it... won the 2010 Travel and Leisure Design Award for Best Large Hotel. Seriously. Think mod styling, granite countertops/raised wash basins, and 32in flat screens, plus pedestal beds and fancy sheets that'll turn tawdry Motel 6 sex into luxurious hotel sex.

Deadwood, SD
Rates from: $50/night
You know how cool South Dakota is? Not only do some of its Super 8s have retractable roof pools, but others have full casinos -- like the one in the Old West mining town from the number-one best show ever on HBO. It's located right in the heart of town -- and just down the street from the bar where Wyatt Earp was shot -- and rocks an indoor pool, in-room recliners, and a sunning deck that overlooks the Deadwood Creek. And we mentioned the casino downstairs, right?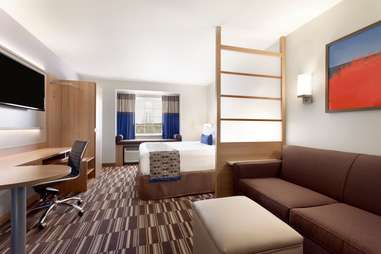 Georgetown, DE
Rates from: $75/night
The Generation Five Prototype sounds like what Arnold Schwarzenegger would play in Terminator: Attack of the Motels, but it's actually the sexy, budget-luxury design used at this Microtel. Situated about half an hour from Delaware's best beaches (and an hour from its best state park), the property's billed as the "budget hotel of the future" with larger mod rooms (that include refrigerators and microwaves) and open communal work spaces. Basically, it's like working from home, when you're on the road. Or possibly even better, since the Wi-Fi and breakfast are both free.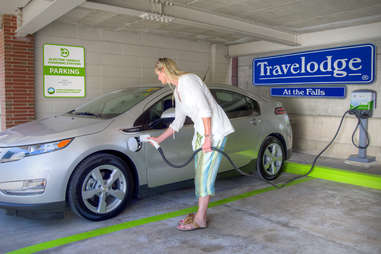 Niagara Falls, ONT
Rates from: $43 ($60 CAD)/night
If we told you you could stay a block from the most famous waterfalls in the world (close enough to hear them in your room!) for under $60 a night, you'd probably think it involved sharing bunk beds with a couple of surly French-Canadians and a suspect backpacker from Maine. But no! This Travelodge is one of only two hotels on Clifton Hill (the nightlife district of Niagara Falls) and is situated a block from the falls/right next to the Casino Niagara, just in case you want to play a little blackjack in between trips to the onsite Ruby Tuesday and soaks in your room's heart-shaped tub! And because they know nobody affords a Tesla by blowing money on fancy hotel rooms, there's also a complimentary charging station for your electric car.
Chicago, IL
Rates from: Under $100/night
No, we're not schilling for Days Inn, but the history behind both of their hotels on this list made them worthy of mention. This spot north of Downtown, near Wrigley Field, was once the Diversey Arms Hotel and home to jazz man Bix Beiderbecke. Over the years, it was a popular spot for musicians visiting town -- including Nirvana, Dave Matthews, Radiohead, and Alanis Morissette -- and although it's no longer known as the "Rock and Roll Days Inn," it still houses its fair share of bands. So don't expect a lot of peace and quiet.
Anaheim, CA
Rates from: $150/night
You might look at that rate and say, "$150 a night! What kind of 'budget' do you think I'm on, Thrillist?" But this HoJo, routinely rated one of the top 10 family hotels in America on TripAdvisor, has its own water park on property, and it's FREE TO GUESTS. Considering that a day at Disneyland (whose monorail passes right over this hotel, btw) costs more than your cable bill, spending one day here instead of inside the park more than makes up for the triple-digit room rate. Actually, add in what you'll save on parking alone by staying walking distance to Disneyland, and this hotel is almost a Disney secret unto itself.
Sign up here for our daily Thrillist email, and get your fix of the best in food/drink/fun.
Matt Meltzeris a staff writer at Thrillist who has never had a bad night at a Motel 6. Except that one. Follow him on Instagram: @meltrez1.