It's about time we retired the phrase "The Brooklyn" of anywhere, right? First, because most people in the country can't relate to New York-centric references. And second, because when it comes to gentrification and being "the next cool place," Brooklyn is pretty much over.
But what are the next cool, mildly affordable neighborhoods just waiting to be overtaken by young creatives? Sure, there are plenty of sexy 'hoods, bro-ish 'hoods, and even hipster 'hoods, but let's be honest, they're all pretty much played at this point. And more importantly, they're all too expensive for anyone without a trust fund or investment-banking job.
Which is why we decided to tap trendsetters, developers, and real-estate professionals -- folks with their fingers on the pulse of America's cities and towns -- for their predictions of the country's next hotspots; neighborhoods that are affordable now, but poised to blow up. From the South Bronx to Sioux Falls, here are the 12 they chose.
The Leah Arts District
Hialeah, FL
As once-artsy Wynwood becomes the domain of developers and the artists get priced out, Miami's creative community needs somewhere to go. And as it turns out, warehouse-ridden and comically Cuban Hialeah is now that place. Yes, the city that's been the butt of Miamians' jokes for decades is poised to be a landmark arts destination.
Not only has the addition of affordable living/work spaces drawn top Miami artists, but Hialeah continues to be South Florida's mecca for thrift stores. "Hialeah enjoyed a great moment decades ago as a cornerstone of the garment industry," said Hialeah City Councilman Paul B. Hernandez. "And the... Leah Arts District places it on the cusp of its next great moment." Add in the beautifully historic Hialeah Park racetrack and its proximity to the airport, and this neighborhood may soon return to its 1940s splendor.
North Central
Charleston, SC
Sadly, the secret charm of Charleston got out about a decade ago, and now it's following Austin as the city where every fed-up big-city dweller talks about moving. But where are those new transplants settling when they find out the "charming" historic district costs more than the city they left? North Central, of course.
"Its attainable prices, proximity to the historic district, as well as world-class restaurants and emerging tech sector make this a soon-to-be hotspot," said Owen Tyler, managing broker for The Cassina Group. Much like the Mississippi Ave neighborhood in Portland, this area is becoming a bastion of single-family homes/creative commercial space, and already boasts the award-winning Edmund's Oast, Revelry Brewing Co., and the Charleston Wine + Food Festival.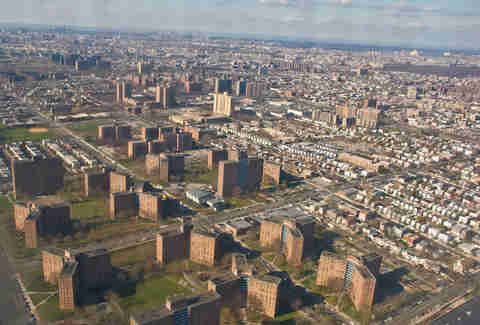 South Bronx
New York, NY
Though residents sadly rejected the slogan, "It's not just for getting mugged anymore," the borough once synonymous with violent crime is now the frontier of New York real estate; an estimated $1.2 billion was dumped into development there in 2014 and the plan calls for 8,000 new residential units, a giant ice-skating complex, and an open-air food market. As one real-estate pro told us, "You've got a direct line into Manhattan -- an express train that runs down the West Side of the island -- so it's the logical next place for people to move." As rents in Manhattan (and Brooklyn) continue to push people out, the South Bronx is poised to become the next destination for young people who move to New York from Indiana.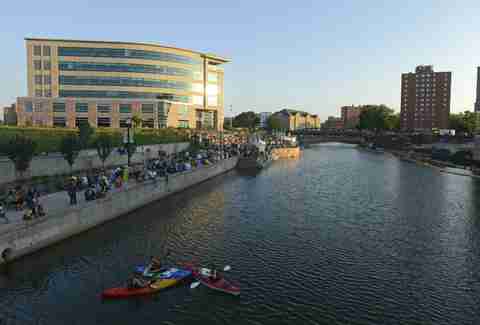 East Bank
Sioux Falls, SD
Sioux Falls is the new SF, as some have said. And with finance jobs flooding into tax-friendly South Dakota over the past few years, the once-boarded-up Downtown is now saturated with trendy restaurants, breweries, and even one of the best bakeries in America. Also, San Francisco-level rents.
But with the completion of the Big Sioux River Greenway, development along the water is poised to support the influx of newcomers. "The East Bank of Sioux Falls is gathering tremendous interest because of the renovation of industrial spaces into artful offices, lofts, boutiques, bars, and restaurants," said Steve Van Buskirk, the director of land development for his namesake company in Sioux Falls.
Additionally, the first development along the East Bank -- the Cherapa Place building -- is planning a second phase and the railroad tracks that once ran down the city's streets are being removed, paving the way for public-private mixed-use spaces and innovative new developments inside the area's old industrial buildings.
Pilsen
Chicago, IL
Equal parts iconic and relevant, there's a reason the classic Latino neighborhood and artist enclave is attracting a swarm of real-estate developers looking to sprinkle in loft apartments. It's one of the best food areas to explore in the city, with the authentic Mexican of Carnitas Uruapan, Nuevo Leon, and Don Pedro (brain tacos: pretty good) and casual yet artisanal spots like Dusek's. Also, there's a churro factory (we'll let that sink in).
Pilsen's spread of bars includes some genuinely lovable dives and the revival of Thalia Hall has been a definite boon to the area -- a perfectly sized venue where somebody like Dave Chappelle can nonchalantly do a week-long residency with post-show DJ sets.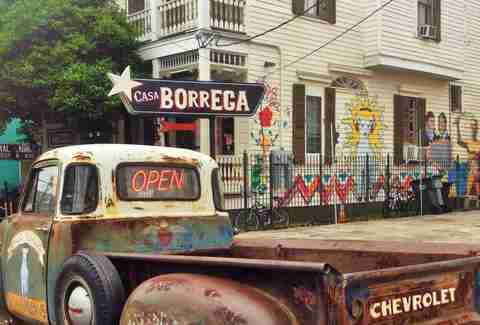 Oretha Castle Haley Blvd
New Orleans, LA
This street, which runs through the central city, has witnessed a massive influx of reinvestment over the past few years, and it's finally paying off. The boulevard's exploding with new restaurants like Casa Borrega and Purloo (located inside the Southern Food & Beverage Museum) while other businesses have been lured by the neighborhood's cheaper rents. Popular with education and environmental firms, OCHB also houses Charlie Boy, a socially conscious "modern resale" store that takes donated designed clothes, sells them to fashionable people, and donates the profits to people in need.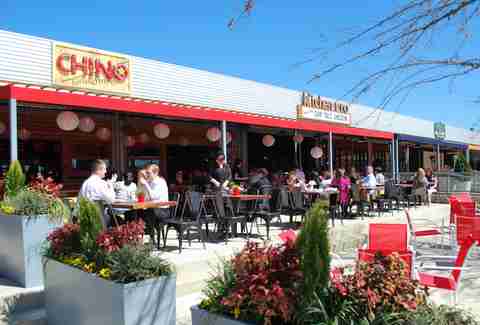 Trinity Groves
Dallas, TX
While Bishop Arts has been the Metroplex's hipster haven for years, it's become too trendy and commercial for a lot of folks. Which is why all the cool kids are moving west of the Trinity River, across Dallas' iconic Margaret Hunt Hill Bridge, to Trinity Groves. Completely undeveloped just a few years ago, the area's being touted as a "corporate incubator for creative types," with much of said incubation taking place in the culinary arts. Phil Romano (of the Macaroni Grill) had backed a Shark Tank-like program where chefs and restaurateurs bring their ideas to a group of experienced restaurant folks who then guide them along the way. The result: a neighborhood full of crazy-innovative eateries like Four Corners Brewing and Cake Bar.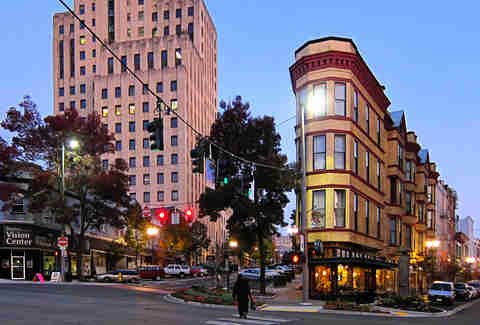 Downtown Tacoma
Tacoma, WA
Long known to its neighbors up the road as "that place that smells like a pulp mill," Tacoma is finally stepping into its own as a legitimate alternative to traffic-choked and expensive Seattle. Downtown Tacoma is filled with historic architecture and vintage theaters (it's reminiscent of a mid-1990s Portland) and the Downtown waterfront is home to multiple breweries (Pacific Brewing, Wingman, Harmon) and restaurants like Dirty Oscar's Annex, which helped put Top Chef's Aaron Grissom on the map.
With a University of Washington branch campus and plans for two new gleaming high-rise towers, Tacoma may soon be the Oakland of the North, but without the second-most-obnoxious NFL fans in the country. Especially now that it's lost its once-trademark "aroma." Oh yeah, it's also one of the best towns in America to be stationed if you're in the military.
Highland Park
Los Angeles, CA
If you (and let's be honest, your bandmates) live in Highland Park today, it's probably hard to think back to five years ago when you didn't even know that Highland Park existed. That's not to say people didn't live there -- it's been a working-class, mostly Latino 'hood for generations -- but like past gentrifications, the hipster influx has meant a hodgepodge of the old days (great food trucks!) and the new days (a terrific donut shop from the dude who produced all those Blink-182 albums you loved in high school!).
Southwest Waterfront
Washington, DC
When you think of living in the nation's capital, the words "quaint and waterfront" don't usually come to mind. Unless you live in one of those sweet Georgetown dorms overlooking the Potomac. But that's the secret those inhabiting DC's smallest quadrant have known for years, where 1960s townhouses sit along the Washington Channel next to a community of about 90 houseboats.
The Wharf, a 27-acre mixed-use project slated for first-phase completion in 2017, will change all of that. The 3.2 million-square-foot project will include a rum distillery, concert hall, and 6,000-seat concert venue, and is touted as a destination on par with Baltimore's Inner Harbor. To the delight of some residents (and the chagrin of others), it promises to transform this sleepy, far-flung section of DC into its biggest non-governmental tourist attraction.
Cesar Chavez St
Austin, TX
Gentrification in East Austin is nothing new, but it's only over the past year that the area around Cesar Chavez St has really felt the surge of investment seen in other neighborhoods. Sure, there were already fixed-gear bike shops and vegetarian restaurants, but one might point to the literal bulldozing of a longtime Mexican piñata shop in early 2015 as the neighborhood's watershed moment. After that, every plot of land became a potential site for a new something. Suddenly a previously unused intersection has three new dive bars, the city's most reputable restaurant group opened a creative Italian concept, and residents can easily walk between a wheatgrass-peddling juice shop, an upscale Gulf fishmonger, and a music store that specializes in vintage synthesizers. Rising property taxes and rents aside, gentrification has turned this once-scattered thoroughfare of older businesses into one of the most pedestrian-friendly neighborhoods in the city.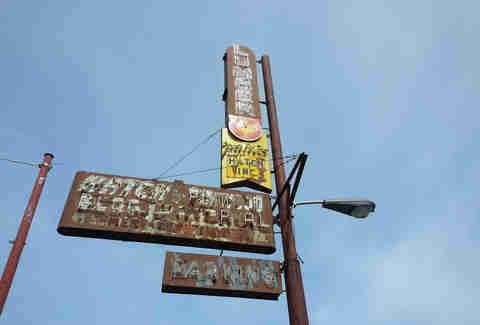 Lents
Portland, OR
Seemingly ignoring the directive of Horace Greeley (and the Pet Shop Boys!) to go west, many of Portland's young(ish) are headed east, moving away from the city's center in search of more affordable housing. And where go Portland's hip, so go the bars. The neighborhood's nightlife is thriving with spots like O'Malley's (dive), N.W.I.P.A. (beer), Zoiglhaus (taproom), and the legendary strip club Devils Point.
The food scene is equally expansive: one of the nation's best burgers (Foster's) is served next door to the legendary Viet bakery An Xuyen, there's a cart-pod plating Road Runner BBQ, dim sum at HK Café, and all things Latin American at the newly opened Portland Mercado. And while Lents is starting to lose some of its former Felony Flats street cred, it's still got its trademark roughness (what up, New Copper Penny and Gun Room). Only now, it's offset with farmers' markets. Which really, when you think about it, makes this one instance (at least for now) where the denizens of New Portland have swarmed a neighborhood while actually leaving it recognizable to the folks who have always lived there.
Sign up here for our daily Thrillist email, and get your fix of the best in food/drink/fun.
Matt Meltzer is a staff writer for Thrillist who would like to apologize for all the Tacoma and Hialeah jokes he's made over the years. Follow him on Instagram: @meltrez1.