12 Neighborhoods Across America That Are About to Get Crazy Popular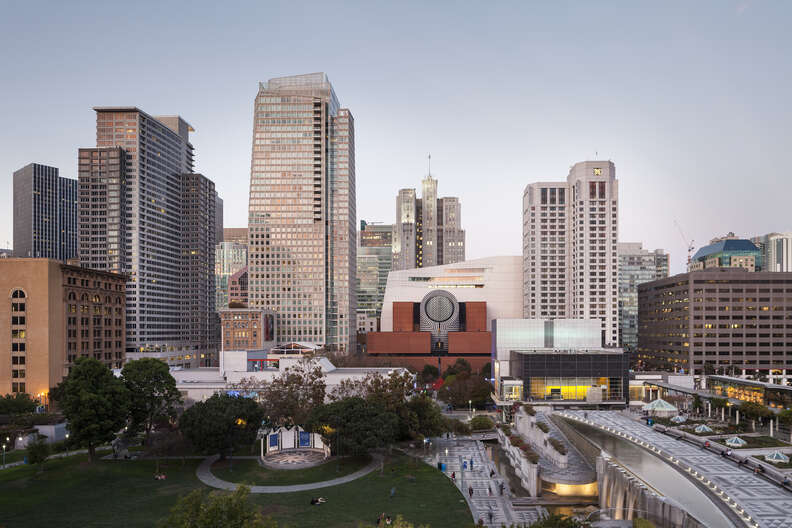 The new San Francisco Museum of Modern Art and surrounding skyline, South Beach, San Francisco

| Henrik Kam
The new San Francisco Museum of Modern Art and surrounding skyline, South Beach, San Francisco

| Henrik Kam
It's about time we stopped calling hip, up-and-coming areas "the Brooklyn of blank," right? Not just because few people outside of New York can relate, but because when it comes to the stages of gentrification and being the next cool place to live, Brooklyn has pretty much run its course. Have you tried living in Brooklyn lately? "Cheap" and "under-the-radar" it is not.
For the cash-strapped among us who are looking to make a change, there are still some actually fun small towns in this country, and some truly cheap, underappreciated cities you should consider moving to. Or maybe you're just looking for the next mildly affordable neighborhood that has something to offer young creatives -- that is, cool kids like you.
We tapped trendsetters, developers, and real-estate professionals -- folks with their fingers on the pulse of America's cities and towns -- for their predictions of the country's next hotspots. From South Beach (not the one you're thinking) to the North Shore (also not the one you're thinking), here are the neighborhoods to keep an eye on.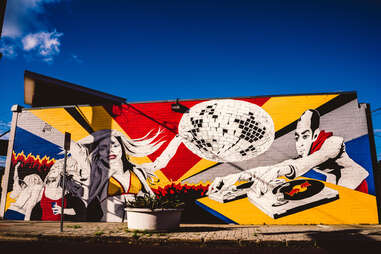 Mills 50
Orlando, Florida
In case you missed it, Orlando has developed into a living, breathing city where people have jobs that don't involve giant furry costumes. And as Orlando takes its rightful place among major US metros, the "cool" neighborhood they'll be talking about is Mills 50. Artists and savvy developers have transformed this drab stretch of Florida into a colorful, creative haven where you'll find the city's largest collection of murals. Even the storm drains and dumpsters have been turned into works of art.
Like a miniature half-priced Santa Monica, the streets are filled with yoga studios, tattoo shops, and holistic wellness centers. Oh, and with outstandingly eclectic food, thanks to an influx of immigrants from Puerto Rico, Mexico, and Asia. A short walk away is The District, a neighborhood co-op where local artisans and urban farmers peddle their wares. The best part: it's beautifully, blissfully tourist-free.
Southwest
Washington, DC
Banking big time of the Field of Dreams theory of development, the nation's capital is hoping that if they build it, people will come -- "it" being a $2.5 billion entertainment district along DC's long-overlooked southwest waterfront. Opening this October, District Wharf is easily the coolest new waterfront development in America, with bars, restaurants, condos, a distillery, a 6,000-seat music venue at The Anthem, and a sure-perty setting on the Potomac River.
DC is also taking what's already existed in this 'hood and improving upon it. The Arena Stage -- once the only reason anyone went to Southwest after sunset -- continues to be one of the top cultural destinations in the city. The Spy Museum, already a DC favorite for visitors, will be opening its expansive new digs in 2018 near L'Enfant Plaza, with the world's largest collection of espionage artifacts. In November, the massive Museum of the Bible opens with in-museum geo-locators and a massive LED ceiling, claiming to be the the most technologically advanced museum in America. And running right through the middle will be the SW 10th Street Greenway, a grand promenade running from the Smithsonian down to the Wharf's entrance.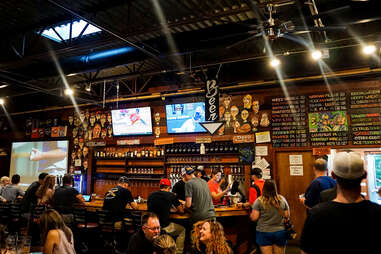 West Nashville
Nashville, Tennessee
Driving through The Nations and Bellevue (which, along with Sylvan Park, collectively make up West Nashville), you'll spot gas stations, food marts, and the occasional abandoned lot. Yeah, so it's still a little rough around the edges. But while hipsters haven't yet flocked here on fixies, the area is hitting some high notes: Craft coffee at Frothy Monkey, boutique shopping at Project 615 and The Mill, and a dive bar with surprisingly fantastic food at The Centennial. Also present: Nashville staples like Bobbie's Dairy Dip and a new Hattie B's.
The lower real estate prices are luring young families and folks from pricier metropolises like Atlanta and New Orleans, as well as a contingent of relocating musician types from southern California. With them come the harbingers of a neighborhood on the rise: boutique fitness studios, breweries like Fat Bottom and TailGate, and a sparkling new mall in Bellevue. In a few years you may well find yourself sipping cocktails in what is now a dilapidated Quik Stop.
South Beach
San Francisco, California
Poor South Beach. Not only is it constantly confused with its sultry, sexy tocayo in Miami, even people in the Bay Area seem to think this stretch of waterfront between AT&T Park and the Financial District is just another part of SoMa. But no more! The onetime industrial engine of San Francisco is forging an identity of its own, around chic restaurants like the dynamite eatery Situ, and cultural destinations like the San Francisco Museum of Modern Art. The nation's oldest and largest public forum, Commonwealth Club, opened its first permanent home in 114 years, hosting 450 speeches a year on the sparkling Embarcadero waterfront. Slot that right next to the finest baseball stadium in the land, and you have an entire weekend of entertainment within a few blocks. Which'll be even better if the Warriors even move into their new arena in nearby Mission Bay.
Nothing announces the arrival of a neighborhood like a sleek new boutique hotel, and boy did South Beach get a gem. The just-opened Hotel Via sits right across from AT&T Park and boasts the city's best new rooftop bar, with views of the skyline and the bay. For street-level drinking, 21st Amendment Brewery is here, not far from 12-time world champion pizza maker Tony Gemignani's Second Street Slice House. With a location just off the Bay Bridge and with easy ferry access to Sausalito and Marin County, South Beach might also be the most accessible jumping-off point to experience the wider Bay Area.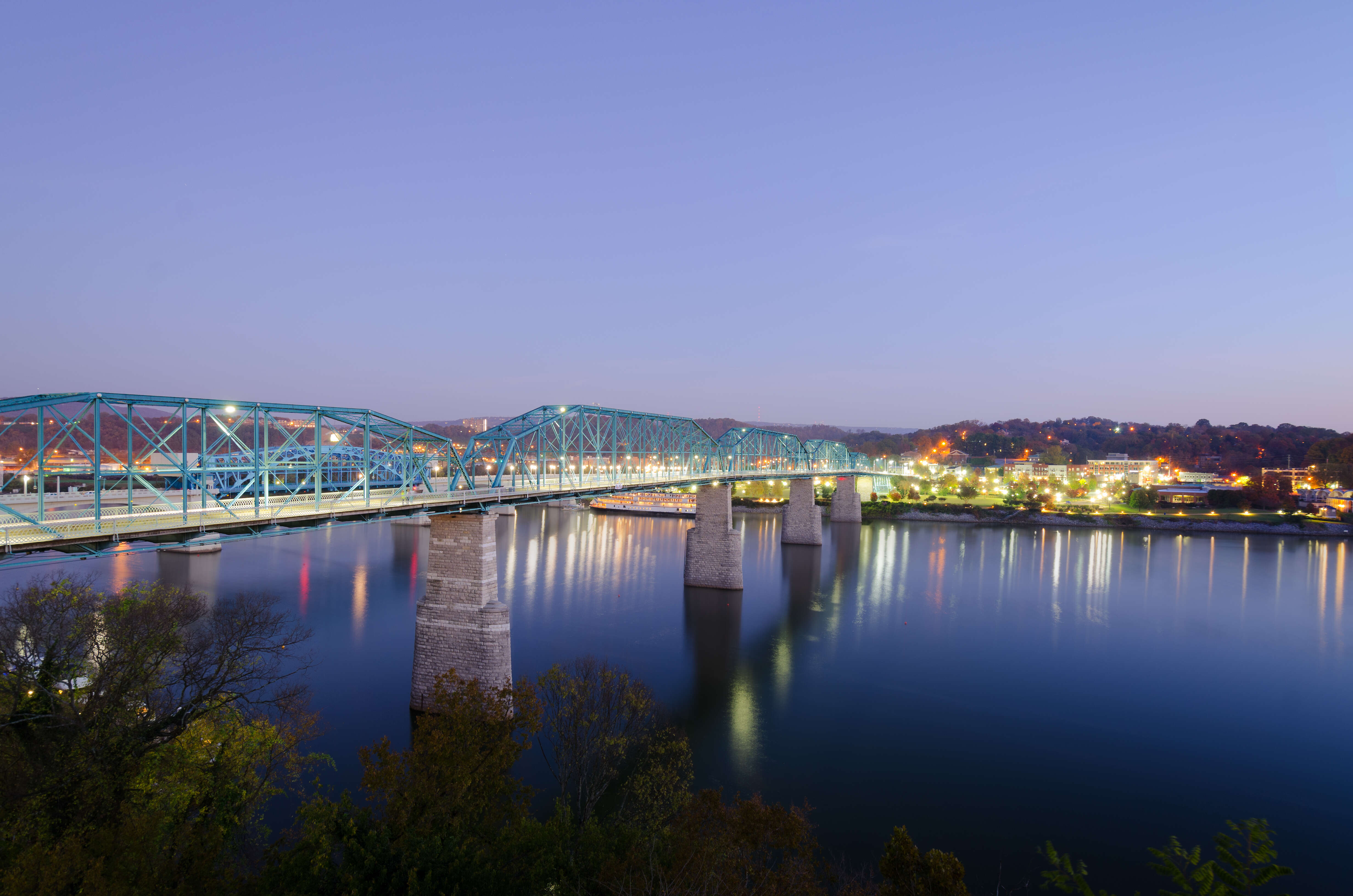 North Shore
Chattanooga, Tennessee
Chattanooga continues to attract waves of hopeful entrepreneurs, startup wiz-kids, and small business owners, thanks to the promise of a stellar work-life balance, ludicrous-speed Internet infrastructure, and robust Downtown entertainment developments like the Chattanooga Choo Choo complex. It's the state's second-fastest growing city. So where are all those people going to live?
That would be North Shore, which right now looks like it could be the Main Street of a much smaller city. It's set right up on the Tennessee River with quaint little restaurants, ice cream shops, and coffee houses. Cute, huh? Not for much longer. A free electric shuttle connects the North Shore to Downtown, making the trek back and forth a snap. And with $70 million in planned new developments over the next few years, this neighborhood is primed to compete with Downtown as the top destination in the city.
Little Haiti
Miami, Florida
Real estate prognostication in South Florida is only slightly less risky than betting on Jai-Alai, but as high-rises clog Brickell and artists have been priced out of Wynwood, this section of northeast Miami seems to be the next "it" spot. It's still a colorful diverse mix of Haitian markets, travel agencies, and little roti shops along NE 79th Street. But it won't be so quaint for long.
To the south, the Little River area has sprung up as a home for design firms, tech startups, and one of Miami's best pizza joints at Ironside Pizza. The houses along the Little River are catnip for home flippers, who one-by-one have turned this into one of Miami's hottest residential areas. Artists finding their way here, as well: Just look at the Little Haiti Cultural Center murals that are popping up throughout the neighborhood.
It's also near some of the best bars and restaurants in the city, and new establishments continue to flock here as rents elsewhere skyrocket. Beloved food truck Ms. Cheezious opened its first brick-and-mortar here, and the '80s-tastic Anderson, boasting drinks with names like the Trapper Keeper, is here too. Plus little gems like Sherwoods -- a converted house filled with arts, oddities, and fresh healthy food -- are starting to open up north of 79th and deeper into Little Haiti. But don't pin that "G" word on it just yet. Remember, this is Miami. Everything here still moves on island time.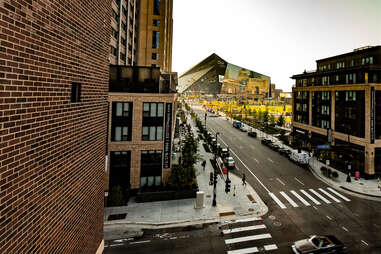 Downtown East
Minneapolis, Minnesota
"A new stadium revitalizes the neighborhood" has been the refrain of every pro sports owner in history looking for public financing. As some cities have learned the hard way, that's not always the case. Minneapolis' civic leaders wisely realized that throwing up a new stadium in the middle of a parking lot wasteland wasn't going to do much on its own. So they did some actual planning.
The result is Downtown East, the neighborhood immediately surrounding US Bank Stadium. The new home of the Minnesota Vikings sits near a 4.2-acre park called The Commons set in the center of two 17-story office buildings, 200 residential units, a Radisson hotel, and sky bridges to connect it all (since Minnesota winters can get a bit chilly). Also here is the Mill City Museum, a mid-19th century mill that's been refurbished and opened as an homage to the city's agricultural history. Downtown East sits squarely on the Mississippi Riverfront, and it'll be key in creating an exciting new slice of Minneapolis' Downtown scene.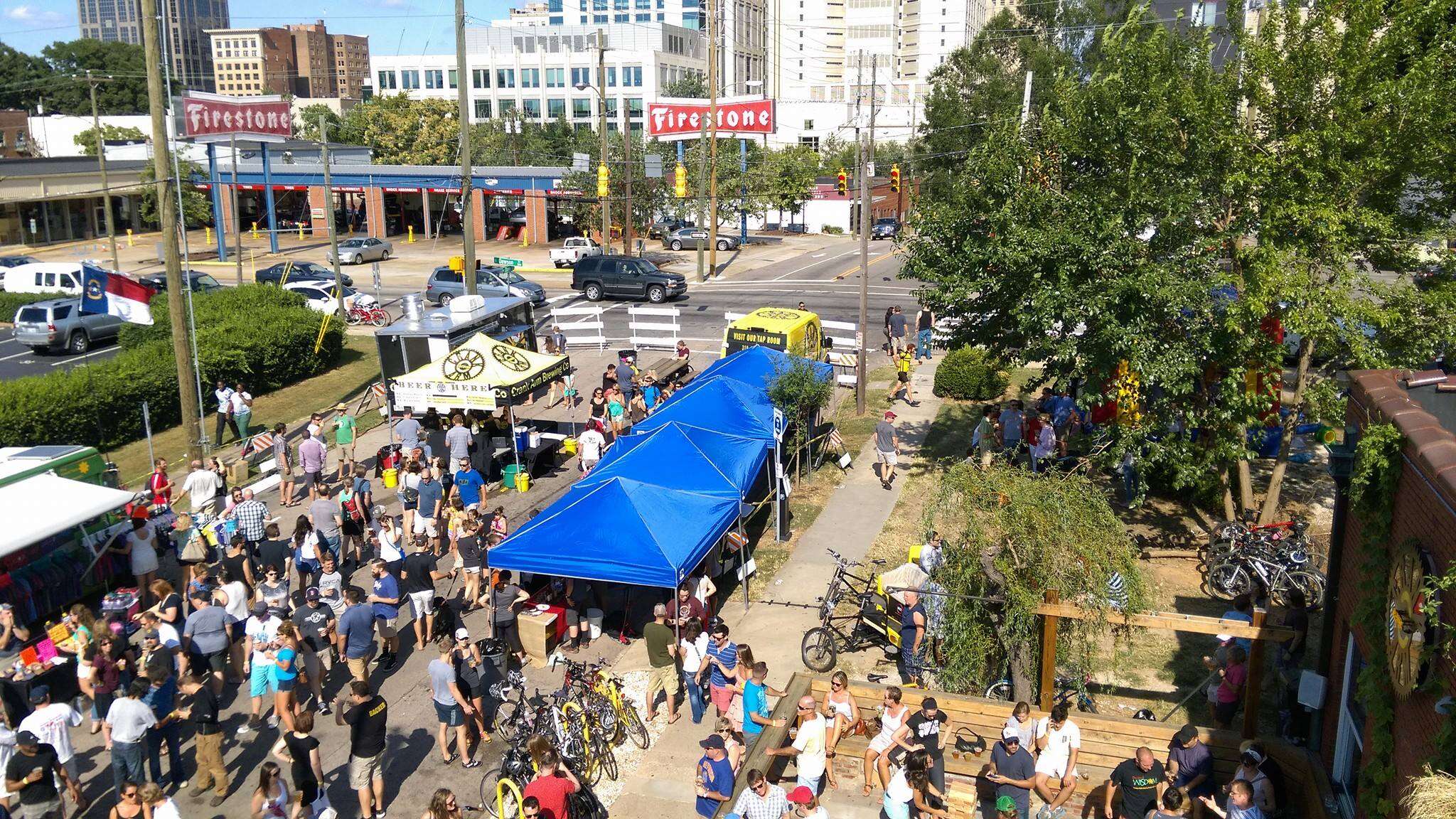 Warehouse District
Raleigh, North Carolina
The old industrial spaces in the Warehouse District near downtown Raleigh have lured tech giants like Citrix, and new businesses have sprung up in their midst, catering to employees and (hopefully) residents. For starters, there's beer at Crank Arm Brewing, Carolina barbecue at The Pit, and craft chocolate at Videri Chocolate Factory. It's also home to the new Contemporary Art Museum Raleigh, and the city's top multi-club nightlife destinations at Legends. The neighborhood's many brick facades have been restored and transformed into public art spaces to give the area a chic aesthetic, so much so USA Today called it out as one of the best art 'hoods in the nation.
Next year, the $80 million Union Station opens up, turning the warehouse district into Raleigh's transportation hub. As it becomes more accessible, look for even more creative spaces and businesses to open up, and more of the city's transplants to end up here.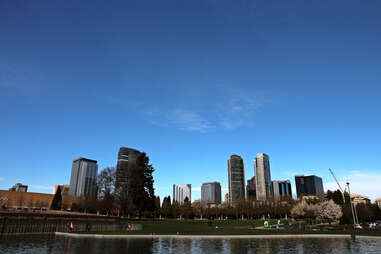 Downtown Bellevue
Bellevue, Washington
Bellevue is an interesting animal. Long the bougie, suburban wasteland where "all those rich tech people live," the skyline across Lake Washington is about to boom like the Blue Angels during Seafair. Developers have been swallowing up land in downtown Bellevue this year, led by Paul Allen's Vulcan, which spent nearly $80 million on three sites this summer. Reports are Vulcan is planning 800,000 square feet of office space in towers up to 600 feet tall. (The last time Allen bought up this much space it was in South Lake Union, now Amazon's home base.) Former Microsoft CEO and LA Clippers owner Steve Ballmer just set up his office atop the new Lincoln Square, which also includes 148 luxury residences -- effectively marking the start of a legitimate urban core in this suburb.
Add to that a spanking new W Hotel, a 225-room wooden lake house-themed palace, highlighted by two restaurants from James Wilson, a James Beard Award winner. And though a new W does not a neighborhood make, it often portends a Downtown on the rise.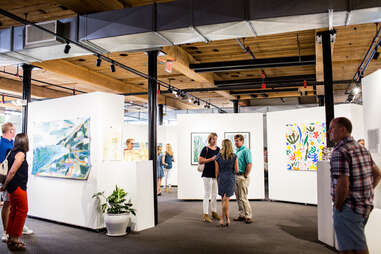 West Greenville
Greenville, South Carolina
It's easy to forget that Greenville is a city of fewer than 60,000, what with all the rooftop bars, first-rate restaurants, and whiskey distilleries that jam its downtown. But as one of America's best small cities becomes decidedly less small, the village of West Greenville is set to become its next big destination.
Thanks to a 2014 master plan designed to make the area more pedestrian-friendly, the old textile mill village and childhood home of Shoeless Joe Jackson is emerging with a heavy emphasis on the arts and independent creative businesses. The Greenville Center for the Creative Arts has led the way with gallery walks and weekly classes. And people from around the city know the Mill Village Market as the place to get farm fresh food. About a half dozen locally-owned restaurants have jumped the Reedy and opted to open up in the village, best among them The Anchorage and GB&D. Add a slew of new residential projects looming, and it might just be the most exciting new neighborhood in the region.
East 11th Street
Austin, Texas
In the hipster hive that is Austin, lightning-fast development has shrunk the window between up-and-coming and "totally ruined," especially east of I-35. East Sixth and Seventh have reached peak trendiness, but just a hop away, this slice of the east side doesn't get much action save for the folks waiting in line at Franklin Barbecue.
That's beginning to change. Last year saw the opening of the boutique Hotel Eleven, with a rooftop deck offering guests views of the skyline and capital. Across the street there's a lot filled with food trucks, ramshackle international food stands, and the kind of general funky diverse dining one comes to expect in Austin. The best bets there (for now) are Tony's Jamaican, Thai Kruefha, and Wasota with its picnic tables and Edison bulbs. Further down is the Quickie Pickie, a former convenience store-turned café and gourmet grocery with surprisingly great tacos. Or you can grab a beer in the Buffalo-themed Nickel City, a bar that actually captures the friendly insanity of its namesake city. Plus the George Washington Carver Museum and Texas State Cemetery are just a short walk away.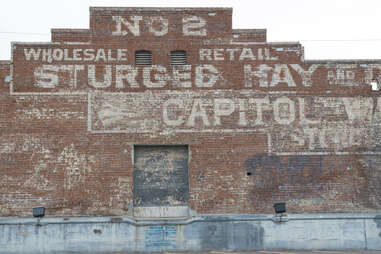 Warehouse District
Phoenix, Arizona
A warehouse in downtown Phoenix sounds like a forgotten circle of hell under the wrong conditions. With air conditioning and a convenient light rail line, however, it can seem a lot more inviting -- especially to tech startups fleeing the crippling prices of Silicon Valley. This may explain why the number of tech companies in Phoenix has grown fourfold since 2012, many of them setting up shop in this former sector of dilapidated warehouses near downtown.
With tech giants like WebPT and Galvanize have come the young, creative employees that every city covets. Plans to house them are in the works, including a three-city block project with 275 residential units and the forthcoming Studio Lofts, an all-brick structure with 31 loft spaces. A 21,000-square-foot building purchased this summer is rumored to be the area's first entertainment development. San Francisco South it's not, but for a sprawling city like Phoenix that's never had much of a hip core, it's a start.
Sign up here for our daily Thrillist email and subscribe here for our YouTube channel to get your fix of the best in food/drink/fun.

Matt Meltzer is a contributing writer to Thrillist who hopes Little Haiti cleans up all that hurricane debris soon. Follow him on Instagram @meltrez1.