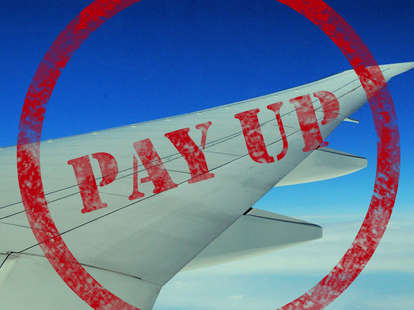 Thrillist
Thrillist
Absent new government regs, the only sure-fire way to avoid getting nickel-and-dimed by the airlines these days is to stop flying. But, since you can't ride your Schwinn everywhere, the next-best option is to at least know what extra costs are out there (and which airlines are the most egregious offenders) before you buy your ticket. To that end, here's a handy cheat sheet of the nine most ticky-tack domestic airline charges.
9. Hawaiian Airlines: $175 for a pet in the cabin
Admittedly, we'd pay good money for the hilarious Far Side image of a bespectacled Great Dane reading Sky Mall in coach, but a buck-seventy-five seems a bit steep to tote your lhasa apso onboard -- considering that's $100 more than the next closest airline (Southwest, $75).
8. Spirit Airlines: $3 bottled water
If there was a water fountain available, this'd be fine. But denying people trapped in a container for hours the lifeblood of the human species is nothing less than criminal. How is there not a law about this?
7. American Airlines: $159 for a premium seat
No doubt designed to bilk business travelers and the superstitious ("There's NO way I'm sitting in row 13! None."), American Airlines charges a hefty fee to pick your seat number. Could be worse; AirTran and Frontier charge (fees starting at $5) just to get a seat assignment.
6. United Airlines: $17.95 for in-flight WiFi
Sure, it's only $7 if you connect with your smartphone rather than a laptop, but charging $10 more than your closest competitor for a larger device (Southwest, $8) feels suspiciously like gouging.
5. Delta Airlines: Up to $35 to book by phone
Suck it, Grandpa, this is a young person's world -- and you better start playing catch-up. Seriously, if you call Delta on your rotary phone, they'll tack on between $25 and $35 to make a reservation. It's time to set up MySpace accounts for Vera and George Senior!
4. US Airways: $99 ChoiceSeats/priority boarding
Haha, I get to board the plane first and comfortably flip through US Airways Magazine for… 45 minutes... while you figure out how to get the overhead bin closed. And it only cost me a hundred bucks! Oh, wait a minute.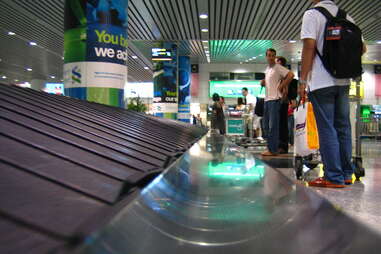 3. Allegiant Air: $50 for a checked bag
Like $3.50 per gallon gas prices, everyone's been conditioned to pay for checked bags on domestic flights -- hence the all-out wars for overhead storage space. But $50 per bag? Come on, Allegiant. It's even worse if you're transporting your pet rock collection; bags over 42lbs ring up at a ridiculous $100 a pop.
2. US Airways: Up to $450 to change your ticket
Remember the good old days when you could stay an extra night partying at Club La Vela in Panama City Beach and switch your flight for a mere $50? Hahahahaha…. $200 is the new normal for non-refundable domestic change/ cancelation fees (almost the cost of another flight), and US Airways ups the ante even further on overseas travel, to a full $450. Mercenaries.
1. Spirit Airlines: $100 per carry-on bag
Quite possibly the unfortunate wave of the future if enough complacent travelers don't start voicing their opposition, three domestic airlines now charge for your CARRY-ON bags. Spirit wins as gougiest at $40 per bag when pre-planned -- compared to Frontier ($25) and Allegiant ($10). If you don't pay ahead of time, do too much shopping at Hudson News and the gift store, and try to carry on at the gate? That'll be a cool hundred bucks cash money. Thank you, Spirit Airlines, for making capitalism feel so good.