The Official Ireland Festival Guide
<a href="http://www.facebook.com/Electricpicnic/photos/a.125265509167.101362.85480429167/10153982365729168" rel="nofollow" target="_blank">Electric Picnic/Facebook</a>
If you thought the US brought it when it comes to celebrating the world's most famous snake beater, you gotta see what they do in Ireland. And it's not just St. Patrick's day -- the Emerald Isle knows how to have a good time. We investigated how they celebrate St. Pats plus dove into an Ellis Island boat-load of equally great festivals taking place across Ireland. Sláinte (Irish for "oh hell yeah let's do this").
<a href="http://www.facebook.com/330117340343998/photos/a.357440084278390.79941.330117340343998/1071923442830047" rel="nofollow" target="_blank">Galway Food Festival/Facebook</a>
Where: Galway, Co. Galway
When: March 24th-28th
The Galway Food Festival is a celebration of Irish cuisine, but the fare served up here goes far beyond the island's borders. Galway chefs pride themselves on serving up both local and international flavors, like Wa Cafe's Galway Bay prawn nigri and Connemara miso. If you're looking to stretch your legs after driving the Wild Atlantic Way up the coast, try one of the festival's walking tours, which give you the chance to see Galway on foot while sampling locally sourced ingredients and beers and forgetting the trauma of driving on the wrong side of the road.
Don't miss: Oysters, straight from the bay.
<a href="http://www.facebook.com/DaytripperWaterford/photos/a.1051285094883738.1073741840.604332726245646/1051285251550389" rel="nofollow" target="_blank">Colin Shanahan-DigiCol Photography/Daytripper/Facebook</a>
Where: Waterford, Co. Waterford
When: July 1st-3rd
Day Tripper is one of those festivals that manages to feel local while still booking some major acts. Waterford itself is a relatively small city, but the three-day festival draws in fans from all across southeast Ireland to check out bands like The Darkness and Kaiser Chiefs. This year's lineup already features '90's superstars Leftfield and Ocean Color Scene, so it feels like a weekend of #tbt. The Sunday headliner hasn't been announced yet, but keep an eye on their website, as Day Tripper looks to finish the weekend strong with some big names... fingers crossed for Aqua!
Don't Miss: The Disconauts, who combine two house DJs with a horn section to create some insanely danceable tracks.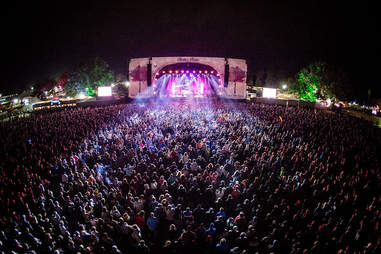 <a href="http://www.facebook.com/Electricpicnic/photos/a.10150652150294168.409259.85480429167/10152753436114168" rel="nofollow" target="_blank">Electric Picnic/Facebook</a>
Where: Stradbally Hall, Co. Laois
When: September 2nd-4th
Laois' Electric Picnic is a music festival to match any A-listed sweat-fest found in the States or the rest of Europe. This isn't a cozy local jam-festival or tiny arts show, this is a lineup for the ages: LCD Soundsystem, Lana Del Rey, The Chemical Brothers, Haim, Animal Collective, and more. Sure beats getting sunburnt at Coachella.
Don't miss: The boutique yurts, which apparently are real things that exist, for camping out while you're there.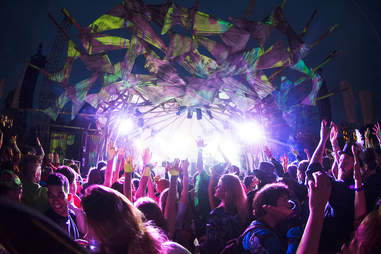 Body&Soul/Facebook
Where: Ballinlough Castle, Co. Westmeath
When: June 17th-19th
The hippie spirit is still alive and well in Ireland, and Body & Soul is one of its greatest examples. This festival pulls double-duty as both a music festival (with headliners Santigold and St. Germain) and as a new-agey arts fest. That means spoken word performances, hot tubs in the woods, and acupuncturists on-duty. Plus, it's timed to run just before the summer solstice, so you can make it back home in time for your Wiccan ceremony.
Don't miss: The cocktail bar built inside a greenhouse, with electronica DJs crushing sets.
Milan Szypura/Tourism Ireland
Where: Galway, Co. Galway
When: July 11th-24th
The organizers of the Galway Arts Festival have thrown together an impressive hodge-podge of art shows across all disciplines. 2015's festival featured intellectual talks (but with none of that "painfully genuine nerd" TED vibe) electronica dance parties, and comedy rap shows all taking place on the same day . The full lineup for 2016 hasn't been announced yet, but they're off to a good start with Elvis Costello and the Imposters.
Don't miss: Any of the festival's events held in the majestic Eyre square. Yes, squares can be majestic.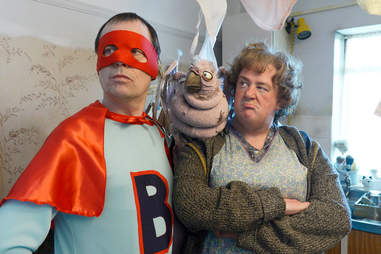 <a href="http://www.facebook.com/catlaughs/photos/a.404991303712.170383.23031163712/10153241522273713" rel="nofollow" target="_blank">© Andrea Southam for Sky Arts/Kilkenny Cat Laughs/Facebook</a>
Where: Kilkenny, Co. Kilkenny
When: June 2nd-6th
Comedy nerds will appreciate the range at Cat Laughs Comedy Festival, which brings in a swath of killer comics. From the alt-y, nerd-core James Acaster to legendary club comic Dom Irrera, you're sure to find a show to suit your style. Expect a healthy amount of dry Irish humor.
Don't miss: The "Cat Laughs Goes to the Races" event, where comedians provide commentary on horse races at the Gowran Park race track.
NITB Photographic Library
Where: Hillsborough, Co. Down
When: August 30th-September 4th
Few things feel quite as decadent as devouring heaping platters of oysters freshly pulled from the Atlantic, and there's no better place to do so than in picturesque Hillsborough, just south of Belfast. The village is fairly small, so when thousands of visitors converge for the celebration of all things mollusca, they go all-out.
Don't miss: The "Oyster Masters" golf tournament, open to the public and with all proceeds going to local charities.
<a href="http://www.flickr.com/photos/belfastcarnival/16890240946" rel="nofollow" target="_blank">Belfast Carnival/Flickr</a>
Where: Belfast, Co's Antrim and Down
When: All week surrounding St. Patrick's day
St. Paddy's day in the US... well, it's just one day. For the real experience, you're gonna need to head back to the old country. Belfast's celebrations are especially lavish -- a week of parades, food markets, and culture festivals abound, celebrating all things Irish. If you're interested in the actual history behind the holiday, you can take tours explaining the stories behind St. Patrick, which we're pretty sure seven people total in the United States probably know.
Don't miss: There are free concerts and dances pretty much everywhere, and the whole city shuts down to throw this. Basically, don't miss coming to Belfast on St. Patrick's Day.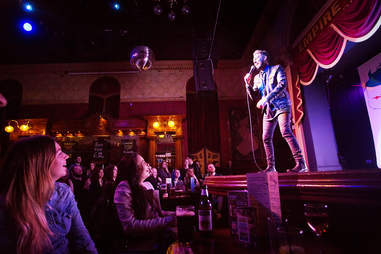 NITB Photographic Library
Where: Belfast, Co's Antrim and Down
When: TBA
Not to be outdone by Kilkenny, Belfast puts on an impressive showing with their comedy festival. 2015's lineup included over 150 comedians, including fringe acts like the truly bizarre Red Bastard, a lumpy comedy-monster in a red onesie. Shows run for almost two weeks, giving you the chance to see as many of your favorite comics as your heart desires, so stay tuned for the announcement of this year's acts.
Don't Miss: If they book Red Bastard again, see that guy. His act is equal parts performance art, standup, and pure anarchy.