The Oldest City in the World's Largest Countries
Shutterstock
Shutterstock
Anyone who's watched Jeopardy! or remembers fifth-grade history knows St. Augustine is the oldest city in the United States. Dating allllll the way back to 1565. That seems like a long time ago, right? Until you consider there are cities on the other side of the globe that date back THOUSANDS of years and that America, as great as we are, is kind of a recent development in the history of human civilization.
But what metropolises date back the furthest? We decided to do a little digging to see if we could identify the oldest continuously populated city or town in the world's 10 biggest countries (we had to start somewhere, right?). And let's just say, it wasn't easy. Some of these places have gone by a lot of different names. Some of the countries we're talking about don't exactly keep IRS-like records. And well, we're not actually historians. That said, these the oldest cities we could confirm.
Mexico (pop. 127 million)
Cholula
Founded: Between 800-200 BCE
Though you probably know it better as "that sauce they always have at the taco truck," it's the oldest established city in Mexico. And, of course, the place after which said hot sauce is named. Originally home to the Olmecs, who constructed the great pyramid of Cholula, it's also the town that gave birth to your other favorite Mexican export: Cinco de Mayo. Yep. When the French invaded in 1862, the outnumbered Mexican forces held them off here; which is actually what you're celebrating every May 5th.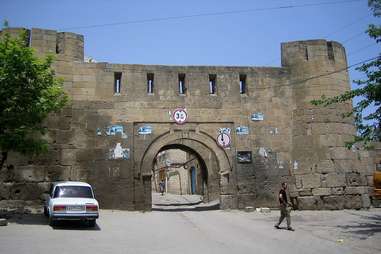 Russia (pop. 143 million)
Derbent, Dagestan
Founded: 5000 BCE
As with many of the cities on this list, the exact date of Derbent's founding is debatable. It's mentioned as far back as ancient Greece and was a major strategic outpost of the Roman Empire, as it sits on the west coast of the Caspian Sea and a short distance from the Caucasus Mountains. In fact, it was one of the few mountain passes in the region, and thus, an important city to control both for defense and trade routes; which is why the ancient part of the city lies between two massive walls that stretch from the mountains to the water, only about 400 yards away from each other. The protected city has been a key asset of the Sasanian, Persian, Arabic, Mongol, and Timurid Empires, and also houses the oldest mosque in all of Russia.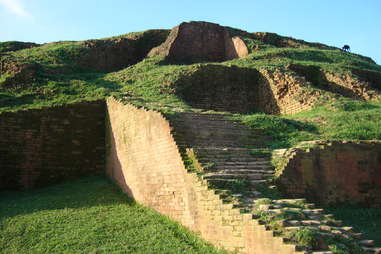 Bangladesh (pop. 161 million)
Bogra
Founded: Third century BCE
Bangladesh, with its estimated 161 million people, is the most densely populated country in the world. It's also among the poorest, and as result, the organization of cities and towns hasn't always been precisely recorded. The oldest established municipality, Rangpur, dates back to 1869. But villages have existed throughout the country for thousands of years, and the oldest known settlement is technically the ruins at Mahasthangarh, just outside of the city of Bogra. And since this archaeological site is proof of the oldest known city in Bangladesh, and since it's part of the Bogra metropolitan area, by our logic Bogra wins.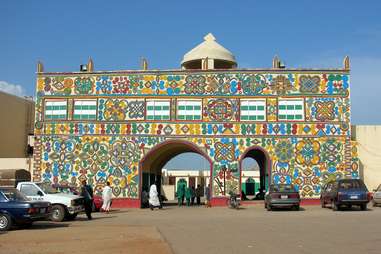 Nigeria (pop. 182 million)
Kano
Founded: Around 600 CE
A thousand years ago, Kano was a major crossroads for traders traveling from northern to sub-Saharan Africa. Today it's the oldest city in West Africa, the second largest in Nigeria, and still an important trade hub for the country. Its rich history is most evident in the city wall, a 12-mile, 30-50ft-high structure with 14 gates that's believed to have been constructed sometime in the 15th century. While the discovery of tools from the iron age indicate that there may have been prehistoric settlements here, Kano as far as we know was founded as Dala around 600 CE and crowned its first recorded king, Bagauda, in 999 CE.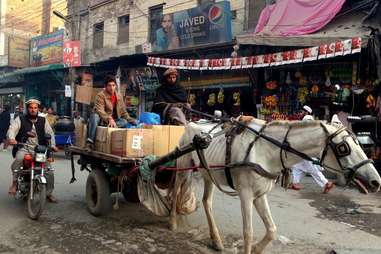 Pakistan (pop. 189 million)
Peshawar
Founded: About 539 BCE
There is debate as to whether Multan, which served as the capital of the Trigarta Kingdom and dates back nearly 2,500 years ago, or Peshawar is the oldest city in Pakistan. However, the ongoing excavation at Gor Khatri uncovered evidence a few years ago that indicates Peshawar is slightly older and was a province in the Persian-Alchamenian Empire in the sixth century BCE. (Interestingly, it's been under the control of 15 other entities before Pakistan was finally established in 1947.) According to the Archaeology Department at Mardan's Abdul Wali Khan University, Peshawar is "the oldest living city in South Asia."
Brazil (pop. 207 million)
São Vicente
Founded: 1532 CE
Though there are ancient settlements in the Upper Xingu region of Brazil that date back over 1,000 years, they have all been abandoned or destroyed at some point or another. Which leaves Brazil's oldest continually-inhabited city (and first established village) as São Vicente, a little island town near Santos. It was a major sugar producer in the 16th century but with the rise of nearby Sao Paolo (often cited as the oldest city in Brazil), it fell pretty much into irrelevancy. Today it's a small coastal community and effectively a suburb of Santos, but still carries this important historic designation.
Indonesia (pop. 257 million)
Palembang
Founded: About 682 CE
Back when Indonesia, Malaysia, and parts of Thailand were known collectively as the Srivijaya Empire, that empire's capital city sat on what is today the island of Sumatera. Now called Palembang, it was an important stop on trade routes between China and India and served as a gateway for the spread of Islam through the Malay archipelago. It was also a sort of Casablanca of its day, home to mariners and seafarers from Japan, India, China, Arab nations, and the Malay islands, which is why it's now one of the most multicultural cities in the region. This is evidenced by the local architecture, where mosques are designed in classic Chinese style.
United States of America (pop. 321 million)
St. Augustine, FL
Founded: 1565
It was the first capital of Florida, under both Spanish and British rule, and is home to the oldest masonry fort in the US at Castillo de San Marcos. The walled old city is now full of "haunted" bars, restaurants, and souvenir stores said to be frequented by the ghosts of citizens who died from influenza, imprisonment, or battle. Whether you believe in the supernatural or not, St. Augustine is still the most educational attraction in Florida; and it's proximity is a big reason why Jacksonville doesn't suck as bad as you think.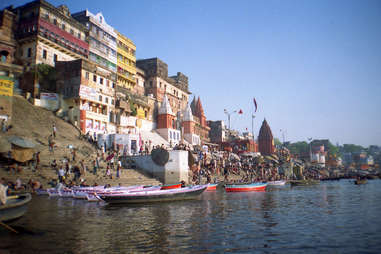 India (pop. 1.31 billion)
Varanasi
Founded: About 1000 BCE
Mark Twain once said that Varanasi was "older than history, older than tradition, older even than legend, and looks twice as old as all of them put together." Of course, a lot of quotes are attributed to Mark Twain that he never said, but whoever did make that remark only overstated it slightly. The city formerly known as Banares sits on the west bank of the Ganges River and is a Hindu holy site. They believe it was founded by Lord Shiva about 5,000 years ago (its actual founding dates closer to 1000 BCE) and is a pilgrimage destination for many in the country; as such, it's often called the "city of temples." Then again, it's also known as the "city of learning," is home to several national universities, and is well worth getting up early to tour.
China (pop. 1.37 billion)
Luoyang
Founded: About 2070 BCE
Xi'an and Beijing date back to nearly 1200 BCE, but this community has existed under several different names since the Neolithic era and is considered the oldest city in eastern Asia. A major cultural destination and UNESCO World Heritage Site, it's one of the seven great ancient capitals of China and home to the oldest Buddhist temple in the country, as well as the famous Longmen grottoes (a series of over 2000 caves with ancient inscriptions).
Sign up here for our daily Thrillist email, and get your fix of the best in food/drink/fun.
Matt Meltzer is a staff writer with Thrillist. Follow him on Instagram @meltrez1.