Sponsored By
The Perfect Time to Visit Panama City Beach for Every Type of Traveler
Sponsored By
Courtesy of Visit Panama City Beach
Every spring in Panama City Beach, Florida, a group of burly men in kilts compete to hurl a burlap sack over a bar using only pitchforks. If that sounds strange to you, you might be underestimating this waterfront city. While PCB has a well-deserved reputation for resorts and pristine beaches, the full calendar of events here is staggering, ranging from zany pirate battles to stacked music festivals -- and yes, Scottish sheaf tossing. Foodies, athletes, and families will all find something to do in Panama City Beach, so we've outlined the perfect time to visit based on what type of event you're into.
For exploring your roots
Panama City Beach Scottish Festival, March 7
Florida was a major destination for Irish and Scottish immigrants to the US, and thanks to those settlers, Panama City Beach is now home to the
Celtic Heritage Alliance
. At their yearly Scottish Festival, attendees rock kilts, show off tartans, and participate in the Highland Games, which are central to the festivities. The open-registration games feature traditional Scottish sporting events like the
caber
(basically throwing a huge log over your shoulder) and the
sheaf toss
(the previously mentioned hurling of burlap sacks). If you want to start the festivities early, partake in single malt Scotch whisky tasting on March 6.
Tickets
are $35 for the whisky tasting and just $15 for the festival if you buy in advance, so scoop them up while you can.
Don't leave without:
Trying PCB's most authentic fish & chips at
Temperley's British Eatery
.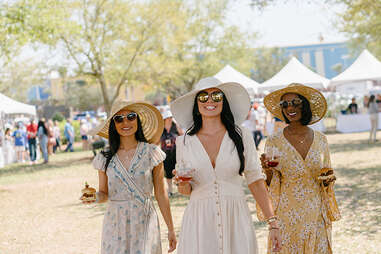 Courtesy of Visit Panama City Beach
For a weekend with the girls
UNwineD, March 20 & 21
UNwineD is PCB's festival dedicated to wine, spirits, and craft beer, which makes it the perfect excuse for a girls' weekend, especially when combined with plenty of time on the beach and live music in the park. This year's concert is headlined by Death Cab for Cutie, and is a steal at just
$20 a ticket
. The exclusive Friday night kickoff party ($175) is hosted by
Southern Living
magazine, and will feature an appearance by
Top Chef
winner Kelsey Barnard Clark, plus custom cocktails and live music. Saturday's "Grand Afternoon Tasting" ($75) is the main event, however, with endless craft beers, wine, and spirits from around the world, and food from chefs across Northwest Florida. Plus, the Art & Vendor Row will be selling crafts, cookbooks, and home decor for you to browse while sipping drinks.
Don't leave without:
Booking massages and facials at
Serenity Spa
.
For music lovers who can rock out for three days straight
Sandjam Fest, April 24-26
Sandjam is relatively new to the music festival circuit, having only started in 2018, but it's already booking solid lineups to rock out at
M.B. Miller County Pier
. The alt-rock fest returns this year with headliners Shinedown, 311, and Weezer, plus supporting acts such as Rival Sons and White Reaper. Be sure to bring sunscreen and towels, as this is one festival that truly takes place on the beach. If you're willing to throw down for VIP tickets, you'll get additional access to firepits, hammocks, and a two-story viewing platform.
Don't leave without:
Keeping the party going at local venue
Tootsie's Orchid Lounge
.
For the workout fiend
Ironman 70.3 Gulf Coast, May 9
Some people come to PCB to run on island time, other people come
just to run
. The Ironman 70.3 is sometimes called the "intro" Ironman, in that it's "only" 70.3 total miles -- a 1.2-mile swim, 56-mile bike ride, and 13.1-mile run. If you're ready for a challenge, this might be the race for you, as it weaves through St. Andrew's State Park and across beautiful beaches. For those of us more accustomed to the gym treadmill, it's still well worth the watch. The course is spectator-friendly with great views of the swim loop and finish line.
Don't leave without:
Taking in the nature trails at
Conservation Park
.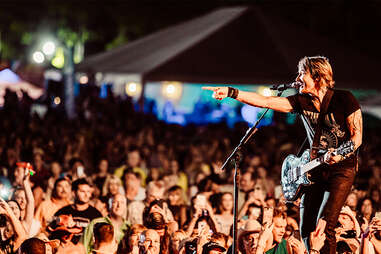 Courtesy of Visit Panama City Beach
For country fans
Pepsi Gulf Coast Jam, September 4-6
In most cities, Labor Day means the end of summer. In PCB, it means breaking out your cowboy hat and heading down to Frank Brown Park for the Pepsi Gulf Coast Jam. The festival is known for A-list headliners (last year brought Tim McGraw, Jason Aldean, and Kid Rock) but also for sponsoring the Pepsi Southern Original Contest, where up-and-coming artists compete for a spot on the lineup. Lineups haven't been released yet, so keep an eye on their
website
and be sure to
grab tickets early
-- pricing is tiered and will go up as September approaches.
Don't leave without:
Going on a pilgrimage to
Jimmy Buffet's Margaritaville
.
Courtesy of Visit Panama City Beach
For the family vacation
Pirates of the High Seas Fest, October 9-11
Legend has it that pirates used to roam the waters around PCB's St. Andrew's Bay, and you can celebrate that swashbuckling history at Pirates of the High Seas, the city's immersive (and free) family festival. The Columbus Day weekend event is packed with parades, fireworks, storytelling & music shows, and more, all pirate-themed. Don't miss the "pirate invasion" where ships dock by Russell-Fields pier and battle with the town's defenses. (Of course, a victory parade ensues afterwards.)
Don't leave without:
Taking to the high seas in search of treasure (read: dolphins) on a family
dolphin tour
.
For anyone who loves eating while wearing a bib
Schooners Lobster Festival, October 12-18
Consider the lobster. More specifically, consider eating a ton of lobsters, prepared in every way you can imagine. Schooners Lobster Fest brings divers from all across the coast to compete in crustacean catching competitions, judged by the weigh-in scales. You can also watch professional sand sculptors compete to build extravagant castles, or enter with your own design. And, of course, there will be plenty of food tents serving grilled tails, smoked lobster dip, lobster mac & cheese… if you can put lobster in it, they're cooking it. The vibe here is that of a weeklong party, with endless live music and daily raffles for cash prizes.
Don't leave without:
Trying the fried green tomatoes and gator bites at
Dusty's Oyster Bar & Eatery
.
For amateur cicerones
Panama City Beach Oktoberfest, October 16-18
PCB is stacked with plenty of stellar breweries, but there's only one time that the city's beer fans all converge in one place: Oktoberfest. Just like the one in Munich, this fest features a massive traditional tent, beer gardens, and plenty of German brats, sauerkraut, and beer-infused cheese. If you're worried about bringing the family, don't be: There are kid-friendly activities like a bounce castle, face painting, and arts & crafts (plus kids 12 and under can get in free).
Don't leave without:
Exploring the local brews at
The Craft Bar
.
For those who appreciate the open road
Emerald Coast Cruizin' Car Show, November 11-14
For anyone who daydreams about driving down to the Keys in a vintage hot rod, Emerald Coast Cruizin' is a must-see. PCB's premier car show turns Aaron Bessant Park into 17 acres of showroom, with car enthusiasts and dealers converging for live auctions, meet-and-greets, and music. After the official events are over, local bars host "cruise-ins" where owners can show off their rides in a more informal setting, and
Hammerhead Fred's
even hosts a
"Flame Throwing Contest"
for modded hot rods to show off their pyrotechnics.
Don't leave without:
Riding without limits on the go-kart track at
Hidden Lagoon
.