This Ridiculous Cruise Ship Cabin Is Bigger Than Your House
Regent Seven Seas Cruises
Going all-in on the idea of rich people taking to the high seas on boats they don't actually own, Regent's dropping $450 million on new cruise ship with a luxury suite that's bigger than most houses.
Regent Seven Seas Cruises
The extravagant two-bedroom Regent Suite aboard the Seven Seas Explorer checks in at a roomy 3,875sqft (the average American home is around 2,600sqft, btw) and includes a grand piano and a wall of windows.
Regent Seven Seas Cruises
Not to mention its own spa with both a sauna and steam room. Oh, and there's a private garden attached with more glass walls; you know, to help avoid overboard accidents like this.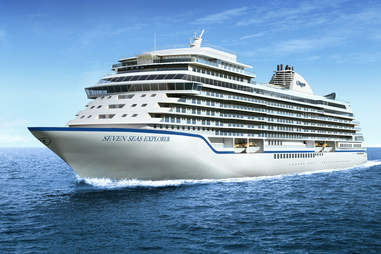 Regent Seven Seas Cruises
So, how much will all that leather, marble, and glass cost you? About $5,000 a day, to be exact. But hey, you also get access to three exclusive dining rooms and a 694-person theater.
Set to launch in July 2016, the Seven Seas Explorer will embark on an inaugural two-week cruise from Monte Carlo to Venice, before tooling around the Mediterranean. And you can book your spot starting Feb. 4, right here.

Chloe Pantazi is an editorial assistant on Thrillist's travel team. Yes, that's a British accent. No, she doesn't watch Doctor Who. Follow her on Twitter at @ChloePantazi.