If the Fast and Furious movies have taught us anything, it's that police cars are woefully outmatched by the getaway engines of today's street hoodlums. Until now, that is. Although most are strangely underused promoting road safety rather than running down perps, here are nine of the sexiest, most souped-up cop rides on the planet.
Audi R8 -- Germany
Top speed: 185mph
Part of Germany's TUNE IT! SAFE! program (intended to promote safe-yet-sick tuning among car enthusiasts), this R8 received massive modifications from the famous German auto tuning company ABT Sportsline. Consequently, it looks like the kind of uber-efficient wheels a Deutsche RoboCop would drive.
Dodge Charger Pursuit -- United States
Top speed:150mph
This bad boy set the speed record for AWD cop cars at the Michigan State Police Vehicle Evaluation Test a few months back, and would be a welcome sight on a certain American city's war-torn streets. Which city? Camden, Maine, of course. JK! What did you think we were going to say, Detroit?
FPV Ford Falcon GT-R Spec Boss 400 -- Australia
Top speed:155mph
As with most of the other cars on this list, the FPV Falcon's mainly intended to raise public awareness for road safety in New South Wales. However, on the off chance a high-speed chase were to ensue during said public awareness raising, the Falcon's 536hp would ensure a swift conclusion.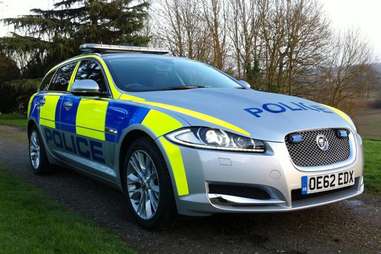 Jaguar XF Sportbrake -- Great Britain
Top speed:140mph
The West Midlands Police decided to change the traffic enforcement game entirely by setting a fully kitted-out Jag loose on motorway patrol. Good luck trying to outrun this baby in your little Renault rental.
Lamborghini Gallardo -- Italy
Top speed: 200mph
The Italian State Police must've figured a Ferrari just wouldn't have had the same bombastic splendor as this blue-and-white Lambo. This model's been specially modified for high-speed organ donation, which is both reassuring and alarming at the same time.
Lamborghini Aventador -- Dubai
Top speed:217mph
What's that, Italy? You've got a Lamborghini? Isn't that sweet. The Dubai Police have one too...
And a Mercedes Benz SL 63 (155mph)...
And a Nissan GT-R (193mph). Clearly the Dubai police are expecting a lot of high speed chases.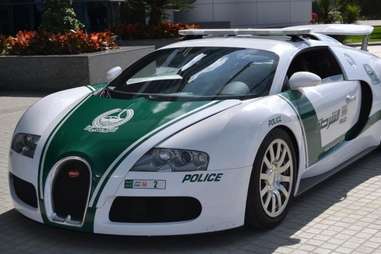 Because oh yea, they also have a Bugatti Veyron (254mph). Yes, one of the baddest, fastest road-legal cars of all time rocks the white-and-green livery of the Dubai Police. At top speed, the Veyron'll burn through its entire 26gal fuel tank in about 12 minutes; ceremonial duties aside, this thing's liable to actually cause a few accidents as it drives down the road.

Gianni Jaccoma is an editorial assistant for Thrillist Travel, and would totally love to be pulled over by any of these sweet rides. Follow him directly to jail on Twitter at @gjaccoma.