Everything You Need to Know About Partying at Ski Week
Perhaps you read about The Yacht Week -- you know, that debaucherous, seven-day flotilla set in exotic locations around the globe -- and were like, "Yeah, raging on a boat is great and all, but wouldn't it be more fun if we were SKIING!?!? I mean, it is snowing outside." Well, guess what -- you can now find out. European Travel Ventures, the folks behind the epic Yacht Week, have recently taken their insane week-long party from the sea to the slopes; here is everything you need to know about The Ski Week.
Fabian Wester
So, what is this Ski Week?
Much like the name implies, it's a weeklong ski trip where a group of international 20-and-30 somethings take over a hotel or apartment block in one of four locations around the globe (Austria, Colorado, France, Japan), and then ski and party their collective asses off. It's kind of like those weekend trips to Mammoth or Tahoe, except you don't have to make awkward small talk on the chair lifts. Because you'll already know everybody on the slopes.
How does it work? Simple, instead of spending a week researching house rentals in Breckenridge only to have your ungrateful buddies complain about how "this one doesn't have a hot tub" and "Wait a minute, there's no pool table. Eff that!" you instead book pre-blocked rooms or apartments for your crew that sleep between four and 16 people.
The only catch: much like their yacht trips, your "crew" must include an equal number of dudes and ladies, so the slopes don't turn into a big, snowy sausage fest. As organizers like to say, "we're all about equality."
Days are spent on the mountain with maybe a little heli-skiing or pond skimming thrown in for good measure, nights are spent, well, partying of course. But we'll get to that below. The price includes your lodging, lift tickets, and passes to all their events like après-ski parties and mountaintop dinners. Food and ski/snowboard gear are not included.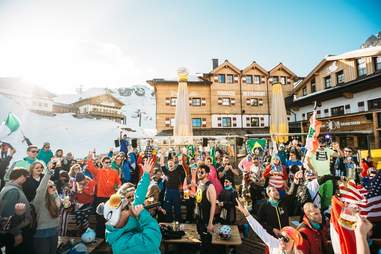 Fabian Wester
But what if I can't ski?
The Ski Week's tagline is, literally, "Not Everyone Can Ski, but Everyone Can Après Ski." So, even if you've spent your entire life in Florida, you'll still likely have the best week of your life. Maybe. We hope.
Either way, every day The Ski Week throws an "après" party for its guests. These are similar to the big day parties and club nights during Yacht Week, except people wear powder pants instead of swimsuits and ski boots instead of flip flops. The parties often include hot tubs. In Austria, there's an Oktoberfest.
 
In addition to skiing and parties, there are also group lunches, select dinners, daily yoga classes, and other activities that have absolutely nothing to do with hurling down the side of a mountain at terrifying speeds.
Then again, if you actually want to learn to ski while you're there, instructors are available. So the bottom line, you don't need to be a skier to attend Ski Week. And you might just become if you go.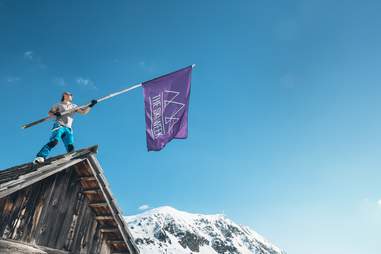 Fabian Wester
The resorts
Unlike The Yacht Week, where you sail to a bunch of different islands and are never in the same place for more than a night, Ski Week is based at one mountain the entire time. So while some trips may offer multi-hill passes to ski nearby resorts, most of the party action goes down in one area.
The hotels and apartment blocks aren't always the same, and itineraries are put together closer to the event. But much as we noted with the yacht trips, you gotta trust 'em -- they won't let you down.
Here's a brief rundown of the four Ski Weeks and what to expect on each:
 
Obertauern, Austria
March 12th-19th
The original Ski Week destination (it launched in 2014), Austria is far and away the wildest party; 400 guests from over 30 different countries descend on Obertauern. There's terrain for every level of skier and the aforementioned Oktoberfest blowout that you will not forget. Even though you probably will. If a week of skiing is too much for your quads, you can also sign up for either the first or last four days instead.
Fabian Wester
Aspen/Snowmass
April 3rd-10th
The lone Ski Week in the western hemisphere (for now) is held at Aspen/Snowmass, and every day kicks off with a MORNING après-ski party. So, really an avant-ski party? There are over 550 guests, ski-in/ski-out lodging, and exclusive lifts so you don't have to wait in super-long lift lines. Well, at least you're waiting with people from your own group.There's also mountaintop breakfast, daily yoga, and a long weekend option if you can't sign up for the full week.
 
Chamonix, France
Second/third week of January
This year's Ski Week in Chamonix already went down, but that doesn't mean you can't start planning for next year. Aimed at more serious skiers, this trip to the French Alps includes a smaller group -- only about 200 people -- and a ski pass that allows access to Vallée Blanche, the longest off-piste run in the world, nearby Verbier, and Courmayeur (Italy).
The lodging is in an upscale hotel in the middle of Chamonix, and while the parties and dinners are all up to the same stringent standards, this is the trip for folks who want to spend as much time on the mountain as possible.
 
Hakuba, Japan
January 31st-February 7th
This trip is the only one that combines hard-core powder with a glimpse into the host country's culture. It begins with a welcome dinner and a night on the town in Tokyo, before making its way the world-renowned soft powder of Hakuba. This year marks the first venture to Japan, so the 50 spots sold out quickly. That said, keep an eye on the blog to see how things go and start thinking about next year.
And finally, if all of our words don't get you fired up, perhaps this adrenaline-pumping promo trailer will.
Sign up here for our daily Thrillist email, and get your fix of the best in food/drink/fun.
Matt Meltzer is a staff writer at Thrillist who's really glad they didn't call this The Snowboard Week. Follow him on Instagram @meltrez1.