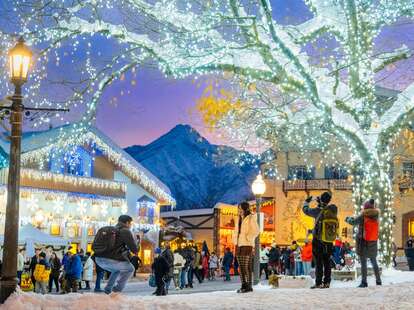 You might not be able to roadtrip to Bavaria, but Leavenworth, Washington, is a close second.

| Visit Leavenworth WA,
You might not be able to roadtrip to Bavaria, but Leavenworth, Washington, is a close second.

| Visit Leavenworth WA,
There's a reason why Hallmark holiday movies are so popular: They're set in small towns where people deck out their homes in lights, the winter festival is the highlight of the year, and carolers sing door-to-door in the tackiest holiday sweaters and Santa hats. While some of these fairytale-perfect towns may just be soundstages, you can find real-life versions all across the country—many within a short drive of bigger cities you're probably already familiar with.
Their populations may be small, but when it comes to the holidays, these places go big—like the world's tallest Santa statue big. From mountain towns resembling a mini Bavaria to Christmas villages with millions of holiday lights and festive markets, here's where you'll find tons of cheer during the most wonderful time of the year.
Solvang, California
Solvang is just a 45-minute drive from Santa Barbara, but you'll feel like you've been transported a lot farther when you arrive in this Dutch-inspired village jam-packed with bakeries. There may not be any snow, but that doesn't stop the town from throwing Julefest, a Christmas celebration that would make Saint Nick proud. Throughout December, you can visit Santa's Village, go on a candlelight tour of the town, join a parade, and use clues to find the Solvang Nisse, the town's resident mischievous sprite.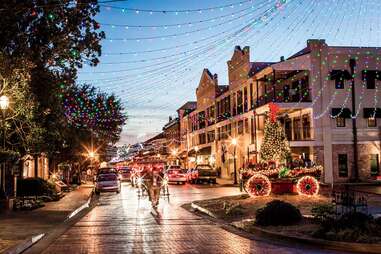 Natchitoches, Louisiana
On the banks of Cane River Lake, just over an hour south of Shreveport, Natchitoches' (pronounced Nack-a-tish) century-old, Creole-style Christmas festival runs for six straight weeks each year. Every night during the celebrations, more than 300,000 lights and 100 set pieces are turned on throughout the entire downtown area. And in true Louisiana spirit, traditional events like cookies with Santa, fireworks, and a Festival of Lights parade are paired with a packed lineup of food vendors and live music on the Riverbank Stage.
Woodstock, Vermont
Although it has no relation to the famous music festival, this Woodstock has its own claim to fame: Wassail Weekend. During this annual festival, the quiet New England town transforms into the ultimate winter wonderland with three days of events that include a parade, artisan markets, film screenings, carriage rides, special holiday performances, and the chance to experience a 19th-century Vermont Christmas at a working dairy farm.
Branson, Missouri
Branson wows every year with festivities at Silver Dollar City. The theme park puts on the annual party An Old Time Christmas, a nearly two-month-celebration featuring 6.5 million (yes, you read that right!) twinkling lights, decorated roller coasters, appearances by Santa, and Broadway-sized live shows featuring singers, dancers, a live band, and more. You can also look forward to Lights of Joy, more than 1,000 Christmas trees, and a ride aboard Branson's very own Polar Express.
Leavenworth, Washington
You can't drive to Bavaria, but you can drive just over two hours from Seattle to this small town where the architecture mirrors a traditional Bavarian village. Bottom line: This place is pretty adorable any time of year, but during the holiday season, they go all out. That means starting the day with the sound of alpine horns and, on weekends in December, ending with a lighting ceremony and caroling around a tree. When you throw in a visit to The Gingerbread Factory bakery and the Leavenworth Nutcracker Museum, the fairy-tale Christmas factor is off the charts.
McAdenville, North Carolina
This Charlotte suburb may have less than 700 residents, but its Christmas spirit is mighty. So mighty, in fact, that McAdenville is known as Christmastown, USA, thanks to the 60-year-old-plus tradition of illuminating the entire town in red, white, and green lights during the holiday season. Along with an abundance of decorated houses and more than 375 light-adorned trees, McAdenville goes for true holiday overachiever status with a lineup of events like a festive 5K run and the Yule Log Ceremony.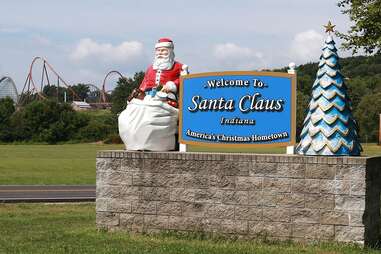 Santa Claus, Indiana
Named for the big guy himself, it's no surprise that Christmas is front and center in this town all year long. Located a little over an hour west of Louisville, Kentucky, this destination for all things holiday is home to Santa's Lodge; a Christmas store loaded with ornaments, toys, and candy, and the Santa Claus Museum & Village, where you can snap a pic with a 22-foot Santa statue. For three weekends in December, the annual Santa Claus Christmas Celebration brings the cheer to new heights with events that include a Christmas parade, a 1.2-mile Land of Lights display, actual chestnuts roasting over an actual open fire, and more.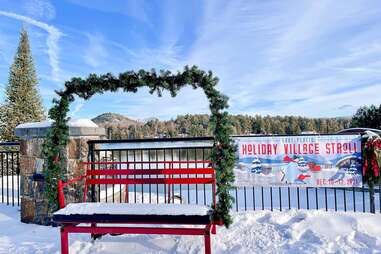 Lake Placid, New York
Even as Upstate New York's famous fall foliage fades away, you'll feel just as cozy surrounded by what follows: a number of small towns-turned-Christmas villages. The best celebration of the bunch takes place in Lake Placid. Along with enjoying the town's regular offerings—think ice skating, toboggan rides, and dog sledding, all with mountain views—hit the Holiday Village Stroll. The annual event features a scavenger hunt, a Jingle Bell Run, an ugly sweater party, holiday performances, and special guests like Old Saint Nick and the Grinch.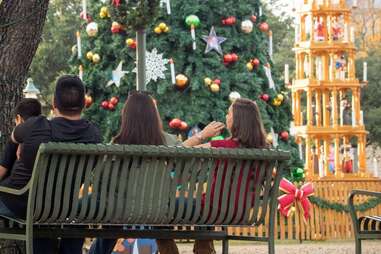 Fredericksburg, Texas
Fredericksburg may not have Germany's winter weather, but what it lacks in snow, it makes up for in holiday cheer. Every December, the town celebrates its German heritage with Weihnachtszeit (or Yuletide) with everything you'd expect to find in a great Christmas village. Along with a decked-out Main Street and a Nights of Lights series, you can expect ice skating, a 30-foot-tall Christmas tree, carolers, a parade, and more.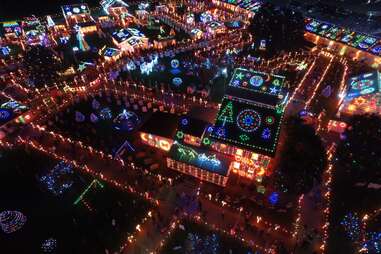 Bernville, Pennsylvania
Less than a two-hour drive outside of Philadelphia is a Christmas oasis with over one million lights illuminating the otherwise (relatively) bare landscape. Koziar's Christmas Village is a 74-year-old attraction that started simply enough when William M. Koziar began decorating his home and property. Now, tons of families have gotten holiday joy from the expansive indoor and outdoor displays that you can explore on a self-guided tour.
Molly Martin is a freelance writer in Denver, Colorado, whose favorite Christmas activity is drinking copious amounts of hot chocolate. Follow her on Twitter and Instagram where she'll surely post at least one holiday cookie photo this year.
Tiana Attride is Thrillist's Associate Travel Editor. She wants a pony for Christmas.