Travel
Sponsored By
The Small American Towns Where You'll Find the Most Holiday Cheer
Sponsored By
Just after the last Thanksgiving dish is washed, houses all across the country start lighting up with holiday cheer. In some US cities, that holiday cheer reaches truly epic proportions. These towns may be small, but they go big -- like the world's tallest Santa statue big -- for Christmas every year. From a place that's home to both The Gingerbread Factory AND a nutcracker museum, to another with a million-light holiday display, here's where you'll find the most cheer during the most wonderful time of the year.
Solvang, California
Solvang is just a 45-minute drive from Santa Barbara, but you'll feel like you've been transported a lot farther when you arrive in this Dutch-inspired village jam-packed with bakeries. There may not be any snow, but that doesn't stop the town from throwing a Christmas celebration that would make Santa proud, with decorations lighting up every building during Julefest. Throughout December, you can visit Santa, go on a candlelight tour of the town, sip wine on the Skål Wine and Stein Stroll, and use clues to find the Solvang Nisse, the town's resident mischievous sprite.
Flikr
North Pole, Alaska
Yes, there really is a magical place called North Pole, and it's just 15 minutes outside of Fairbanks. Here the street lights look like candy canes and you can take a stroll down St. Nicholas Drive, where you'll find Santa Claus House, home to the world's largest Santa statue (at 50 feet tall, it beats Indiana's), Santa's sleigh -- yes, you can sit in it -- and loads of toys, sweets, and ornaments. Best of all, for six weeks during the holiday season, the town is home to Christmas in Ice, a holiday-themed ice park with illuminated ice sculptures, ice slides to ride down, and a fireworks display (not made of ice, as far as we can tell).
Advertisement
Courtesy of McDonald's
The season will be here before you know it, so warm up to the holidays with something sweet from McCafé. Treat yourself to an all-new chocolate dipping sauce for your cinnamon-sugar Donut Sticks, and kick off your morning with a cinnamon cookie latte, made with milk, cinnamon-sugar syrup, and freshly brewed espresso. The holidays might creep up faster every year -- but this year, you'll be ready.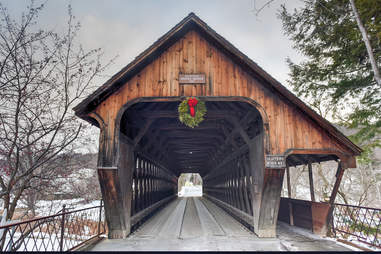 Shutterstock
Woodstock, Vermont
No relation to the famous music festival, this Woodstock has its own claim to fame: Wassail Weekend. During this annual festival, the quiet New England town transforms into the ultimate winter wonderland with three days of events that include a parade, artisan markets, home tours, special holiday performances, and the chance to experience a 19th-century Vermont Christmas at a working dairy farm.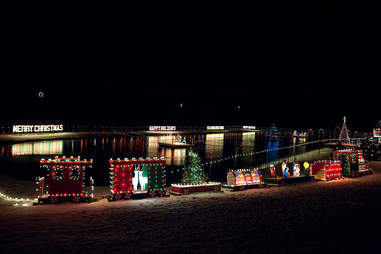 flickr- Ben Yanis
Bernville, Pennsylvania 
Less than a two-hour drive outside of Philadelphia is a Christmas oasis with over one million lights illuminating the otherwise (relatively) bare landscape. Koziar's Christmas Village is a 72-year-old attraction that started simply enough when William M. Koziar began decorating his home and property. Now, countless families have gotten holiday joy from the expansive indoor and outdoor displays that you can explore on a self-guided tour.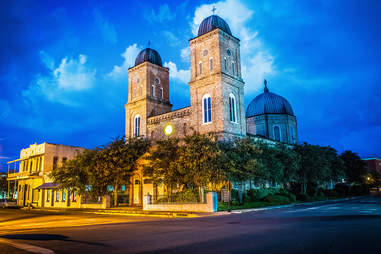 Shutterstock
Natchitoches, Louisiana
On the banks of Cane River Lake just over an hour south of Shreveport, Natchitoches' annual Creole-style Christmas festival runs for six straight weeks. Every night during the celebrations, over 300,000 lights and 100 set pieces are turned on throughout the entire downtown area. And in true Louisiana spirit, traditional events like cookies with Santa and a Festival of Lights parade are paired with a packed lineup of live music on the Riverbank Stage.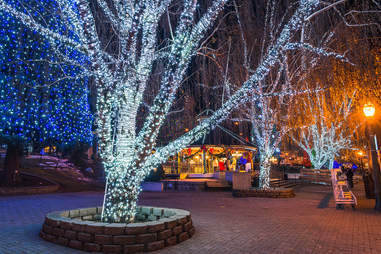 Shutterstock
Leavenworth, Washington
You can't drive to Bavaria, but you can drive just over two hours from Seattle to this small town where the architecture mirrors a traditional Bavarian village. Bottom line: This place is pretty adorable any time of year, but during the holiday season, they go all out. That means starting the day with the sound of alpine horns and, on weekends in December, ending with a lighting ceremony and caroling around a tree. When you throw in a visit to The Gingerbread Factory bakery and the Leavenworth Nutcracker Museum, the fairy-tale Christmas factor is off the charts.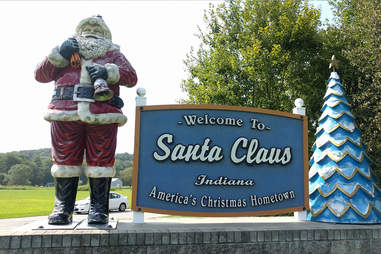 Flickr/tengrrl
Santa Claus, Indiana
Named for the big guy himself, it's no surprise that Christmas is front and center in this town all year long. Located a little over an hour west of Louisville, Kentucky, this destination for all things holiday is home to a trio of stores loaded with ornaments, toys & candy, and the Santa Claus Museum & Village where you can snap a pic with a 22-foot Santa statue. For three weekends in December, the annual Santa Claus Christmas Celebration brings the cheer to new heights with events that include the Santa Claus Christmas Parade, a Festival of Lights with nine miles of light displays, and actual chestnuts roasting over an actual open fire.
Shutterstock
McAdenville, North Carolina
This Charlotte suburb may have less than 700 residents, but its Christmas spirit is mighty. So mighty, in fact, that the town is known as Christmastown, USA, thanks to the 60-year-old tradition of illuminating the entire town in red, white, and green lights during the holiday season. Along with an abundance of decorated houses and over 375 light-adorned trees, McAdenville goes for true holiday overachiever status with a lineup of events like a festive 5K run and the Yule Log Parade.

Molly Martin is a freelance writer in Denver, Colorado, whose favorite Christmas activity is drinking copious amounts of hot chocolate. Follow her on Twitter and Instagram where she'll surely post at least one holiday cookie photo this year.