Tucked just off the Venetian Causeway, and literally dead ending into one of the best panoramic views of Miami, The Standard's relaxing effect is so strong, you'll almost forget about the fact that their activities include Drunk Bingo. Almost.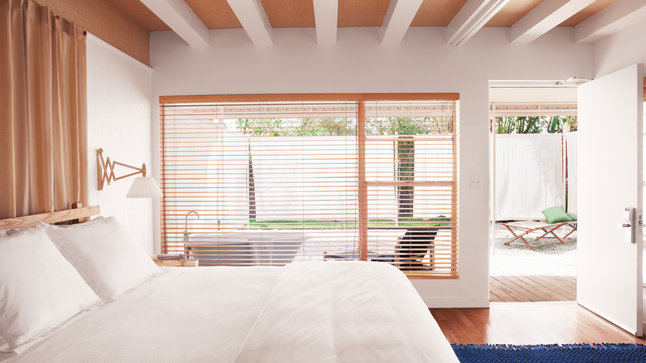 The guest rooms are minimalist, but the garden-level Bath suites do come with free-standing bath tubs on their private terraces.

Yes, you can easily access this massive pool from every room, and from there take-in views of major landmarks including South Beach, the Downtown skyline, and possibly the inside of someone's even more awesome mansion!

The gardens are extensive, and there's at least one ping-pong table set up amongst the banana trees.

There're also these awesome hammock-like chairs. Who does that chick walking away from them think she is!?

After you wake up from passing out in those chairs, head over to ocean-side Lido restaurant for fusiony plates of charred octopus, falafel wraps, blue crab croquetas, and Swordfish reubens.

At the end of this very Matrix-ish hallway lies the spa's co-ed Turkish Hamam, full of hot chicks stones you can drape yourself all over.

To properly recover from your taxing day of tranquility, hit the couch-lined outdoor fire pit and just pass out again.