New Orleans' best food & drink, from John Besh to backroom pickles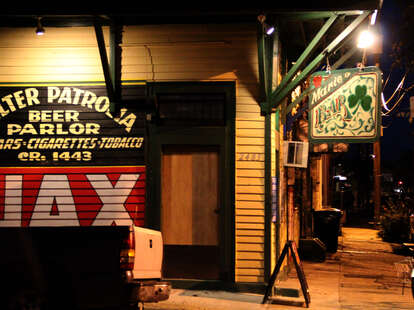 In the Big Easy, you could throw a rock and hit a great restaurant or bar, but then you'd get sent to the Orleans Parish Prison for breaking windows, and the OPP really just isn't known for its cuisine. Instead, follow this guide to find gourmet Frito Pie, absinthe cookies, backroom soul food, and a brand-new Hotel Monteleone cocktail that's been in the works since 1840
Ten Clove Garlic Louisiana White Shrimp (with potatoes, peppers, and fennel) at Borgne: At John Besh's Creole-meets-Canary Islands eatery, it'll be a tough call between this and Fish in a Bag, which is pretty much that, except also covered in crab fat. Further muddle your decision-making by ordering the under-the-bar Canary Islands rum prized by the chef, Brian Landry (formerly of Galatoire's). Oh, also, as you're checking out the ever-changing chalkboard murals, know that they're drawn by a waiter who'll often do portraits of whatever rocker happens to be staying at the Hyatt, which is never John Hiatt, because that dude still stays at La Quinta
Absinthe Suissesse at Old Absinthe House: The Absinthe Frappe was invented here in the 1860s. Add egg white and you've got the brunch-time favorite Suissesse, which you can enjoy in front of the Quarter's only working fireplace with a cigarette hanging out of your mouth (the logs aren't the only things allowed to smoke here).
Muffaletta at Cochon Butcher: Around the corner from Cochon, this place makes its own smoky ham, pastrami, and hot/spicy olive salad. Is its $12 Muffaletta better than inventor Central Grocery's? Is Bobby Hebert a better Saint than Ricky Jackson? Point being that if Bobby Hebert and Ricky Jackson were sandwiches, you would quit arguing and order them both
1860s hooch at Bellocq: The specialties are punches, cobblers, crustas, smashers, and $6.95 Coors + Buffalo Trace shot combo, which was also very popular during the Civil War. The Cure guys also run this Hotel Modern joint, which is named for a photographer who shot the Red Light District during Prohibition; stop by, and you might find really attractive bartenders "burning the neg": writing down their issues, then setting them ablaze in a votive. Obviously your goal for the night is to become one of those issues
A Ramos Gin Fizz at The Sazerac Bar: Naturally you should also order the namesake (the world's first mixed drink, fyi), but the Ramos also has serious history: invented in 1888 at another bar so into gainful employment they had 32 guys shake each individual drink, it soon made its way to the Sazerac, where Huey Long so fell in love with it he had the head bartender fly to NYC to teach the New Yorker Hotel's staff how to improve their shoddy copycatting.
Alligator Sausage Poor Boy at Parkway Bakery and Tavern: Two blocks from Serendipity, this rambling house originally opened in 1911, closed in '93, then reopened in '03 to exclusively focus on 20+ Po' Boys big enough to feed two, including this gravy-soaked, reptilian number you'll cold-bloodedly keep all to yourself.
Grilled Two Run Farm Steak of the Day at Serendipity:Just off Orleans Ave across the Bayou from Parkway Bakery, next to a building that says Mid-City Library but through a door that's not the Mid-City Library, a cut of dry-aged, chimichurri-sauced Mississippi beef waits for you, as does its sidekick, a bacon-topped twice-baked potato. Chef Chris DeBarr (formerly of the Green Goddess) also cooks up nightly-changing Homage to Hubig's fried pies in honor of an iconic bakery that suffered a massive fire last summer. If you're not way too deep into Nicholas Sparks' Nicholas Sparksian novel Safe Haven, read every word of the 12-page punch, cocktail, and spirits menu, where all the booze is treated with Extinct Acid Phosphate to make it shiny
Caramelized Creole Heirloom Tomato at Green Goddess: Down an alley near the Monteleone, this hole in the wall serves the best hangover breakfast in town: the aforementioned vegetable (or fruit?), topped with blow-torched Manchego, loaded with exotic salts, spices, and sugars to honor NOLA's port-city heritage, and sided by spiced almonds, garlic aioli, roasted green onions, Romesco sauce, pomegranate molasses, and extra-extra virgin olive oil. Work on tomorrow's hangover with a sneakily intoxicating Walking Spanish: coconut water, fresh lime juice, ginger, Bols, Velvet Falernum, Flor de Cana rum, Cadamaro, and a sherry float
Meatball pizza at Pizza Delicious: On Bywater's Piety Street, NOLA's first NY-style slice shop was started by two LI guys who'd never made pizza before. Then again, you can accomplish anything when you're the only place pouring locally made, curiously red-colored La Vie absinthe, and you're totally hopped up on absinthe cookies, which they also offer.
Roasted Marrow Bones at ROOT: The city's most hyper-modern restaurant splits them "cowboy style" (longways, which is just how cowboys like it?), and serves them with skewers of warm black bread, face bacon jam, crispy sweetbread persillade, and smoked capers
Hot punches at Perestroika @ Pravda: They boil bowls of 'em right on the bar at the Cure guys' popup inside the old Pravda, which looks like opulent NYC brasserie Balthazar after being ransacked by the best kind of ransackers.
An 1840 Soleil l'Orange at Hotel Monteleone: Hemingway drank at this 64yr-old lobby lounge with the famously revolving bar, but he didn't order one of these, because bartender Marvin Allen invented it the night before this photo was taken at Tales of the Toddy. The guy who runs Pierre Ferrand actually poured the 2oz Original 1840 Cognac into a mix that also includes 1/4oz Ferrand Dry Curacao, five drops Fee Bros Aztec Choc Bitters, and a twist of orange. Said one happy customer: "It tastes like a cognac Tootsie Roll, and is maybe the best drink I've ever had"
Fried pickles at We've Got Soul @ Marie's Bar: In the seedy backroom of a Marigny dive, this Friday-night-only popup offers up locally sourced soul food from a Mississippi expat. You'll also be wanting his girlfriend's desserts, especially the one named by Diabetic Hulk: The Cookie Smash, which involves a brownie baked atop an upside-down chocolate chip cookie.
Nectar soda w/ Bananas Foster ice cream float at The Soda Shop: Just two blocks from Cochon inside the WWII Museum, John Besh's old-timey ode also offers super-cheap breakfast & lunch options (build-a-biscuit, pimento grilled cheese sandwiches -- basically, stuff that insures the tanks won't be the only things built like a tank)
Prosciutto Pie at Domenica: John Besh's casual, Sunday supper-inspired spot offers one of the city's bombest happy hours: 1/2 price on this and 16 other pizzas (plus beer, wine, and wells) from 3-6p, seven days a week.
Roast Pork & Caramelized Onion Frito Pie at Cure: Still the hottest cocktail bar in town two years after opening, this instant standby named after what doctors used to say alcohol did to what ails you's signature dish also packs in Antiga sheep's milk cheese Sheaux Fresh micro-greens. PS: classic cocktails are $5 from 5-7p
Chicory cafe au lait and beignets at Cafe du Monde: The New Orleans standby dates back to 1862, and stays open 24/7 except in the case of a hurricane or a Christmas. Grab the coffee hot or iced, and go for three hunks of fried dough, because you're a winner and you want the whole monde to know it
A whiskey at Aidan Gill for Men: You look terrible. Probably all the drinking, and dining. Go where Denzel Washington goes: an extremely old-school Magazine Street barbershop where booze comes with the seven-hot-towel shave (because seven is a mystical number), and the owner, a dead ringer for Liam Neeson, doesn't let young guys read the old Playboys for fear they'll stumble on pics of their moms.