The 10 best hotel pools in the world
Because Summer is coming to an abrupt close and the only real pool action you got was watching some guy get arrested for going native in the shallow end -- and wishing there was a tanning butler around to reach that impossible back fat real estate as you cook in the hot sun, we've traversed the world in search of the most extreme, ridiculously baller spots for a dip. From infinity pools that boggle the mind to glass-bottom tanks 20 stories high, these are the top 10 hotel pools on the planet.
10. St. Regis Lhasa Resort, Tibet
Find your spiritual center, or just relax, in The Iridium Room of the St. Regis Lhasa; it houses this heated, gold-plated dipper. We like GOOOOLD!
9. Holiday Inn, Shanghai Pudong Kangqiao, China
Quite possibly the scariest hotel pool ever conceived, the Cantilever indoor glass-bottom pool is suspended in mid-air 24 stories up, overlooking Shanghai. It "offers guests the feeling of swimming through the air", so if you're afraid of heights you may wanna keep things on the kiddie end.
8. Grand Hotel Central, Spain
Sprawling panoramic views of Barcelona make taking a dip in the crystal clear waters of Grand Hotel Central's rooftop pool worth the time you lost watching Vicky Cristina Barcelona.
7. San Alfonso del Mar, Chile
The bright blue waters of the Saltwater Lagoon at San Alfonso del Mar use state-of-the-art technology to collect ocean water and keep it in its natural state for use in the Guinness record holder for world's largest pool. This aquatic marvel extends one kilometer and contains more that 250 million liters of water.
6. Velassaru Maldives Hotel
It can be pretty easy to get lost in the never-ending blue of the Velassaru's infinity pool, which overlooks the beach and extends into the ocean. Try not to venture out too far.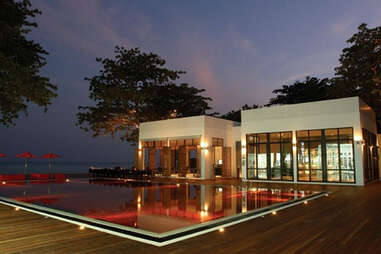 5. The Library Hotel Koh Samui, Thailand
This crimson-colored bowl of Jello isn't a murder scene, and it won't dye you like an Easter egg. The startling color comes from the orange, yellow, and red mosaic tiles that line the pool's floor, giving it a bloody hue perfect for floating face down and royally freaking out your girlfriend.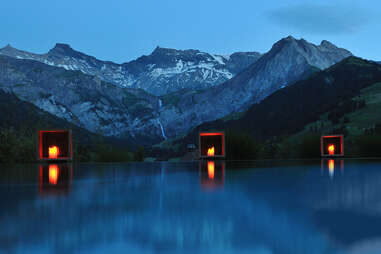 4. Cambrian Hotel, Switzerland
The rejuvenating waters of this outdoor pool are equipped with floating massage beds, jets, and a heating element that makes you feel like you're skinny dipping in a hot spring. Plus: breathtaking views of snow-capped mountains. Yer welcome.
3. Katikies Hotel, Greece
Overlooking what we hope is an extinct volcanio, this cold-water pool, nestled inside the white clay walls of this Greek resort, will make you feel like you've been inducted into the Polar Bear Club.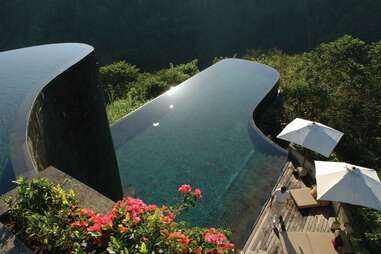 2. Ubud Hanging Gardens, Bali
Suspended over the lush Indonesian rainforest, this two-level infinity pool offers prime real estate for epic sunsets. The kicker is that every room at this joint has its own dedicated horizon-edge pool.
1. Marina Bay Sands, Singapore
You better hope they don't have that chemical that colors the water, because pissing your trunks is highly likely when you're swimming 50+ stories up, in an infinity pool overlooking the Singapore skyline in the tropical oasis of the Marina Bay Sands.