The Best Military Towns in the United States, Ranked
Contrary to popular belief, not all military towns are made up of tattoo parlors, payday lenders, and seedy used car dealerships. No, many are bustling locales with good food, a vibrant nightlife, and insane views of America's most stunning landscapes. Servicemen and women (and their families) dream of getting stationed there.

And since the military ranks its people, we wanted to do the same for these towns. Which is why we asked current and former military personnel from all branches of the service exactly where in the US they enjoyed being stationed, and why. From there, our criteria was simple: we considered stuff to do, on-base amenities, sense of community, and the town's reputation within the military community. We included both big cities and smaller towns, but generally avoided the smallest of the small -- since, well, nobody was really raving about time spent in Enid, OK. (Although, apparently, the railroad museum is fantastic!) We'll pit Enid against Minot, ND, in another story.

So, in the spirit of patriotism, national security, and ranking stuff, let's salute the top 10 US base towns in America.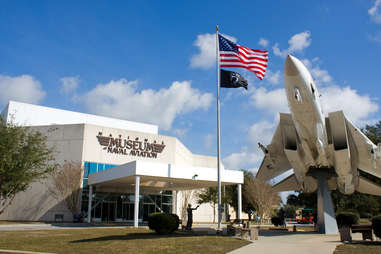 10. Pensacola, FL
Base(s): Naval Air Station Pensacola, Coast Guard Station Pensacola
Best reason to be stationed there: It's essentially like being forced to go on Spring Break. Unless you hate warm Gulf Coast water and white sand beaches, nobody's protesting orders to move here.
Best base amenity: Destin Army Recreation Area. Just outside of Pensacola, this gated resort offers chartered deep-sea fishing excursions in "the world's luckiest fishing village."
Why you wouldn't want to live there: There's a reason the Florida panhandle is also called "The Redneck Riviera."
Final word: For the young and reckless, Pensacola's wacky nightlife scene includes the Seville Quarter and the famous Flora-Bama Lounge. It is also "The Cradle of Naval Aviation," so there are a lot of pilots stationed there. For newcomers, this means brush up on your Top Gun and remember to treat pilots respectfully, or like immortal Greek gods.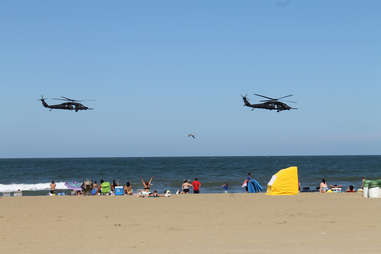 9. Virginia Beach, VA
Base(s): Naval Air Station Oceana; Fort Story (Army)
Best reason to be stationed there: Seafood, specifically crab cakes. Check out Waterman's Surfside Grill on the boardwalk and pair your crab cake with the as-fancy-as-it-sounds local 'orange crush' cocktail.
Best base amenity: Dam Neck Beach. The private on-base beach is quiet and clean, but don't leave your coolers unattended -- it's also dog-friendly!
Why you wouldn't want to live there: Jet noise. As the host city of one of the largest air stations in the world, the base is louder than a frat house on Cinco de Mayo.
Final word: One of the many military-heavy towns in the Hampton Roads area, Virginia Beach is the best place to ride a beach cruiser down the boardwalk. Or, the Old Coast Guard Station provides an interesting peek into the history of, you guessed it, the Coast Guard.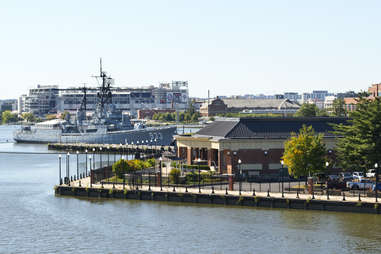 8. Washington DC
Base(s): Honestly, too many to list. Washington Navy Yard, Bolling Air Force Base, and Fort Lesley J. McNair (Army) are but a few. Oh yea, and the Pentagon.
Best reason to be stationed there:Forbes Magazine listed Washington DC as the #2 best city in America for singles, so there's that. It also ranked as the best city for military spouses to find jobs. And don't forget Thrillist DC!
Best base amenity: Other than being able to call the President and Vice President your neighbor, Nationals Park is right down the street.
Why you wouldn't want to live there: Easy, the horrific traffic. Unless you are driving late in the morning, your car will operate in the stalled position most of time.
Final word: DC is appealing for its history, its hustle, and its famous spring cherry blossoms. National parks, museums, and monuments equal endless activities, and many of them are free. Just keep the airmen stationed in Knob Noster, Missouri, in mind as you're having all that fun.

7. Tacoma, WA
Base(s): Joint Base Lewis-McChord (Army, Navy, Air Force)
Best reason to be stationed there: Load up the mini-van because this town is super family-friendly. Also, easy drives to both Seattle and Portland.
Best base amenity: Huge military housing communities include about 5,000 family units, all with views of Mount Rainier.
Why you wouldn't want to live there: The Tacoma aroma. Rumor has it that the north side of the city smells, well, gross. Most people blame the paper mills.
Final word: Mount Rainier National Park is close, so you can camp or hike or just spend loads of time at REI intending to do those things. Yes, Tacoma has an REI! It also has the Blue Mouse Theater, Museum of Glass, and the Point Defiance Zoo & Aquarium, all of which are worth hitting.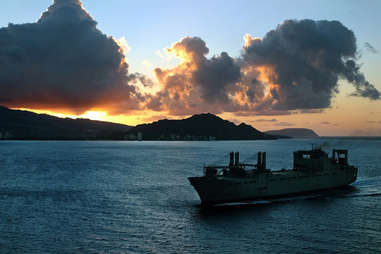 6. Honolulu, HI
Base(s): Again, too many to list. Highlights include: Joint Base Pearl Harbor-Hickham, Bellows Air Force Station, and Fort Shafter (Army).
Best reason to be stationed there: Who wouldn't want to live where America vacations and Adam Sandler makes his movies?
Best base amenity: The Cabanas at Kaneohe Bay. They call it 'upscale camping' (glamping?) on the water, but 'roughing it' here means walking from your air-conditioned room to the community bathrooms.
Why you wouldn't want to live there: Hate to complain about Hawaii, but if you had to come up with something, it'd probably be: Island. Fever. You can drive around all you want, but you'll still end up at the beach.
Final word: The people who really benefit from orders to Honolulu aren't the service members, but their relatives back on the mainland -- talk about free lodging and ready-made vacation plans.Traffic, cost of living, and isolation are common complaints, but where else can you shack up with household geckos or learn to surf in world-class waves? And by "learn to surf" we mean sunbathe from the beach while discussing all that Shark Week has taught you.

5. Anchorage, AK
Base(s): Joint Base Elmendorf-Richardson (JBER) (Air Force, Army, Navy); USCG Sector Anchorage
Best reason to be stationed there: The spectacle. As one of the northernmost bases in the military, you're getting moose, the Northern Lights, and views of Denali, not to mention bearded dudes wearing flannel who aren't hipsters.
Best base amenity: Hillberg Ski Area. That's right, you can actually spend your lunch break learning how to ski on the on-base bunny hill.
Why you wouldn't want to live there: Bring a nightlight, because the sun shuts off in the wintertime.
Final word: Alaska has no state income tax and Anchorage has no sales tax, which leaves extra money for pizza at Moose Tooth Pub or local brews at Broken Tooth or Anchorage Brewing. Glacier hiking, whale watching, and mountain climbing are all free, which makes Alaska a bargain bin for adventurers.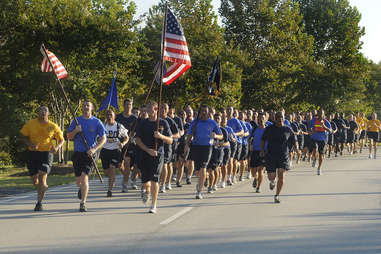 4. Charleston, SC
Base(s): Navy Weapons Station Charleston; Coast Guard Station Charleston; Joint Base Charleston (Air Force, Army, Navy)
Best reason to be stationed there: The food. Charleston has become a fanatical restaurant destination for foodies. From Hominy Grill's famous shrimp and grits to Husk's hyper-local Southern fare, Charleston has no shortage of dining options.
Best base amenity: The gym on Joint Base Charleston has been rated one of the best; which, of course, is mostly noted by visiting Marines.
Why you wouldn't want to live there: You run the risk of needlessly adding "bless your heart" to the end of every sentence.
Final word: Home to the world's friendliest neighbors, Charleston was voted friendliest city in America last year. The nightlife is just as interesting as daytime attractions: step back into prohibition-era Charleston at The Cocktail Club, bowl while sipping craft beer at The Alley, or play a game of Ping-Pong at Hōm. Cardigans, of course, are optional.

3. Colorado Springs, CO
Base(s): Fort Carson (Army), Peterson AFB, Schriever AFB, United Stated Air Force Academy, NORAD
Best reason to be stationed there: You'll be fit. Home to the Olympic Training Center, multisport trails, and lots of Subarus, fitness enthusiasm in "The Springs" is as contagious as an airborne virus.
Best base amenity: Falcon Stadium, the home of the USAF football team. Game days are announced with flyovers by the Thunderbirds and documented by pretty much everybody pulled off on the side of the road taking pics with their phones.
Why you wouldn't want to live there: The elevation. Climbing the stairs will make you feel like you're missing a lung. Until you're fit, of course! Which you will be.
Final word: If nothing else sells you on Colorado Springs (and we can't believe you're that discerning), surely Santa will do the trick. As they've done since the '60s, NORAD still uses their satellites to track his Christmas Eve progress on a live broadcast. Also, Mr. Kringle has a summer home nearby at the Christmas-themed amusement park, "The North Pole."

2. San Diego, CA
Base(s): Naval Base Coronado, Naval Air Station North Island, Naval Base Point Loma, Naval Base San Diego; Marine Corps Air Station Miramar, Marine Corps Recruit Depot San Diego; Coast Guard Station San Diego
Best reason to be stationed there: The beer, of course. San Diego was recently named the craft-beer capital of America, and we couldn't agree more -- here are our 12 reasons why it's the best beer town in the US. Also, here's a tap-room crawl we put together for your drinking pleasure.
Best base amenity: The world's largest commissary is here, but close runner-ups are the two naval movie theaters that offer free admission, (admittedly) mediocre popcorn, and a shockingly high number of young children/babies at late-night showings.
Why you wouldn't want to live there: It doesn't matter if you're headed to the beach, to the mall, or to grandma's house; be prepared to waste the country's most expensive gas looking for nonexistent parking.
Final word: San Diego is where disproportionate droves of beautiful people live, where seals (real, not Navy) sunbathe in La Jolla Cove, and where you can find fish tacos on virtually every menu. Sure, it's expensive and the San Andreas fault freaks us out a little, but even people without a sense of humor can find some Ron Burgundy inspiration here.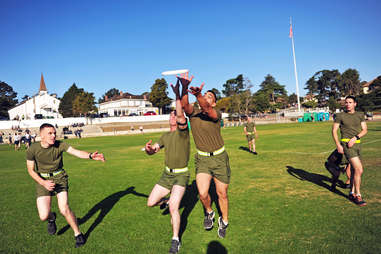 1. Monterey, CA
Base(s): Naval Postgraduate School Monterey (Navy, Marine Corps, Coast Guard, Air Force); Defense Language Institute (Army)
Best reason to be stationed there: Monterey is large enough to offer good dining, nightlife, and shopping; small enough to create a coherent sense of community; and well situated enough to provide easy access to San Francisco, Big Sur, and Yosemite. Your mother would totally approve.
Best base amenity: Free time. Since the bases are schoolhouses, military personnel mostly work on a student schedule. This means reasonable work hours and zero deployments. But, we mean, who would even want that?
Why you wouldn't want to live there: Depending on the branch of service, some military members are allowed to wear civilian clothes to work, which may be disorienting for those who like to dress to match their friends -- or desert creatures.
Final word: It's easy to be outside in Monterey. But more importantly, it's easy to run into Clint Eastwood (he lives just down the road in Carmel-By-the Sea) -- so, if you're a huge Eastwood fan, this is an obvious selling point. If you didn't enjoy Grand Tarino and/or his chat with an empty chair, but are an avid golfer -- Pebble Beach Golf Course will be a convenient haven for you.
And now... want to know what it's like growing up as a kid in the military? Here are 15 things you can't understand unless you did.
Sign up here for our daily Thrillist email, and get your fix of the best in food/drink/fun.
Bekah DiFelice is a writer, military spouse, and recovering addict to the word "literally." You can find her riding her Vespa around San Diego, on Facebook and Instagram at @bekahdifelice, or on her blog bekahdifelice.com.