The Ultimate European Backpacking Bucket List
Backpacking through Europe is about being impulsive, right? It's about train-hopping and wanderlust, about getting lost in random cities and hooking up with Australians in dodgy youth hostels. It's also about doing and seeing some really cool stuff that you can then regale your friends back home about while they nod politely and eat bar pretzels.
But sometimes figuring out exactly what to do while wandering and lusting around the Continent can be tricky -- especially on a shoestring budget. That's why we put together this list of absolute must-hit activities (that won't break the bank) in 16 major European cities.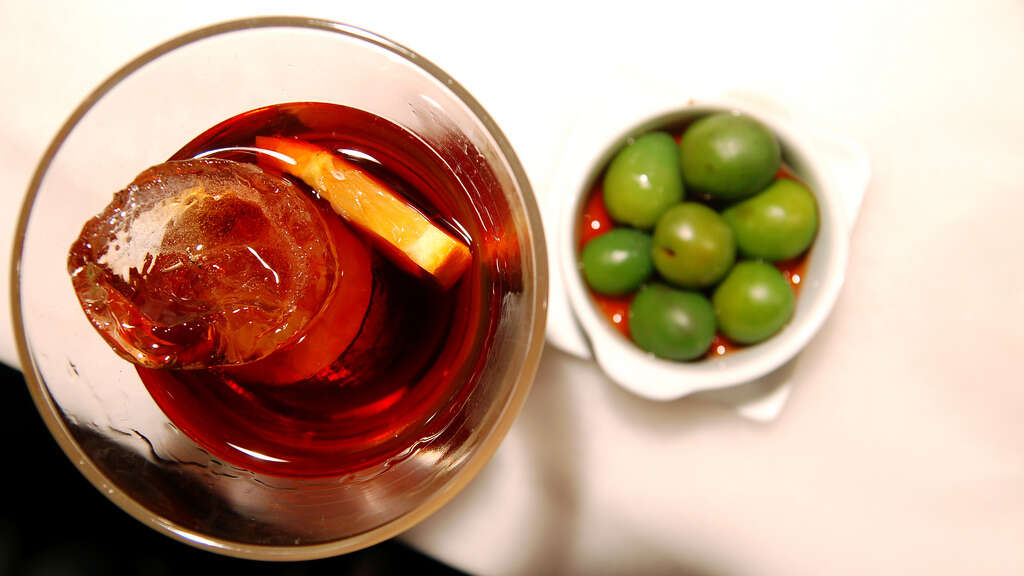 Barcelona
Day drink at a vermut musical
Backpacking is all about building character, and this experience will do just that. We're of course talking about drinking vermut, a Catalonian fortified wine known for its oomph. On weekend afternoons, you can find it served at kitschy, old-fashioned drinking holes along with live music and performances.
Berlin
Take the Alternative Berlin tour
Getting in touch with city's anti-conformity underbelly is a must, and Alternative Berlin packs a lot into its free, three-hour tours. From daytime raves to artist squats, it's the perfect surprise bag of the city's plentiful subcultures.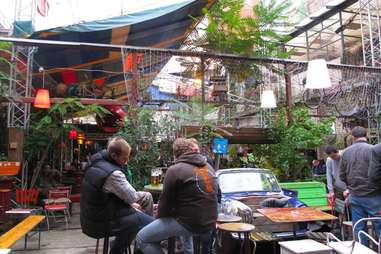 Budapest
Drink at the ruin bar that started the movement
Ruin bars, sketchy old buildings revived into hipster hangouts, are the trademark of an evening spent in Budapest. So check out Szimpla Kert, the former factory turned open-air cinema and pub, where it all began.
Copenhagen
Hang out in Freetown Christiania
Founded in 1971, this artistic social-experiment-turned-hippie-commune is not to be missed. Considered a self-governing body, Freetown has its own flag, currency, rules, and administration. Impressive art murals, organic restaurants, and cannabis shops only add to the eccentric appeal.
Dublin
Catch a hurling game at Croke Park
Hurling is an Irish game that's kind of like field hockey on speed. It's the fastest sport in the Guinness Book, and a good strike can catapult the ball (sliotar) over 93mph. Croke Park is the 82,000-capacity stadium where many of Ireland's top games are held, as well as home to the country's largest bar, Davin, which boasts over 400 beers on tap!
Lisbon
Roam the Berardo Collection Museum
Nothing ever comes free as a tourist, and that's what makes the Berardo Collection Museum such an unbelievable treat. This gratis-admission contemporary art gallery features original works from all the legends -- Pollock, Picasso, Dali, and more. Plus, it's open every day of the week; so really, there's no excuse not to go.
London
Get the top front row seat on a double-decker
Being so absurdly expensive, seeing London on a budget is all about simplicity. The top front row seat of a double-decker is basically the VIP spot of the city's public transport. Although we don't condone fighting a wiley British granny for it. (Because you will probably lose, pitifully. They're much tougher than they look.)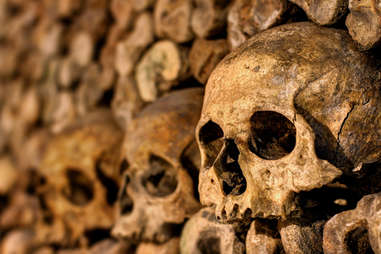 Paris
Tour the Paris Catacombs
The Eiffel Tower and Notre Dame are both pretty great, but believe us when we say -- make some time to visit the Catacombs. This underground crypt holds the remains of SIX MILLION people, and its historical exhibitions are totally interesting. Come on, how many times in your life can you say you've seen a decorative wall of femurs?
Prague
Eat Trdelnik at the Christmas market
This Slovak pastry is anything you want it to be – dessert, light snack, or a koozie for your mulled wine. Typically served at Christmas markets (but available year round), trdelnik (pronounced tah-dernik) is a roll of dough wrapped around a stick, grilled over hot coals, and topped with sugar and walnuts bits. That is all you need to know.

Rome
Eat gelato at Fatamorgana
There's no shortage of amazing gelato in the Italian capital, but Fatamorgana is the perfect twist of modern and old-school flavor. You've got all the classic sorbets here, but also unconventional homemade creations like carrot cake, Black Forest gateau, and wasabi chocolate.
Stockholm
Explore the underground metro
Stockholm's subway system also doubles as the world's longest art exhibition, a whopping 68 miles (!!) of paintings, sculptures, mosaics, and more. Of 100 stations, 90 have been converted from drab concrete boxes into amazing works of art. Check it out on a free art walk or at your own pace -- a one-way ticket costs around $3 and, as long as you don't exit, you can use it the whole way through.

Warsaw
Dine at a milk bar
Eating at a milk bar, a cafeteria serving cheap traditional Polish food, is about as authentic as it gets in Warsaw. As the name suggests, these Communist-era relics are all about dairy, from pierogis dolloped in sour cream to cheese-filled crepes. Bar Prasowy and Bar Mleczny Bambino are both solid choices.
Vienna
Get standing-room tickets for the opera
Eighty minutes before Vienna State Opera performances, standing-room tickets go on sale for around $4 a pop. Bringing a pair of binoculars doesn't hurt, but even without, it's a great way to check out the city's prolific 19th-century concert hall for practically nothing.

Zagreb
Eat strudel at Pastry Shop Jaksic
This family-run bakery has been making traditional Croatian strudel for over 70 years, and it's safe to say they've perfected the recipe. Jaksic makes its own pastry dough, stuffed with sweet and savory fillings ranging from fresh cheese to salty pumpkin. Go early in the day, otherwise you'll miss out.
Sign up here for our daily Thrillist email, and get your fix of the best in food/drink/fun.
Barbara Woolsey is a Berlin-based writer who's next European bucket list item is snowboarding in the Alps. Follow her adventures on Facebook and Twitter.