The Ultimate Weekend Guide to Charlottesville
Courtesy of Veritas Vineyards & Winery
Courtesy of Veritas Vineyards & Winery
With summer underway in DC, you're probably spending most of the workweek daydreaming about getting out of the Beltway once Friday hits. Thankfully, Charlottesville, Virginia, is just a short three-hour drive away, and offers way more than historic estates and the University of Virginia grounds. In C'ville, you'll find everything you need to have a memorable weekend, from five-star dining to kayaking to wine-tasting. Lucky for you, we've outlined a complete weekend guide -- so get packing.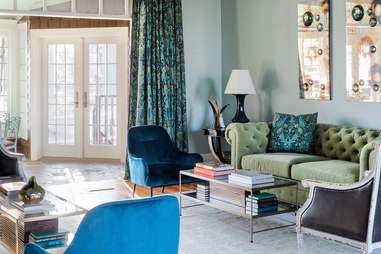 WHERE TO STAY
First, pick a home base
The Clifton
If wine tastings are a key part of your Charlottesville vacation itinerary, The Clifton is where you want to stay. This historic estate is located on 100 acres of countryside in view of the Blue Ridge Mountains and smack dab in the middle of Virginia wine country. Its secluded spot means that besides wine tasting, there is hiking and other outdoor activities nearby, too. Plus, there's a fancy restaurant and wine cellar on site, so this is far from "roughing it."
The Townsman
The Townsman really isn't a hotel, it's more like a short-term rental or bed and breakfast -- but minus all the staff, to keep costs down. They call it an "unhotel" because there are only four rooms (which start around $189 a night for weekends in June), and all operations are handled solely online (there's not even a hotel phone number). Unlike some other short-term rentals in town, though, this one boasts one of the most prime addresses in Charlottesville, as it's right on the Downtown Mall, aka the city's walkable main drag with restaurants, shops, and nightlife.
Oakhurst Inn
If you want to get a feel for Charlottesville's history, the Oakhurst Inn is the spot to call home base. This boutique hotel has a B&B vibe and is located right in the city's National Historic District, just across the street from UVA -- so be sure to explore the grounds, including the famed Lawn and Rotunda. Getting to the center of town won't take long, as there's a free trolley from the UVA campus to the Downtown Mall. If you're feeling extra studious, you can curl up with a book at one of the hotel's four libraries, too. You won't have to leave the hotel for one of the top breakfasts in the city, either: The Oakhurst Inn Cafe (worth a stop even if you're not staying here) serves up locally-sourced takes on classic Southern dishes alongside an espresso bar stocked with beans from a nearby coffee roaster.
Omni Charlottesville Hotel
Located in a central spot next to the Downtown Mall and with plenty of luxury vibes, the Omni has everything needed to keep you well rested throughout your stay. Besides cushy beds and an indoor and outdoor pool, the spot is known for its seven-story atrium and garden, a perfect spot to sip your morning coffee. Also, because of its central location, you can park your car here when you check in and visit everything on foot throughout your trip.
WHAT TO DO
Go out on the town or into the country
Cool off with a waterfront adventure
It's summer, so if you're not spending time soaking up the sunshine and dipping into some local watering holes… you're kinda doing it wrong. Thankfully, Charlottesville has plenty of options to make that happen. For one, there's kayaking on the James River, which is also a prime spot for tubing and swimming. Obviously, you don't have to bring your own equipment, as James River Reeling & Rafting has canoes, kayaks, and rafts to rent as well as tubing trips to join. For something a little more rugged, chase waterfalls throughout Shenandoah National Park, which includes a 100-mile portion of the Appalachian Trail.
See the city by bike
Charlottesville has been designated as a bike-friendly community by the American League of Bicyclists, thanks to the number of mountain and street-biking trails throughout the city. So, enjoy the summer weather by renting a bike from Blue Ridge Cyclery (it's $60 for the day) and take a casual two-mile ride on the Saunders-Monticello Trail to snap pics at Thomas Jefferson's famous estate, picturesque gardens, and more. For a longer ride (or hike), hit the Rivanna Trail -- it stretches in a 20-mile loop around the city.
Check out the local music scene
Charlottesville may be a smaller city (there are about 46,000 residents), but that doesn't mean artists can't shine here -- and that's especially true of up-and-coming musicians. To get a sense of the local music scene, check out a set at one of the area's live music venues, all located off the Downtown Mall. There's the Jefferson Theater, built in 1912, where Harry Houdini and The Three Stooges once performed, or visit the Paramount Theater, another vintage movie palace-turned-performance hall, which features everything from opera to big names like Gladys Knight. For a lineup of intimate shows across genres with an adjacent cafe serving smoked meats, check out The Southern.
Flex your creative muscles
Speaking of artists, Charlottesville isn't just a city where you can experience art at music venues and galleries. It also has plenty of options for you to create some yourself (how's that for a unique souvenir?). Drop in and try crafting your own sculptures and pottery at City Clay, or make your own colorful glass dishes, picture frames, and more at The Glass Palette.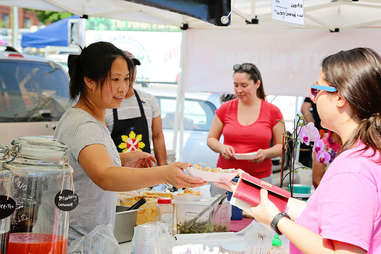 WHAT TO EAT
Food options for whatever you're craving
Try some hyperlocal produce
Orchards and farms lie all around Charlottesville, and you can get a taste of the harvest from local vendors at City Market. Here, you can grab produce, empanadas, dumplings, and fresh-cut flowers all in one place; it's open 7am-noon on Saturdays through October. Of course, if you want to get your hands dirty and see a real working farm in action, Carter Mountain Orchard lets visitors pick their own peaches all summer.
Take a bite out of the city's restaurant boom
In recent years, new restaurants have been popping up all over Charlottesville, so dining options run the gamut. Whether you're into trying a French-inspired menu at a tucked-away lounge like The Alley Light or southeast Asian street food at the year-old Chimm, C'ville probably has a restaurant that offers it. For a fancier night out, there's C&O, a Charlottesville institution that's been around since '76, and is located in a historic building across the street from its namesake, a long-abandoned train line.
Taste dozens of different tapas
OK, maybe you don't have the physical capacity to actually consume nearly four dozen tapas dishes. But, if you did, Mas Tapas would be the place to do it. This local favorite has a massive small plates menu that covers everything from classic options (papas bravas) to high-end offerings (wild-caught squid) and serves them all in a casual setting.
Satisfy your sweet tooth
It wouldn't be a vacation if you didn't indulge a little, and Charlottesville delivers on the treats. Grab pastries or freshly-made artisan bread and coffee from Albemarle Baking Company, which claims to be the first in Central Virginia to use a Pavailler brick furnace oven for its baking. Another option is MarieBette, which offers European-style baked goods as well as a full cafe menu at their Rose Hill location, if you want to sit down to breakfast or lunch. For a small (or large) slice of hometown baking, though, you'll need to hit The Pie Chest -- a bakery with a rotating menu of sweet and savory pies, perfect for whatever you're craving.
WHAT TO DRINK
A bevy of ways to satisfy your thirst
Tour historic wineries
Thomas Jefferson wasn't just the third president of the US -- he was also a serious wine aficionado. Thanks to him, Charlottesville is famous for being home to the Monticello Wine Trail, where 35 wineries (all within 25 miles of the city) make up what's called "the birthplace of American wine." Some key wineries to stop at are Glass House (they also make their own chocolates!); Stinson, which also offers farm-fresh cheeses and local produce; and White Hall, which has a picnic area with stunning views of the nearby mountains. And you would be remiss not to try two of the most famous wineries in the area: King Family Vineyards, which also hosts polo matches on Sundays, and Pippin Hill, which has a culinary program, too.
Sample the local brews
Beer drinkers need not worry, there's not only wine in C'ville. In fact, a few award-winning craft breweries are located here, along the Brew Ridge Trail, where Virginia's Blue Ridge Mountains act as the backdrop to your bar-hopping. Start at Starr Hill Brewery, which was founded in a music hall right on Charlottesville's main drag, but moved out to a larger space in Crozet once demand surged. (They still frequently have live music in the taproom as a callback to that original spot.) From there, head deeper into the mountains to Afton and explore Blue Mountain Brewery, known for its IPAs and a pre-Prohibition style lager.
Enjoy late-night bar bites with live music
A cold drink and live music go together as nicely as wine and cheese, so it's no surprise that some of Charlottesville's classic drinking establishments are also top places to see some local acts. Take Miller's Downtown, where there's live music every night, a kitchen that's open until 2am, and a massive beer menu with two dozen options, many of which are available on draft.
Sip craft cocktails
C'ville is no stranger to the craft cocktail scene that's now commonplace in major cities across the country. Lost Saint, a cocktail bar with a speakeasy vibe hidden inside Tavern & Grocery in Midtown, features creative drinks like one made with rum and carrot juice. If you're looking to pair cocktails with some of the best Italian food in town, Tavola has a lounge in the back of its restaurant where they serve antipasti along with their aperitivos.
Ready to put together your own itinerary? You can get a sneak peek into many of these spots (and more) at C'ville Nickel Tours.