The Ultimate Weekend Guide to Kalamazoo
Kalamazoo is more than just a fantastically whimsical name -- it's a sleeper urban getaway. While the city might not get as much recognition as its other Michigan brethren, it has just as much to offer over a weekend trip. Its location in the southwestern part of the state makes it just a hop, skip, and a jump away from major metropolises like Chicago, Cleveland, and Indianapolis, and its two colleges keep K-Zoo young and vibrant. You only need a few days in this Midwestern gem to get a full taste of the city -- from craft breweries to donuts to museums -- so here's your guide to spending your Kalamazoo weekend right.
James D. Coppinger
HAVE BREAKFAST (OR A MIDNIGHT SNACK) AT SWEETWATER'S DONUT MILL
Edison/Knollwood
It's not really a trip to Kalamazoo without a stop (or several) at Sweetwater's Donut Mill. The Garner family's local chain started with one shop in 1983 but quickly expanded to three stores by '89 -- all of which they still own. Stop in at either Kalamazoo location (Stadium Drive or Sprinkle Road -- yes, a donut shop on Sprinkle Road) for a light breakfast of coffee and baked goods. There are over 50 tasty donut varieties to choose from, including classics like raspberry jelly and chocolate glazed to more unique flavors such as peanut butter & jelly, key lime, and Snickers. Miss the breakfast window? Sweetwater's is open 24 hours a day. A sweet tooth never sleeps.
DINE AT NEIGHBORHOOD FAVORITE THE CROW'S NEST
Vine
Located in Kalamazoo's historic Vine neighborhood, Crow's Nest is the go-to spot for brunching and lunching. That's because the cafe combines great food and coffee with a community atmosphere you can't resist. (Must be that Midwestern hospitality, right?) Stop in for a leisurely meal of banana nut bread French toast (yes, please), steak & eggs, huevos rancheros, and much more, before exploring the neighborhood. First stop: Check out Vine by foot. Houses in the area date back to the 1840s, and if you fall in love with the neighborhood, you can even start looking for a home for yourself.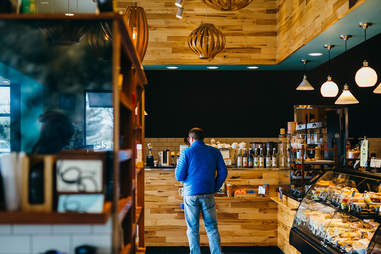 Water Street Coffee
GET YOUR CAFFEINE FIX AT WATER STREET COFFEE
Various locations
Before heading out to explore Kalamazoo, see how local chain Water Street Coffee went from one shop to five thanks to its house-roasted beans and a food menu where every ingredient is made from scratch. For 25 years now, Water Street has been serving roasted-to-order coffee as well as breakfast, lunch, and dinner; try pairing your espresso drink with one of its house-made syrups (vanilla, peppermint, and hazelnut, to name a few), and something from the extensive food menu, like the black bean & egg breakfast burrito or a lavender honey cupcake. With locations on Oakland Drive, Downtown, at the Borgess Medical Center, in Portage, and a drive-thru on Sprinkle Road, wherever you are, there's probably a Water Street Coffee nearby to kickstart your day.
FEAST ON MEXICAN FOOD AT QUEKAS
Milwood
This no-frills Mexican eatery might be slightly outside of the city center (about a 10-minute drive), but it's well worth the trip. A feast at Quekas will cost you less than $20 and choices range from gorditas to chilaquiles to "quekas" (what they call a quesadilla) and everything else you can stuff with cheese and/or slather with salsa. After a horchata and loaded burrito, head to Milham Park Golf Club, just a 2-minute drive down Lovers Lane (seriously, could these street names be any more quaint?), and challenge yourself to 18 holes on this course that's been a fixture in Kalamazoo since the 1930s. Prices start at $28 for adults, and everything you need -- including clubs and golf carts -- are available to rent. If you don't consider yourself a pro on the links, historic Milham Park's 49 acres are ideal for picnics and long walks to burn off those burrito calories.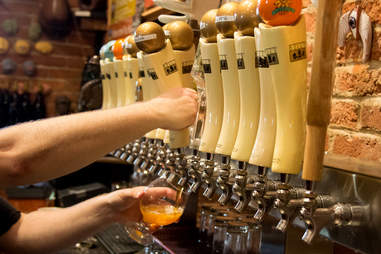 Bell's Brewery
TOUR THE BELL'S BREWERY
Downtown
You've probably heard of Bell's Brewery, but you might not have realized the home of Two Hearted Ale all started in K-Zoo. What began in 1983 as a homebrew supply store is now a nationally recognized brand, distributed to 31 states across the US. Take a free tour of the downtown headquarters -- offered Saturdays and Sundays -- and learn about the first batch Larry Bell ever whipped up (in a 15-gallon soup pot). After, make your way next door to Bell's Eccentric Cafe. Aside from tasting all of Bell's beers (both those that are widely distributed, like the Two Hearted IPA and Amber Ale, and some that are made exclusively for the pub, like the Eccentric Ale, which is only available for one day a year in December), the cafe has an irresistible collection of art, food, and live music. Try the Porter Beer Cheese Soup (made with Bell's Porter), or get a salad with "seasonal beer vinaigrette" while a DJ soundtracks your brunch.
SAMPLE THE BEERS AT OTHER LOCAL BREWERIES
Various locations
Michigan's craft beer scene is hard to rival. The state's industry is worth $10.5 billion and there are over 200 brewers scattered throughout -- about a dozen of which are in the Kalamazoo area. Needless to say, you should definitely visit more than one on your trip. Stop by Latitude 42 in Portage where brews include the Rainbow Weasel (golden ale) and the Party at the Moon Tower (IPA), among others. Then keep the tour going at Boatyard Brewing, a Kalamazoo staple since 2011 and maker of over 230 beers. Though they're not all on draft at the brewery (that would be quite a tap), among the Fast Eddie Red Ale, Baird's Cove Porter, Hazy Sunset IPA, and others, you'll have plenty of options. Finally, head over to One Well, where every piece of the taphouse has a special story behind it. The windows on the east wall, for example, didn't come from the local home store -- they're over 100 years old and were salvaged and refinished to add to One Well's authentic, sustainable atmosphere.
Air Zoo Aerospace & Science
EXPLORE THE WONDER OF FLIGHT AT THE AIR ZOO
Portage
This isn't just any museum. Air Zoo is an aviation paradise. Located in nearby Portage, you can easily spend an entire day in here checking out the 50-plus rare and historic aircraft, checking out exhibits on the history of space exploration, or spinning on the amusement park-style rides and 3D flight simulators. Founded by Pete and Suzanne Parish, formerly of the Marine Air Corps and Women Airforce Service Pilots, respectively, Air Zoo opened to the public in 1979 with the mission to "preserve the legacy of flight for present and future generations." Tickets start at $15.50 for adults, and include access to all the exhibits, rides, and flight simulators. (Warning: Once you feel the sense of complete weightlessness on the Paratrooper Jump, you'll be hooked.)
PLAY BUBBLE SOCCER IN BRONSON PARK
Downtown
Since the 1850s, Bronson Park, located in the center of downtown, has been a meeting place, shady retreat for picnics, and general go-to green space to the people of Kalamazoo. Across the 3.5-acre landscape you'll find several fountains, a band shell, and even statues honoring war veterans, but that doesn't mean you need to spend your time in the park simply sightseeing. Instead, work up a sweat by renting Bubble Soccer equipment. Not sure what bubble soccer is? Oh, it's when you put on giant inflatable orbs and play soccer while tackling the other players. Duh. Rentals start at $450 for 10 people, so get a group together to split the cost of the suits, soccer ball, and goals. We can't think of a better way to enjoy K-Zoo's oldest park.
TAKE YOURSELF ON A MURAL CRAWL
Various locations
There's no shortage of beautiful art to see while walking through Kalamazoo. The streets are covered in public murals that are prime for sharing on social media -- all you need to do is map out a route for yourself. Here's a couple to get you started: Local painter Ellen Nelson is to thank for the Ambati Flowers mural located at 1830 South Westnedge Avenue -- and her work can be seen throughout the city, as well as in Portage. Outside of Park Trade Center (a building where artistic communities gather) at 326 West Kalamazoo Avenue is a famous K-Zoo piece by Conrad Kaufman, "Poem That Ate Our Ears," which depicts a glass jar with a scripted poem and hands crushing tomatoes. If you keep your eyes peeled, you'll see art on what feels like every other wall in this creative city.
Principle
SAVOR THE CRAFT COCKTAILS AT PRINCIPLE FOOD & DRINK
Downtown
A newer addition to downtown, Principle Food & Drink has been dominating the local dining scene since it opened in the Kalamazoo Mall in 2015 and has quickly become known for bringing the craft cocktail movement to West Michigan. Their drink menu includes sections for libations shaken, stirred, and classic, and is highly creative: The Madame de Pamplemousse is made with Tanqueray gin, Maraschino, grapefruit oleo saccharum, agave, and pamplemousse LaCroix, while the Bywater is a combo of Plantation dark rum, Averna, Green Chartreuse, Falernum, Peychaud's, and orange bitters. Of course, Principle doesn't just pack a mighty cocktail punch; the dinner menu ranges from small plates such as duck wings, pork chops, grilled rainbow trout, and many others to complement the extensive cocktail list.
SEE LIVE MUSIC AT OLD DOG TAVERN
Downtown
There's a lot more bars than just breweries in this town. And good thing, since most of those close before midnight. Spend your Kalamazoo evenings at Old Dog Tavern, located right down the street from Bell's Brewery, and a cross between a restaurant, bar, and music venue with live acts every Friday and Saturday. There's a special every day of the week, including jazz brunch on weekends and a $5 whiskey & beer drink promo on Fridays. And if you need even more to "cheers" to, there's always free ping-pong and pinball, plus local craft beers on tap. It's pretty much impossible to have a dull night here -- and no, that's not a challenge. Just enjoy it.
DANCE THE NIGHT AWAY AT THE GATSBY
Downtown
For those nights when you need to dance your face off with a cocktail in hand, there's The Gatsby, located in Kalamazoo's entertainment district. This lavish nightclub has a DJ spinning the hits all night (and even some dates dedicated to different genres like Latin music or the '90s), views of downtown, and cozy couches for when you need a quick rest (before your favorite song comes on, of course). Feel like splurging on your weekend getaway? The Gatsby offers bottle service, too, for that birthday, bachelor/bachelorette party, or whatever else you might be celebrating. But really, who needs a reason to celebrate? Order a bottle of champagne and toast to Kalamazoo.