Sponsored By

The Unexpected Perks of Traveling With Your Family
Sponsored By

We're just going to say it: Family vacations have a bad reputation they don't deserve. The first things that come to mind are forced fun, eye rolls, and way too many dad jokes -- plus the stress of traveling with kids. But it's all a myth. Family vacations, especially those spent with either your parents, kids, or extended family, actually come packed full of eye-opening benefits. (We're talking priority boarding at the airport, benefits.) So read on, and maybe call your mom so you both can get planning.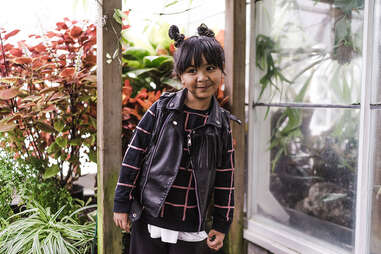 Hanging out with kids teaches you how to live in the moment
There are some activities that are just made for kids, be it traveling to an amusement park or sitting through a cool demonstration at a local museum, so going with just your SO (or, even weirder, alone) may get you some side eye. But, if you're bringing your nieces and nephews along (or your own kids), you get to experience it without the judgey faces from other parents. Kids are also enviably better at practicing "mindfulness" than adults, as they don't experience the same constant worrying, chatter, and stress that adults do, psychologist Steve Taylor writes. Because of that, they stay "present" in the moment and enjoy all the little details from these activities, like how brightly-colored the shells are they found on the beach, and can inspire adults to practice the same "mindfulness" -- which is key to relaxing whether you're on vacation or in a yoga studio.
Traveling with kids can get you VIP perks
Most people assume that traveling (especially flying) with kids is a constant headache. But look a little closer and you'll realize people are trying to help you every step along the way. Tell an airline you're traveling with a small child, and you'll get priority boarding at the airport. If you need a high chair at the restaurant, you'll usually get bumped to a bigger table. Beyond that, kids often get an inside look at attractions (be it a behind-the-scenes look at feeding fish at an aquarium or the chance to sit in the driver's seat of a boat). Why? Because people can't resist cute kids' faces, and love to inspire awe in them. Along the way, you'll get to experience these things too -- for the kids, of course.
You'll stay in more comfortable accommodations
When there's a big family group traveling, it's easier to split the cost of a large vacation rental rather than keep everyone cooped up in a series of hotel rooms -- and studies have shown those rentals are already typically cheaper than hotel rooms throughout much of the US. That means you'll have all the comforts of home (including your mom's cooking) at a fraction of the price. The downside to a rental means that you'll be responsible for cleaning and doing some chores during your stay, but with several hands to help cook and clean, there won't be a scramble at the end of your stay to make sure the rental is ready for the owners to return.
Now that you know traveling with your family has some surprising benefits, it's time to get to planning your next trip. Enter: Panama City Beach. With 27 miles of sugar-white sand, adrenaline-inducing attractions, and natural wonders to explore, you'll find something for everyone -- whether you're traveling with your kids, nieces and nephews, grandma, the family dog, or all of the above.
There's always someone to tag along
Romantic vacations with your SO are always going to have perks (Luxe spas! Fancy dinners! Wine tasting!). But when you go on vacation with just your partner, you're restricted to activities that only both of you enjoy, which means turning down certain opportunities that only one of you would like. When you go with a big family group, though, your younger cousin may be interested in hitting that yoga class with you, while grandma may want to tag along to that new art exhibit, so your SO can hit up the driving range while everyone else is occupied. The bigger the group, the more wins to spread around.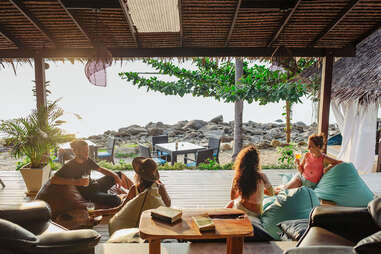 Everyone will actually get together… and enjoy themselves
No matter how strong your family traditions are, it's usually difficult to get everyone together for holidays and birthdays, especially if your family is spread out across the country. That's not the case with family vacations. Since things are normally planned well in advance, everyone will prioritize this time together a bit more than another Thanksgiving at your aunt's house. (And you're way more likely to enjoy a whole week with your mom on the beach vs. a few hours crammed onto your old living room sofa with Uncle Al.) Why? Several studies point out that family vacations create some of the best memories for kids and parents alike. According to a study from the Family Holiday Association, 49 percent of adults said that their happiest memory was from a family vacation, and a third said that they still remember their childhood vacations as adults.
You won't have to holiday shop this year
Speaking of holidays and birthdays, several experts point out that gifting experiences rather than stuff is better for not only kids, but adults, too. According to a study from the Journal of Consumer Research, experiential gifts are better at building stronger relationships than gifting material objects. In addition to that, family vacations can help kids build concentration skills, advance brain development, and could literally make them smarter, as spending time in an "enriched environment" (think one that is more stimulating, like a sunny park with lots of wildlife) has been proven to increase IQ. Also, you'll use WAY less wrapping paper.
You'll probably make some new friends
It's well known that kids have a tendency to make friends and find playmates everywhere they go. That's especially true on vacation. At home, parents usually form friendships with other parents thanks to shared social experiences and convenience, and the same can happen on vacation. Even as their aunt or uncle, if the kids on the trip are making friends with another family, you'll likely meet a few new faces, too.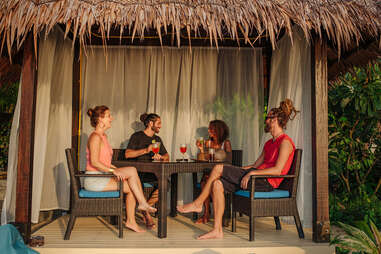 You'll likely get some true R&R
Do you ever come back from vacation more exhausted than when you left, thanks to jet lag, late nights at cocktail bars, and days spent running from attraction to attraction? With kids and older family in tow, you'll travel slower, and nights are more likely to be spent around a campfire, playing a board game, or watching a movie together than out at a bar. Those folks also have an earlier bedtime, so you'll likely return from your trip truly well-rested… and counting down 'til the next one.