The US Military Towns You Definitely Don't Want to Be Stationed in, Ranked
A few months back we asked current and former military personnel where in the US they most enjoyed being stationed, and why. And these were their picks for the "Best Military Towns in America" -- some truly beautiful parts of the country. (We also plied them for their military packing pro-tips. Thanks guys!)
This time, though, we wanted to know where they absolutely HATED being sent. The towns where feral cats circled the moving van when they pulled in. Or towns that led otherwise supportive military spouses to casually be, like, "Heeeey, just an idea here, but maaaaaaybe -- now hear me out -- maybe we do the long distance thing until your next assignment," when they got their orders.
They say there are two kinds of military towns: those that come ready-made and those you "make the most of." After taking into consideration weather, morale, base amenities, stuff to do, and accessibility to major cities, it seems that some of our military's most heroic acts of service might not be fighting battles abroad, but bravely conquering these 10 towns at home.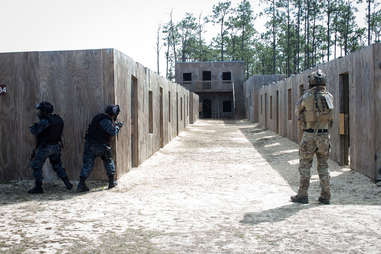 10. Fayetteville, North Carolina
Bases: Fort Bragg, Pope Airfield
Unlucky call sign: "Fort Drag," "No hope Pope"
Why it's not great: Fort Bragg is like the Kardashians -- everybody in the Army knows about it, talks about it, and either loves it or hates it passionately. We think there is so much chatter about Fayetteville because it houses the biggest population in the Army -- and the naysayers are loud simply because there are so many of them. Fayetteville is one of the few bases on our list that's located in an actual town, or as a Marine spouse in neighboring Camp Lejeune put it, "at least they have a mall and a Discount Tire." Still, soldiers insist that the place reminds them of every combat zone the US has visited in the past four decades.
Most common escape: Charleston, Wilmington, Charlotte, Raleigh, and Myrtle Beach are all within a couples of hours' drive. In other words, Fayetteville is the awkward neighborhood kid surrounded by cooler, more beautiful neighbors in every direction (yes, even Myrtle Beach. Dirty Myrtle has cleaned up its act in the past few years).
Surprise silver lining: Besides offering easy access to both major cities and ocean views, Fayetteville might be the best place to further your education. With Duke and UNC (among other universities) nearby, you can get smarter while also becoming manically invested in March Madness.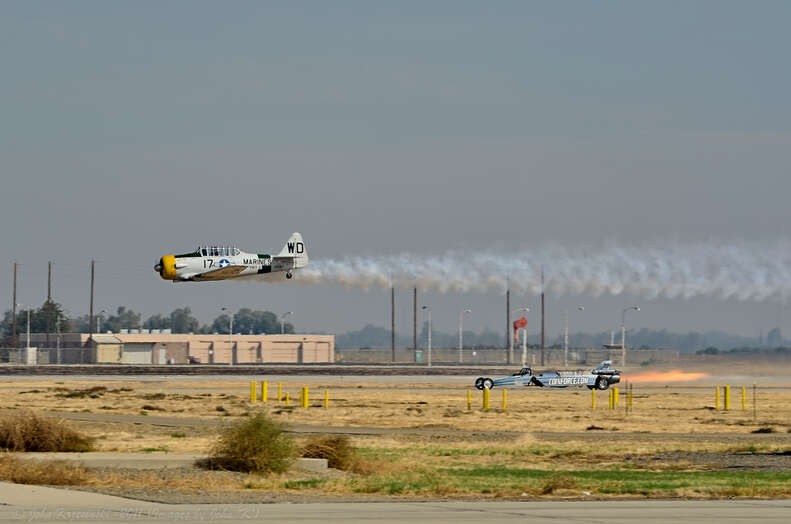 9. Lemoore, California
Base: Naval Air Station Lemoore
Unlucky call sign: Armpit of the Navy -- supposedly because of the smell and air quality
Why it's not great: Never heard of Lemoore? Yeah, most haven't. As with virtually every other town on this list, Lemoore is almost indiscernible on a map. It has all the usual complaints of a remote base town with one notable difference: it is regularly ranked among the nation's worst for air pollution.
Most common escape: We could talk about the nearby cities of Visalia or Fresno, but who cares about that when the most beautiful place on earth is literally in your backyard? Yosemite National Park is just a couple hours north (and its great hikes!), and Kings Canyon is the same distance east. So yeah, Lemoore might not be much to look at, but you are just down the road from some spectacular #nofilter #views.
Surprise silver lining: Another perk of living in the agriculture-heavy Central Valley of California is access to fresh, local eggs and produce through farm co-ops. Some even deliver to your door. Eating organic and local has never been easier, which is great news for anyone who has watched any documentary on factory farming, ever.
8. Jacksonville, North Carolina
Base: Camp Lejeune
Unlucky call sign: J-actionville
Why it's not great: The deal breaker here isn't the backwoods location or the fact that legitimate social functions are called "pig pickins." No, the complaint we heard most often from Marines is that waaaaay too many Marines live here. Sure, there are dozens of barbers that will give you a tight fade, but there's really nowhere to be off duty and allow your face to fade into a five o'clock shadow. Oh, and there's also that small thing about the contaminated drinking water.
Most common escape: Although there's basically nothing to do in Jacksonville except get a fresh tattoo or payday loan, Wilmington is just an hour away, Myrtle Beach is a little over two, and Nicholas Sparks lives nearby where he pens novels for your romantic escapism, I mean, for your reading pleasure. You know, if you're into that kinda thing when you aren't defending the country.
Surprise silver lining: Surrounding Jacksonville are some truly charming historic and seaside towns, including New Bern, Swansboro, and the Emerald Isle. For those that like to hunt and fish, there are plenty of outdoor activities. For those who are vegetarian, Godspeed.
7. El Paso, Texas
Base: Fort Bliss
Unlucky call sign: "Fort Piss," "Hell Paso"
Why it's not great: The base with the most misleading name, Fort Bliss is located in the border town of El Paso, Texas. Besides the unique cultural tensions of living in a border town, service members reported that Fort Bliss was hot, isolated, and subject to sandstorms. So, it's like Aladdin, except without a genie to help you.
Most common escape: Ruidoso, New Mexico offers all sorts of outdoor activities plus a casino and horse racetrack. The hot air balloon festival in Albuquerque is also within reach, but it will take you at least eleven attempts to spell Albuquerque correctly before your GPS will be any help.
Surprise silver lining: From what we can tell, Fort Bliss has the best on-base amenities of any military installation ANYWHERE. Because everything is bigger in Texas, the post has the largest on-base bowling alley, fitness center, and Post Exchange (PX) in the whole Army. Also worth mentioning: Freedom Crossing, the first-ever, on-base, open-air shopping center offers tons of restaurants and shops.
6. Fort Drum, New York
Base: Fort Drum
Unlucky call sign: Fort Drunk (due to the number of alcohol-related incidents on base in the 1990s)
Why it's not great: As the old joke goes, Fort Drum has two seasons: winter and July. Located on the Canadian border, winters here are long and brutal as the snow piles up and temps dip down to thirty below. It's like the North Pole in a world where Santa doesn't exist. Very cold and very sad.
Most common escape: Syracuse is the closest town, although Lake Placid, Niagara Falls, and Montreal are a little over three hours away. And since that Canadian border is only 30 minutes away, you're never in short supply of maple syrup.
Surprise silver lining: The way to survive Fort Drum is to bundle up, get outside, and start adding 'ice' to the front of all your favorite activities: ice fishing, ice climbing, ice walking, ice dining. There's skiing at Dry Hill, tubing at Maple Ridge Snow Park, and plenty to explore in the Adirondack Mountains. In the summertime, you can even hit the beach on the shores of Lake Ontario for some exciting... ice swimming!!!
5. Twentynine Palms, California
Base: Marine Corps Air Ground Combat Center Twentynine Palms
Unlucky call sign: "29 Stumps" or "The Stumps"
Why it's not great: Marines call 'The Stumps' the place for the best training and arguably the worst social life. Located in the middle of nowhere the Mojave Desert, 29 Palms is where tanks outnumber sedans and sunburns happen through car windows. Oh and for the record, Lake Bandini isn't an actual lake. It's a poo pond created from the open sewage of a water treatment facility.
Most common escape: If you are the rugged sort that enjoys inhaling sand and spotting rattlesnakes, there are miles of desert to explore on a dirt bike or four-wheeler, along with the trails and famous rock climbing available at Joshua Tree National Park.
Surprise silver lining: Although 120-degree heat brings out the best in no one, the high desert does bring out the stars in an unforgettable night sky. Word has it that the family-friendly community here is so good that you don't just cry when you get there, you cry when you leave, too. And with Vegas, Palms Springs, Lake Havasu, Big Bear, and Los Angeles all within a two- to three-hour drive, there really are lot of places to get away.
4. Fort Irwin, California
Base: Fort Irwin National Training Center
Unlucky call sign: A string of expletives that we cannot repeat
Why it's not great: Fort Irwin is the vast desert training area for the Army, a severe and remote landscape that could easily double as the Mad Max set. Soldiers say the operational tempo is punishing, the single ladies are few, and the nearest town is 45 minutes away -- and that town is Barstow, CA, a place that frequently holds the title of "meth capital of the world."
Most common escape: Like many of the desert base towns on our list, Fort Irwin is "located in the middle of nowhere but in the middle of everything." Big Bear, San Diego, Vegas, and LA are all within reach. And if you like to unwind from desert combat training by driving into more desert to shoot more guns and drive more off-road vehicles, then Fort Irwin is your paradise.
Surprise silver lining: The Barstow Tanger Outlets offer soldiers the chance to buy their Air Jordans on discount so they can wear them to Shock Wave, the on-base night club that shows UFC fights without cover and serves food that is "not half bad," "hit or miss," and "meh," according to Yelp! reviewers.
3. Clovis, New Mexico
Base: Cannon Air Force Base
Unlucky call sign: "Afcannonstan"
Why it's not great: Blame the fact that Clovis is more West Texas than New Mexico, that there are limited on-base amenities, or that it's completely surrounded by cattle farms and dairies; but airmen know Clovis as a remote base town memorable for the wafting smell of cow manure and the downright biblical wave of pestilence known as 'fly season.'
Most common escape: Lubbock and Amarillo, Texas, are the two closest cities, but we can't bring ourselves to see how this is a good thing -- unless you enjoy taking down 72oz of free steak in an hour. But if you're not, and are willing to drive a bit further, Sante Fe, New Mexico offers galleries, museums, badass psychedelic funhouses/art collectives, and the Sangre de Cristo Mountains -- popular for hiking, biking, and skiing.
Surprise silver lining: Isn't it always true that in the face of misery, communities pull together? In the case of Cannon AFB, solid relationships here are built not on entertainment or flashy dining options, but on good ol' fashioned beer, football, and common commiseration. In fact, one airman told us that he learned how to cook at Cannon since there weren't any good restaurants. So even though the base may be a bust, it might just prompt enough personal growth to make a really excellent online dating profile.
2. Minot, North Dakota
Base: Minot Air Force Base
Unlucky call sign: "Why Not Minot?" It seems like a rhetorical question, but: "Freezin's the reason."
Why it's not great: Remember the ice planet in Intersteller? The one that turned Matt Damon into a bad guy? Minot is a missile base located in a desolate region of the least-populated, most-rural, least-visited state in America, so it's pretty similar, dontchaknow. Average winter temps hover in the low teens in a place where cows outnumber people three to one.
Most common escape: Only ninety minutes away is the World's Largest Buffalo monument, in case your version of escape is looking at a larger version of your natural surroundings.
Surprise silver lining: For a while Minot was at the center of the North Dakota oil boom, jolting the local economy into overdrive, providing loads of jobs for military dependents, and causing rent prices to soar. Now that Halliburton has closed its Minot facility, jobs aren't as plentiful and rent prices are steadily decreasing. The perk? It's cheaper to live in the place you never wanted to!
1. Leesville, Louisiana
Base: Fort Polk
Unlucky call sign: Fort Puke
Why it's not great: The Army has some pretty terrible duty locations, but they were more unanimous than any other branch of the service on which post qualified as THE WORST. One soldier put it this way, "If God had to give the Earth an enema, he would attach the hose to Fort Polk." Yeesh. Most blame the misery on the humidity, the bugs, or the fact that chain gangs are not at all uncommon in this swampy, far-from-everything town.
Most common escape: Lake Charles and Alexandria, both proper towns, are about an hour away. And New Orleans is a five-hour drive, so at least you can get a beignet for your troubles.
Surprise silver lining: In recent years, Fort Polk's base amenities have undergone an impressive facelift. On-base housing is rumored to be nice and the post boasts a brand new commissary, PX, and a really good hospital. So if you're unimpressed by Louisiana, at least you can benefit from some military-issued, updated hospitality.
Correction: The original version of this article inadvertently reversed the order of the towns and ranked Fayetteville #1 instead of #10. We're sorry, Fayetteville -- you didn't deserve that. The current version has been updated to reflect the change.
Sign up here for our daily Thrillist email, and get your fix of the best in food/drink/fun.
Bekah DiFelice is a writer, military spouse, and recovering addict to the word "literally." You can find her riding her Vespa around San Diego, on Facebook and Instagram at @bekahdifelice, or on her blog bekahdifelice.com.