The world's weirdest Starbucks locations
With more than 19,000 locations in over 60 countries, Starbucks' stores continue to spread like a bad STI. Even now, when you think you're safe from the green siren, there's a good chance a smiling barista's just around the corner, waiting to grossly misspell your name. Get ready to shout "Orange Mocha Frappuccino!" excitedly with your boys as you travel the globe to these, the six strangest places to get your latté on.
1. On a train, in Switzerland
Hop aboard the new Starbucks train and ch-ch-chug that java. The coffee train's first official voyage was between Geneva Airport and St. Gallen. This espresso bar's the smallest the company's ever designed; as such, we recommend swapping your Venti for the long-lost Short (remember those?), or, if you must, a Tall.
Local brew: Not sure the Swiss will appreciate the Holiday Blonde Roast -- they invented Nescafé, the cremated cousin of actual coffee.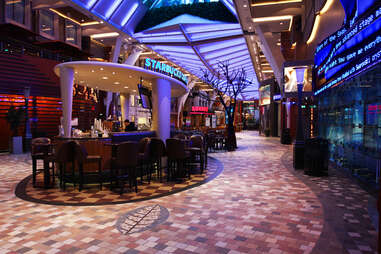 2. In the middle of the Caribbean
As if cruise ships weren't already floating in the direction of becoming giant on-the-water shopping malls, Royal Caribbean International's taken it to the next level by introducing your favorite corner café on the Allure of the Seas. Regularly rocking between Ft. Lauderdale, Haiti, Jamaica, and Cozumel, you should request room for cream even if you don't need it, lest high seas spill java on your resort-wear.
Local brew: Haiti and Jamaica are renowned for their own beans, and Mexico's the world's eighth-largest coffee producer. Worth keeping that in mind when you ponder a Pike's Place Roast.
3. On the slopes
No need to unstrap to satiate your caffeine addiction; at California's Squaw Valley Resort, there's a "ski-up" java hut located at the Gold Coast mid-mountain complex, around 8,000ft above sea level.
Local brew: Skip the caffeine altogether and zip down the road to Heavenly, which has the added bonus of blackjack and cocktails.
4. At Disneyland
Beleaguered parents now have a fighting chance at surviving a day at Disney, as the first in-park Starbucks opened at the Magic Kingdom in Anaheim. The location keeps up the kitsch by rocking a turn-of-the-century general store theme (aggravatingly cheerful, costumed baristas included) and serving Disney-specific pastries.
Local brew: Mickey mochas and Pluto pumpkin spices are not fit for adult male consumption.
5. Inside a bank vault
If only this was where your money went every time you bought a latte -- SB opened their largest European branch inside The Bank at Rembrandt Square in Amsterdam. Though subterranean, bank history enthusiasts are likely to be disappointed, as only the vault's original exposed concrete walls and 1920s marble floors remain.
Local brew: If you're looking for coffee shops in Amsterdam, and you show up at Starbucks... you probably should've done some more research.
6. In an old Starbucks shipping container
Inspired by the busy port overlooking Puget Sound outside of its Seattle headquarters, Starbucks decided to use one of its own 450sqft reclaimed shipping containers to house the company's first eco-approved store in Tukwila, Washington.
Local brew: At long last, Starbucks is the hometown choice. Splurge on a Venti Caramel Macchiato -- you've earned it.