New York City's yellow cabs might be world famous, but with a 98 percent chance of getting a driver who's on the phone 100 percent of the time, they're far from the world's best. Or coolest, even.
But where on Earth can you catch a cab that you'll be telling your friends about when you get home? From top-hatted chauffeurs to vintage Cadillacs, here are 10 of the world's sickest taxis.

Tokyo, Japan
The Japanese are a notoriously polite/tidy people, so it's no surprise that their cabbies would be as well. Japanese drivers wear chauffeur's hats, freshly pressed shirts, and white gloves. Even better, they have a weird hand crank device with which they can pop open the back door. See for yourself here (you can stop after :02). Also, they refuse tips!

Mumbai, India 
While uniformly black and yellow on the outside, it's the inside of Mumbai's famous Premier Padmini cabs that really shine. Local drivers are able to showcase their personality/sense of style with plush, personalized interiors decorated with colorful logos and images painted onto the rear window. Unfortunately, these older, non-air conditioned cars (many of which've been around since the '70s) are slowly being phased out.
Bangkok, Thailand
These colorful, three-wheeled Tuk Tuks (or auto rickshaws) consistently lure guileless tourists into paying more for a ride than they would in a metered cab. And then they proceed to scare the crap out of them by weaving through traffic, flying over potholes, and narrowly avoiding pedestrians and larger vehicles. That said, it's a Thailand experience!
Munich, Germany
In the land of fast cars and the autobahn, why shouldn't cabbies get to indulge their need for speed? Surprising no one, even the most mundane cab ride around Munich will be in the back of a BMW, Audi, Mercedes, or even a Porsche. And you may even pass one of the city's six urban naked zones.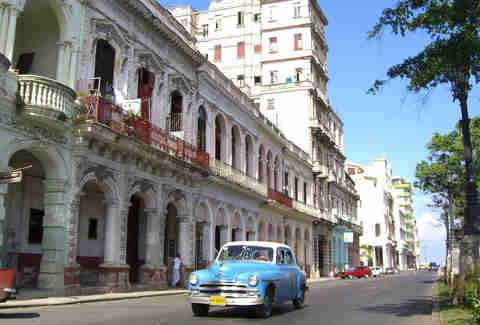 Havana, Cuba
Since importing new cars isn't really an option, clever Cubans have become quite skilled at keeping vintage beauties alive for the better part of a century. Just imagine, Ernest Hemingway could have ridden in the very same Cadillac you're sitting in now, assuming of course, that you're visiting Cuba to run the marathon.
Moscow
Hailing a cab in the billionaire capital of the world often means you'll be riding through Red Square in a Maybach 62 or Porsche Cayenne. And it seems like only yesterday Muscovites were standing on bread lines.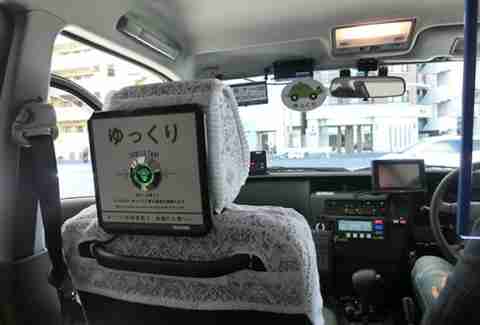 Yokohama, Japan
Turtle Taxis have a "Yukkuri" button in the backseat that, when pushed, literally informs the driver that he can take his sweet time getting to your destination. Why? Who knows why the Japanese do what they do, but it is reportedly safer, smoother, and somehow more eco-friendly.

Mexico City, Mexico
While VW Beetle cabs were as typically Mexican as street tacos and Tijuana prostitutes, unfortunately most have been retired since 2012. No, they weren't very environmentally friendly. Yes, they lacked legroom (some cabbies had to remove the front seat entirely to make space). But they were a staple we're sad to see go.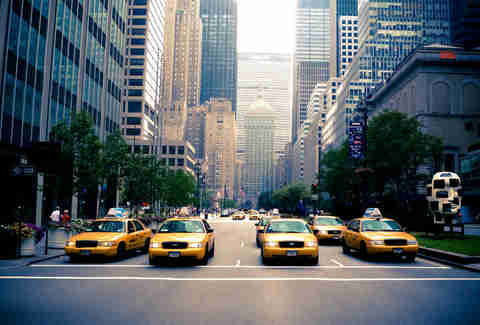 New York, New York
Ok, so we kind of ragged on New York cabs above, but c'mon, what other city in the world basically has more taxis than regular cars? The teensiest flick of the wrist can lead to multiple cabs screeching to a halt (unless it's raining or the middle of a shift change -- in which case, you're SOL), and even a three-block trip will make you feel like you're putting your life at risk. Which always makes for a great story to tell back home.

Sophie-Claire Hoeller is Thrillist's über-efficient German associate travel editor, and has been left roadside multiple times by NYC cabbies who've had to take a pee. Follow her taking the subway instead @Sohostyle.