Because an "alternative dining experience" should really be more than just eating at Chili's rather than at Applebees -- and because we know you dig weird watering holes -- we rounded up some of the world's most outlandish restaurants. From a toilet-themed joint in Taiwan, to a condom-adorned cafe in Bangkok (that's not even a joke), to a ristorante staffed almost entirely by Italian prisoners, these 10 eateries take weird-ass dining to the next level.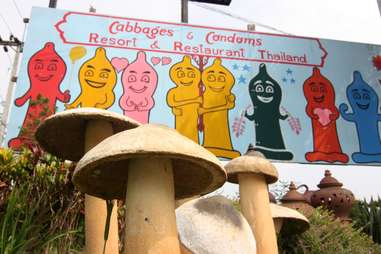 Cabbages and Condoms -- Bangkok, Thailand
As dining out can be dangerous, play it safe at Cabbages and Condoms, where the grub's "guaranteed not to cause pregnancy" -- although whether it'll help induce it is anybody's guess. Expect condom-themed décor (like flowers with Trojan petals), and a wait staff who may or may not be donning inflated condoms... on their heads. Also, in lieu of after-dinner mints, you're invited to take a condom. Because nothing says dinnertime quite like a side of latex.
Modern Toilet -- Taipei, Taiwan
While most respectable people would suggest you don't sh*t where you eat, Modern Toilet flushes that rule right down the loo. Toilets hang on tiled walls, your crockery's shaped like toilet bowls, and your chocolate ice cream takes the shape of... you know. Hey, at least you shouldn't have any trouble finding the bathroom.
Fortezza Medicea Restaurant -- Volterra, Italy
At this behind-bars eatery, you'll be served your one square a day by actual inmates; and you'll eat said meal, fittingly, with plastic cutlery. Or, if you really want to up the ante, head to Latvia where you can pay to sleep in a jail and get treated like a prisoner.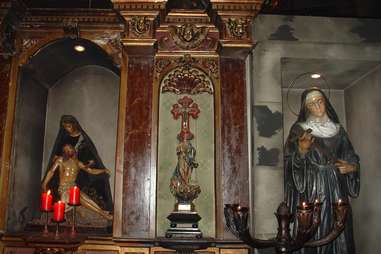 Christon Cafe -- Tokyo, Japan
With its giant crucifix, stained glass windows, and bizarre Biblical-meets-gothic-vibe, this Tokyo church-themed spot has menus shaped like coffins, and plates creative French-Italian fare.

Heart Attack Grill -- Las Vegas, USA
One of the few places in Vegas where the food, and the waitresses underdressed like sexy nurses, will raise your blood pressure, this famous hospital-themed joint specializes in artery-clogging, four-patty Quadruple Bypass burgers, and serves anyone who weighs in at over 350lbs for free.

Robot Restaurant -- Tokyo, Japan
If you like dinner with a side of strobe lights, thumping beats, and wild dance performances by robots and half-naked women, this place is for you. A picture just wouldn't do it justice.
Dinner in the sky -- Various locations
What's up on that crane? Oh, nothing, just a dinner party -- nbd. You'll only be enjoying your meal while strapped into a seat and suspended high up in the air. Meanwhile, three chefs will be working to cater to you and your party -- a table seats up to 22 people max -- and you can eat everything from sashimi rolls to a steak dinner.
Ithaa Undersea Restaurant -- Rangali Island, Maldives
If you're one of those people who likes to know where their food came from, try eating your swordfish at sea level. Even better, channel your inner-James Bond and use this handy underwater device to get to your table. Or, if you really want to go crazy, just sleep underwater.
Disaster Cafe-- Lloret de Mar, Spain
Because what's better than partaking of a lovely meal whilst experiencing a simulated earthquake? Probably a lot, but that's what you get at Disaster Cafe -- Spanish red and a 7.8 on the Richter Scale.

Twin Stars -- Moscow, Russia
If you enjoy chewing Double Mint gum and are counting the days until that new Russell Crowe flick about Noah's Ark comes out, then you'll probably enjoy dining at Twin Stars -- quite possibly the only restaurant in all of Russia that exclusively hires identical twins. That's right, if you don't have an identical twin that also wants to wait tables with you while you try to get your life together before going back community college, you're out of luck. Sorry.
Chloe Pantazi is an editorial assistant on Thrillist's travel team. The weirdest restaurant she's ever been to is Bubba Gump's, and now she knows why Forrest ran. Follow her on Twitter at @ChloePantazi.