The World's 7 Most Overplayed Vacation Destinations
Shutterstock
Shutterstock
Whether they were once hidden gems frequented only by Australian backpackers or tourist traps since the late Renaissance, some of today's popular vacation hotspots have simply gotten too hyped for their own good. And in the words of Fred Armisen from Portlandia: "They are soooo OVER!" But which ones are certain to elicit a tidal wave of soul-crushing disappointment when you arrive? These seven, of course.
Phuket, Thailand
Yes, we've seen The Beach, and we love Leo DiCaprio, too. But so does everyone else in the world (other than the Oscar voters), which is why this is no longer a remote destination. We don't care if you learned the correct pronunciation of Koh Phi Phi (Pee-Pee) Islands. While Phuket is still one of the cheapest ways to soak up some sun and indulge in the best pad Thai you've ever eaten, the overdeveloped region is teeming with tourists.

Instead go here: Vietnam's Phú Quốc is what Koh Phi Phi used to be -- a remote island beset by dazzling waters and white sand beaches. But Phú Quốc is still largely undeveloped, making it more of a refuge for expats eager to get lost in its dense tropical jungle and accidentally stumble onto a drug plantation.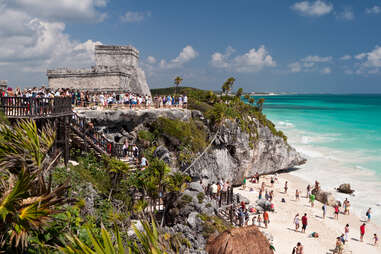 Tulum, Mexico
Recently dubbed the "Williamsburg of Mexico" (which should tell you everything), the once-exotic refuge on Riviera Maya has now become, well, a New York neighborhood. And as lovely as your fashion-blogging friends' wistful, Nashville-filtered Instagram photos look, Tulum is just a tropic-themed costume party of your corner Brooklyn haunts. Once a way to evade the scene at the nearby Cancun Señor Frogs, Tulum has quickly become the 2.0 version of the Mexican cliché.

Instead go here: Thanks to an easing of travel restrictions by the US government, it's time to put Cuba back on the list. With the impending addition of ferry services from Miami and direct charter flights from New York, the island nation is an easy answer to a quick getaway. Playa Paraiso and Playa Sirena along the Cayo Largo del Sur are some of the most stunning stretches of beach the island nation has to offer.
Ibiza, Spain
We get it, partying on this Spanish island is like a weekend bender at New York's hottest nightclub (thanks, Stefon). Ibiza is no joke when it comes to all-night raves, and around 2.8 million tourists flock to the island each year to bask in the neon glow of nightlife. But we don't care that you learned to call it "Ibitha," and we certainly don't care which DJ was spinning. Ibiza has lost its edge.

Instead go here: Croatia's music festivals are giving Ibiza a run for its money. The summer season is packed with music festivals including SuncéBeat, Electric Elephant, and The Garden Festival. With the same nightlife spirit and similar stretches of sun-kissed beaches, Croatia is the perfect alternative to a Balearic summer fling. Head to Pag Island, Novalja, to check out the open-air clubs and island hop to the Hvar Islands, Pakleni, and Dubrovnik.
Bali, Indonesia
Yes, we know: you love yoga, and that fresh-faced tan from your weeklong retreat oozes with enlightenment. But let's move on. Bali's beaches have an international reputation for helping those who visit reach a state of nirvana, but they've simply weathered too many travelers. The influx of tourism -- and lack of infrastructure to handle it -- means those blissful beaches you came to see are now lined with trash. Seriously, surfers navigate garbage when they're catching a wave. We're not just being snarky.

Instead go here: Head over to Malaysia and check out Langkawi or the Redang archipelago (comprised of nine islands), there you can sun, snorkel, and swim in crystal waters free of McDonald's wrappers.
Dubai, UAE
The massive city of excess, malls of marble, and record-setting skyscrapers is one of the biggest tourist traps in the world. Throw in searing temperatures, overpriced meals, and a lack of local culture, and you're gonna wish you never took that 15-hour flight from Dallas.

Instead go here: Just like Dubai, Shanghai is a city that transformed overnight. With the same ambition, Shanghai offers a luxury destination with Michelin-starred restaurants and a rich art scene like the Power Station of Art, which includes Asia's largest Andy Warhol collection. But let's be honest, you're probably not here for pop art pics of Campbell's soup. Start with rooftop drinks and a view of the Pudong skyline, go clubbing on The Bund, and then finish with some late-night xiaolongbao dumplings.
The pyramids of Cairo, Egypt
If you haven't seen An Idiot Abroad, we'll sum up the Cairo experience for you: Karl Pilkington eats at Pizza Hut, gazes out at the pyramids (which you can see FROM the Pizza Hut), visits the iconic site, and witnesses a garbage tornado. As much as they are on your bucket list, the pyramids are full of endless crowds, litter, and aggressive locals relentlessly pursuing your pockets for cash.
Instead go here: Morocco's medinas in Marrakech, Fes, and Meknes offer a similar bustling experience as walking through an Egyptian souk. The country's stunning scenery features both Atlantic and Mediterranean coastlines, the Sahara Desert, and the Atlas Mountains. Just make sure to see the sand dunes of Erg Chebbi.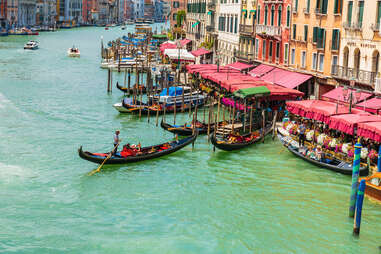 Venice, Italy
The Venice canals might be one of the most overhyped destinations in the world. Sure, a gondola ride through the polluted waters sounds dreamy, but when a 40-minute ride comes with a $110 price tag -- not so much.

Instead go here: If you have your sights set on Italy, focus on the Amalfi Coast stretching along the southern section of the Sorrentine Peninsula. The 43-mile bend fixed along soaring cliffs and brilliant hues of blue water is enough to make you forget all about that overpriced gondola ride. Opt for off-peak travel seasons (May to June or September to October) and plan to stop in Positano, Ravello, Sorrento, and Amalfi.
Sign up here for our daily Thrillist email, and get your fix of the best in food/drink/fun.