The World's 11 Most Death-Defying Hikes
For some nature enthusiasts, the beauty of the great outdoors is not enough. No, there has to be an element of danger and a legitimate chance of dying. Because, of course, nothing makes you appreciate a gorgeous vista more than knowing that one wrong step and you'll plummet to a violent and rocky end. This is a story for those nature enthusiasts.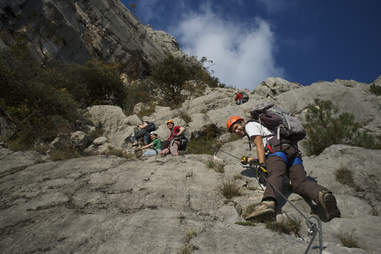 <a href="https://www.flickr.com/photos/infanticida/10552660295" target="_blank">FLICKR/ALEKSANDR ZYKOV</a>
Via Ferrata
Italy and Austria
Nothing says outdoor fun like clinging to a steel cable that's affixed to the face of a cliff. Via Ferrata, which literally means "iron road" in Italian, is a protected climbing route that runs through the Italian and Austrian Alps. And as you might imagine from the name, sections of the trail feature cables tacked into the craggy cliff, to which hikers/climbers hook themselves so as not to tumble off. #comfortingthoughts
<a href="https://www.flickr.com/photos/128675179@N07/15623313438/" target="_blank">FLICKR/ICY LEE</a>
Mount Hua Shan
China
You know this makes the cut if its Wikipedia page has an entire section devoted to "Fatalities." Spoiler alert: they still occur. There are three routes leading to Hua Shan's North Peak, which is the lowest of five peaks and measures in at nearly 5,300ft. From the North Peak, the trail heads up to the Canglong Ling ridge where narrow, unprotected paths have given Mount Hua Shan its spine-chilling reputation for being one of the most deadly hikes in the world.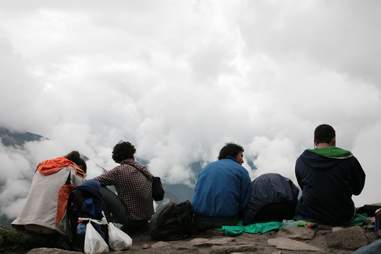 <a href="https://www.flickr.com/photos/romancing_the_road/3349715965" target="_blank">FLICKR/EL GRINGO</a>
Huayna Picchu
Peru
So you completed the Inca Trail and landed at Machu Picchu. Congrats. But not so fast.. there's actually a peak even higher than Machu Picchu that's also dotted with temples and other cool "forgotten" Incan remnants. According to local guides, the top of Huayna Picchu, which at 8,920ft stands 1,180ft higher than Machu Picchu and is the mountain you see behind the ruins in EVERY picture of MP, was the residence for the high priest and his troupe of virgins. Some parts of the trail to the summit are slippery and exposed, so be careful.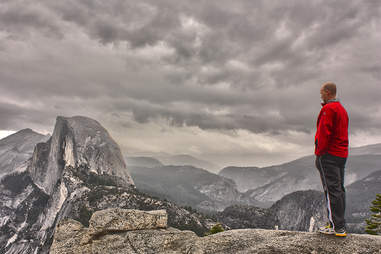 <a href="https://www.flickr.com/photos/w_dechant/7646505036" target="_blank">FLICKR/WANDA DECHANT</a>
Half Dome
California
Until the 1870s, this geological granite dome in Yosemite National Park was deemed "perfectly inaccessible." Which, to rock climbers meant: "challenge accepted." George G. Anderson was the first to hit the summit in 1875 and he did so by drilling iron eyebolts into the granite. Today, there are a few ways to the top, but you need to be well-versed in terms like "belay" and "heel-toe."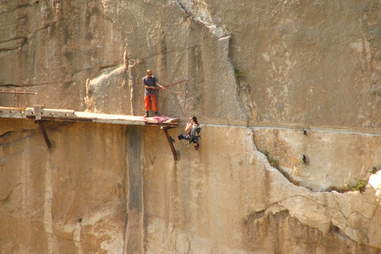 <a href="https://www.flickr.com/photos/gabirulo/138229132" target="_blank">FLICKR/GABI</a>
El Caminito del Rey
Spain
You thought you were going to Malaga for tapas and Picasso, but actually you'll be traversing a tiny walkway pinned to the side of a dramatic cliff inside a gorge. Same same. There were two fatal accidents in 1999 and 2000 forcing the Spanish government to close the trail. But good news, it's been restored and has since reopened.
Rover's Run
Alaska
If you're on this trail outside of Anchorage, then you're probably on a bicycle. This is good, though, because you will be sharing the trail with a slew of brown bears that have been known to maul tourists (although non-fatal maulings; whew). We all know you're not supposed to try to outrun a bear (just the people you're with), but no one ever said anything about out-biking one.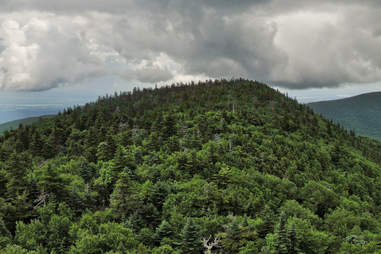 <a href="https://www.flickr.com/photos/miguelvieira/3723868334" target="_blank">FLICKR/MIGUEL VIEIRA</a>
Devil's Path
New York
This challenging trail -- one of the most dangerous in the Eastern United States -- is cut straight up and down the gaps between the four peaks of this part of the Catskills, requiring hikers to, well, climb rather than hike sections of the trail.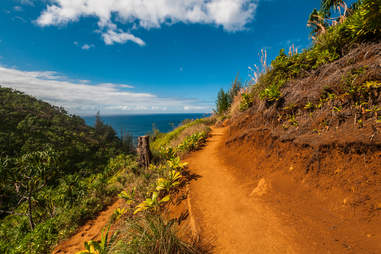 <a href="https://www.flickr.com/photos/karlsjohnson/8234821877" target="_blank">FLICKR/KARL JOHNSON</a>
Kalalau Trail
Hawaii
We guess you could go to Hawaii and chill on the beach and eat all the poi, but that seems dreadfully boring when there's the Kalalau Trail on the island of Kauai. The trail runs an easy-breezy 11 miles one way and its remoteness/difficulty has earned it a spot on Outside Magazine's list of the 20 Most Dangerous Hikes in the World. So you do that, and we'll be over here in the sun with a pineapple cocktail.
Pacaya volcano
Guatemala
Here are some turn-on words for the true adrenaline junkies out there: thick forests, armed guards, bandits, and an active volcano. Seriously, how hot are you right now? At Guatemala's Pacaya volcano, you can either do a two-hour hike with a guided group (ensuring you don't get turned around in the jungle and/or mugged by jungle bandits, which is a thing), or by yourself -- which is probably way more badass but definitely way more dangerous. The hike opens up to a pretty breathtaking view, and if the volcano erupts you'll have total bragging rights (if only you weren't dead).
Kokoda Track
Papua New Guinea
If you're into battling extreme weather and malaria (and who isn't really?), this may be the hike for you. The Kokoda Track is a 60-mile route that runs across Papua New Guinea through the land of the Mountain Koiari people. At its peak, as it rounds Mount Bellamy, it reaches 7,185ft. It usually takes up to 12 days to complete and offers some treats along the way, namely, scorching hot days, frigid nights, brutal rains, and the aforementioned very real risk of contracting a deadly disease.
<a href="https://www.flickr.com/photos/richardwest/3073418531" target="_blank">FLICKR/RICHARD WEST</a>
Striding Edge
United Kingdom
Striding Edge is a popular UK trekking route through the Helvellyn mountain range, and it involves some scrambling to the summit by what becomes a particularly sharp arete. If you have no idea what that means, you probably shouldn't attempt this route. The mile-long hike is a series of awkward stops and narrow paths that often require axes and crampons and ultimately lead to the summit of Helvellyn. London is cool, too.
Meagan Drillinger is a freelancer for Thrillist. Her idea of hiking is the steps up to the Metropolitan Museum of Art. Follow her on Facebook, Instagram, and Twitter at @drillinjourneys.