We're not taking the piss here, but commode culture sure is ch-ch-changing. From these creative beauties, to London's new café The Attendant (inside a former underground Victorian public bathroom), to The Cellar Door -- a cocktail bar that was once a notorious gentleman's toilet where Oscar Wilde reputedly relieved himself -- restrooms have become riveting. And one woman, who affectionately calls herself the Loo Lady, has been cashing in on the trend by offering the world's only toilet tour.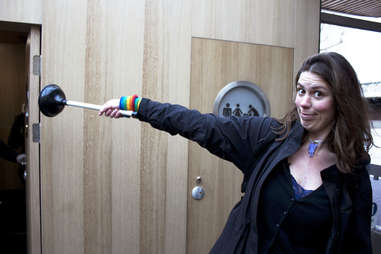 There's nothing like some potty humor to break the ice; instead of a stiff first date, flush out potential lady friends by testing their sensibilities on one of the Loo Tours' singles events, which combines lavatory levity with liquor.

Assuming you're "in a relationship" but still enjoy bathroom humor, there are three non-singles tours to choose from: one takes you from Waterloo to the West End, one tools around Bloomsbury, and -- our personal favorite -- the Porcelain Pub Prowl, a pub crawl focused only on the finest of bathrooms.

Each tour is packed with "unusual and little-known facts" like brief histories on how the Romans wiped their arses and the plumber who founded one of London's early sanitary engineering companies, Thomas Crapper and Co. Not only that, but depending on the route, you may even see the Jubiloo, London's most patriotic toilet.
Book your loo tour here. Or, if you're stateside and eager to learning everything there is to know about toilets, you're going to want hit Boston's Plumbing Museum.
Sophie-Claire Hoeller is Thrillist's associate travel editor and occasionally forms close relationships with toilets after a big night out. Follow her exploits @Sohostyle.