The World's 13 Weirdest Strip Clubs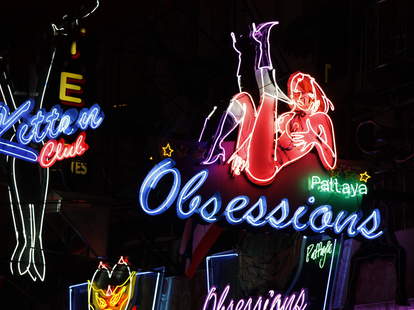 <a href="http://www.shutterstock.com/gallery-659212p1.html?cr=00&pl=edit-00">jjspring</a> / <a href="http://www.shutterstock.com/editorial?cr=00&pl=edit-00">Shutterstock.com</a>
If you've ever been to a strip club, or even if you haven't, then you know the concept is fairly simple. Hot, glittered-and-bejeweled women dance and shake their naked parts for men who, for a brief moment, believe that this display of affection is happening IRL. (Spoiler alert: it's not RL.) If you ask us, the endless line of beautiful, seemingly unattainable women can get a tad, well, boring. So for you, we've rounded up 13 strip clubs around the world that have taken the concept to the next, bizarre level.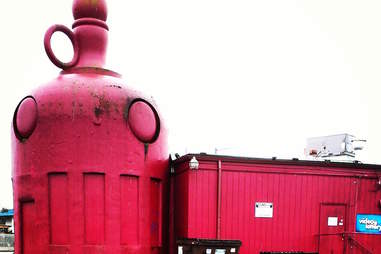 <a href="https://www.flickr.com/photos/65172294@N00/12991638484" target="_blank">FLICKR/GET DIRECTLY DOWN</a>
Pirate's Cove: Nautical-themed sex shows, of course
Portland, OR
Shaped like a giant jug of rum (sure), this Oregon establishment is designed for the true seafaring fetishists. Whether you're into peg legs, eye patches, treasure maps, or a hot, steamy trifecta, Pirate's Cove is a vessel of nautical nasty that's dishing out all kinds of booty.
 
Mos Eisley Cantina: "These are the strippers in Star Wars masks you're looking for..."
Los Angeles, CA
On any given day, this is just a regular (boring) strip club. But twice a month strippers trade in their thongs and pasties for Storm Trooper masks and Han Solo vests. We know it will be hard (ha!), but try to keep your light saber in your pants during these bi-monthly Star Wars-themed events.
ANDY KRYZA/THRILLIST
Casa Diablo: Vampires dance for $2 bills
Portland, OR
This strip club serves vegan food. Also, it's vampire-themed. Also, the strippers only accept two-dollar bills (yes, like grandma use to send you) dabbed in fake blood (not at all like grandmas), which the topless bartender will exchange for you when you get there. #portland #onlyinportland #alltheportland
 
Silver Dollar Strip Club: Where you'll leave both aroused... and terrified
Eugene, OR
Oregon, you dirty! This sexy spot turns spook house each year around Halloween. Scantily clad ghosts and ghouls leap out from around corners to equally frighten and arouse paying customers. Because nothing says boner like having the shit scared out of you.

The Manor: A nudie bar with a church service
Ontario, Canada
While most religious institutions look down upon strip clubs and their patrons, there are certain religious leaders who understand the plight of nudie bar enthusiasts eager to show their devoutness to the Lord without fear of persecution (#thestruggleisreal). Fortunately, The Manor in Ontario holds a Christian fellowship service at their club on Sundays for those who may feel their presence at regular church is unwelcome. Don't worry -- they totally cover up the pictures of naked women and beer before the service begins.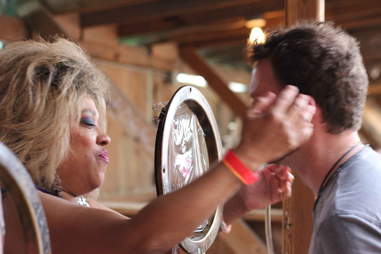 Sebastian Davies
Clermont Lounge: Where the dancers put age before beauty
Atlanta, GA
Go here if you like your naked ladies with a side of life experience and pearls of wisdom. The dancers at the Clermont -- including the famous beer-can-crushing poet, Blondie -- tend to fall between the ages of 45 and 60. 
 
School House: Lap dances in your high school cafeteria?
Neoga, IL
It's not uncommon to have a school-girl fantasy, but the School House takes that to a whole new level: it's a strip club... in an actual school! Located in the since-shuttered Pioneer School (which opened in the 1940s), School House is now a bona fide house of hedonism, complete with multiplication tables on the walls and a main stage in the cafeteria.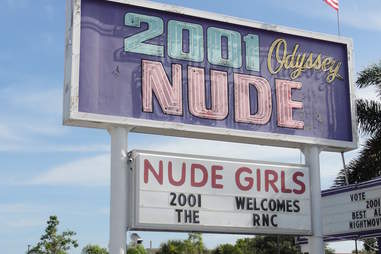 <a href="https://www.flickr.com/photos/bxgd/7857414072" target="_blank">FLICKR/BXGD</a>
2001 Odyssey: If there were a strip club in space...
Tampa, FL
Remember that time you went to the planetarium as a kid and got a lap dance? This is EXACTLY like that. This space-themed strip club has glow-in-the-dark planets on the floors, ceiling and, yes, even the strippers themselves. If you're really lucky (bring enough singles), you may even see Heranus (planet jokes!).
 
Saint Venus: A secret, pop-up nudie show  
New York, NY
This nomadic spectacle of naked changes locations throughout New York City on a weekly basis. You have to apply through the website and only after passing inspection will you be granted the deets for the rotating raunch. Leave it to NYC to turn even a nudie show into a speakeasy-style gimmick.
 
Jail S&M and Fetish Bar: Popular before 50 Shades ever hit the theaters
Tokyo, Japan
For the leather-and-chains crowd or those who aspire (we're not here to judge), Jail S&M and Fetish Bar is a palace of pain. No need to bring your own metal cages and whips, though, as the Jail has plenty to go around. Insider's secret: there is also a torture chamber. The sight of blood is also not uncommon for those who really commit to the role.
<a href="https://www.youtube.com/channel/UCKy1dAqELo0zrOtPkf0eTMw" target="_blank">YOUTUBE USER IGN</a>
Lego Strip Club: Yes, a club built out of Legos 
To be fair, you can't actually go here. But the Lego Strip Club is a thing that exists and that's pretty creepy/awesome. Not affiliated with actual Legos in any way, shape, or form (LEGAL ISSUES), this is a custom Lego set built by Chicago-based Citizen Brick. The Foxy Blox comes with two female strippers in bikini tops, a male dancer, a stage with a pole, and working LED lights (yes, batteries included!).
 
Rachel's: The one that also offers flu shots to seniors
Casselberry, FL
Part strip club, part retirement home, part clinic, Rachel's knows how to get its elderly patrons in the mood without Viagra. Located in the senior-citizen capital of the world, Rachel's becomes a temporary clinic once a year when it offers free flu shots to area seniors. They are then invited to feast on a free buffet for the eyes and the stomach when they serve lunch alongside a strip show. 
 
Nymphas Show Bar: Because wetter is better, this club goes deep... underwater
Eilat, Israel
Okay, although no longer in operation, this underwater peep show off the coast of Eilat featured lovely ladies revealing all sorts of under-the-sea secrets in a wrap-around aquarium that was accessed by a 230ft-long bridge and flight of sub-sea stairs. So, you didn't even need to be PADI certified! You can see creepy abandoned pictures of it, right here.
Meagan Drillinger is a freelance writer for Thrillist. She'd really love it if they traded Star Wars strip clubs for Harry Potter ones. Follow her on Facebook, Twitter, and Instagram at @drillinjourneys.