The World's Best Adults-Only Hotels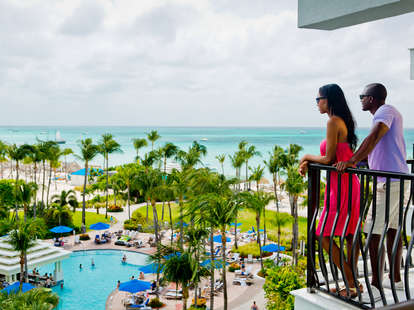 TRADEWINDS CLUB AT ARUBA MARRIOTT
You love your children. You really do. But every once in a while you just want to go somewhere where your hangover won't be interrupted by someone jumping on your bed and you can eat dinner without having to ask for a kids' menu. (Because, you know: kids are RUINING restaurants.)
Or, you don't have kids and like to avoid them whenever humanly possible.
Hoteliers around the world feel your pain, and unlike on airplanes and in restaurants, they can actually create zones that are entirely kid free. So whether you're planning your next vacation to wine country, the South Pacific, or the middle of Africa, here are 12 places where you can escape the shrill cries of babies in the background.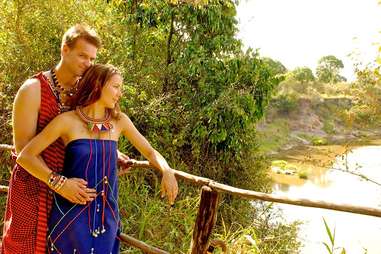 Maasai Mara National Reserve, Kenya
The word "glamping" needs to be taken out of the English vocabulary, like, yesterday. The concept, however, is definitely something we can get behind, especially at a place where you can get your safari on in the middle of an African wildlife reserve. Kick back on your four-post bed or chill on your private veranda while elephants and zebras just mosey on by. Or, head out with a gold-certified guide to find even wilder, more dangerous animals. And the best part, the only noises keeping you up at night will be the lions roaring in the distance; no crying little Simbas are allowed on the property.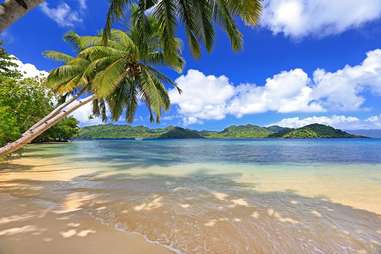 Fiji
A hotel with no kids is nice, but as soon as you realize you forgot your cell-phone charger and have to hit the nearest Best Buy, the serenity is kinda ruined. You know how to solve that? Go to an ENTIRE FREAKING ISLAND where only grown-ups are allowed, like the Matangi Private Island Resort in Fiji. (Or, avoid Best Buy?) Ironically, the most notable guest rooms here are probably the throwback treehouses reminiscent of, you guessed it, your childhood! The island also offers beachfront and oceanfront bures, as well as fishing, scuba diving, and a full-service spa.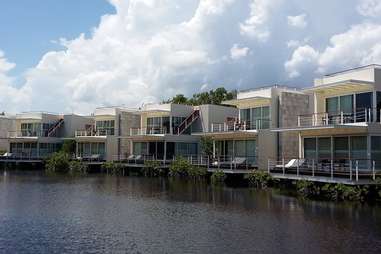 Playa del Carmen, Mexico
When resorts talk about being "all inclusive" sometimes "all" means "all the well liquor and buffet food you can handle." Which typically isn't much. Not so at Blue Diamond, the best of Rivera Maya's adults-only all-inclusives; here, you still get all the food and premium drinks you can take down, but you also score a scuba dive, a spa treatment, and a round of golf. They've got rooms spaced around a secluded lagoon, many of which have a private dock and sundeck, and others with terraces overlooking the gorgeous white sand beach.
Chester, New York
This Italian-style, gilded-age mansion lies deep in the Hudson Valley and offers adult guests the choice of 18 individually appointed rooms or suites, as well as two gourmet restaurants. The idea here is relaxation and seclusion, so your most strenuous outdoor activity will likely be a stroll through the Mediterranean-styled gardens as you nod approvingly at the panoramic views of the valley and Lake Glenmere.
St. Maarten
If there's one thing discriminating adult travelers enjoy, it's a good twofer (and no, we're not talking about swinging). Which is what you get at this adults-only, all-inclusive that also grants you access to the not-adults-only Sonesta Maho Beach near the airport (if you like your beach with a side of jet-engine). If you opt to stay on-property, there are three swimming pools, four restaurants, four bars, and, of course, a casino. You can also have lunch delivered to you on the beach, or enjoy it in your room with a sweeping view of Great Bay.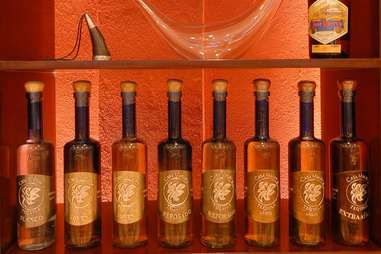 Puerto Vallarta, Mexico
If you told a group of Mexico-bound Spring Breakers there was a venerable Tequila-resort in Puerta Vallarta, they'd probably get more excited than when Student Activities announces a Dane Cook show. But there are no Spring Breakers here at Casa Magna (and nobody really likes Dane Cook, do they?), a property that grows its own blue agave and makes an in-house proprietary tequila. Once a week, they also offer tequila tastings in the cellar led by their own tequila Sommelier, as well as serve samples of 60 different brands and 114 different types of fire water.
Rutherford, California
Not that people would bring their kids on a wine-tasting trip through Napa, but you wouldn't think they'd bring them to the midnight showing of Black Mass, either. But, hey, there they are. However, nobody under 16 is allowed at this ultra-luxury spot in the heart of wine country, which boasts the Michelin-rated Aubrege de Soliel restaurant and 2,000 bottles of wine in the cellar. Each room of the resort has French doors that open onto a private balcony overlooking Napa Valley, as well private fireplaces and oversized bathtubs.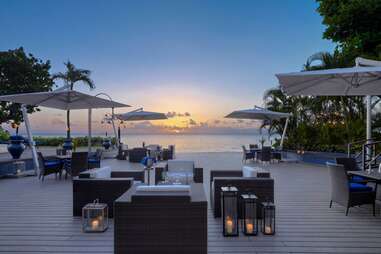 St. James, Barbados
One thing about the Caribbean, the people really aren't in a hurry to do much of anything. This becomes painfully apparent as soon as you step off the plane and realize that customs line is moving slower than the one at Chipotle on a day when you're REALLY hungry. Not the case if you stay at The House, where -- in addition to a daily Champagne breakfast, marble bathrooms, 24/7 service ambassadors (kind of like a personal butler), feather-topped beds, and beachfront views -- they'll meet you at customs and whisk you through in their special VIP line. And even though a welcome massage is included in the price of your stay, after that airport treatment, you probably won't need it. As much.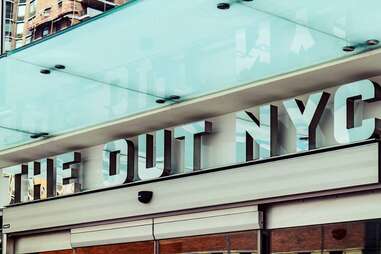 New York, New York
The OUT is a full-service, gay-friendly urban resort on W 42nd St with 100 guest rooms and gardens that Fodor's ranks in the world's top 10. There's a 5,000sqft wellness center, complete with full gym and spa, and The XL Nightclub, Cabaret & Lounge, which is actually the first nightly gay party venue to open in NYC in over a decade.
Khao Lak, Thailand
This beachfront boutique hotel on the west coast of Thailand, just north of Phuket (say it like this) bills itself as "staying at friend's private estate." Friends who could probably afford said estate because they don't have kids! Here, you can enjoy one of their 56 private "residences" -- many of which have their own pools, and all of which have direct access to seven miles of exclusive white sand beach. You can enjoy dinner beachside at the Thai/Asian Edge restaurant, or eat Mediterranean cuisine under giant ficus roots at their restaurants appropriately named, Ficus.
Palm Beach, Aruba
Let's say you're enjoying a riveting game of Keno at the Aruba Marriott's Stellaris Casino, and your intense concentration on number-picking gets rudely interrupted by a pack of kids knocking over your pencil cup. You're furious. What do you do? Simple, you head up to the hotel-within-a-hotel Tradewinds Club, where you put those pesky kids behind you and enjoy unlimited, inclusive gourmet food; a private, adults-only beach with palapas; a swim-up bar; and balconies with epic views of the property.
Negril, Jamaica
No self-respecting list of adults-only anything is complete without a shout out to Hedonism II. Probably the best known "swingers" resort in the world, this clothing-optional spot is also open to couples who don't feel like getting freaky, but does offer endless premium liquor, nude pools and beaches, and rooms with mirrored ceilings in case you change your mind. And, while this paradise offers the perfect backdrop for you and your partner to try something new, make sure you know all of this before you get into it.
Sign up here for our daily Thrillist email, and get your fix of the best in food/drink/fun.
Matt Meltzer is a staff writer for Thrillist and has a poster of W.C. Fields taped on his wall. Follow his child-free fun @mmeltrez