Rails to Trails: The World's Best Ski Trains
Before there were Subarus and SUVs to drive up harrowing mountain passes, skiers relied on railroads to get to some of their favorite ski destinations. In fact, for the better part of 140 years, downhill enthusiasts followed the rails to some of the world's most iconic ski locales.
And while cars remain the obvious mode of transport to the slopes, ski trains are making a comeback, offering convenience, efficiency, and a little bit of style in the toughest of travel terrain. Some old, some new, here are five of the world's best train-serviced ski options.
 
Switzerland's Glacier Express
Travels between: Zermatt and St. Moritz
Dubbed "the greatest ski transportation in the world" by Powder Magazine, the Glacier Express runs 186 miles between the iconic ski centers of Zermatt and St. Moritz in the Swiss Alps. The journey averages just about seven-and-a-half hours, but it's broken up with stops at several other small (by European standards) resorts, including Andermatt and hidden powder gem, Disentis. And while the skiing is legendary, the train ride itself threatens to steal the show, as Switzerland's modern engineering marvel winds up and over alpine passes and through entire mountains.
 
Whitefish Ski Train
Travels between: Seattle, WA/Portland, OR, and Whitefish, MT
The Wild West may have been tamed over a century ago, but that doesn't mean there isn't a little cowboy left in those hills. The Whitefish Ski Train serves testament to that, shuttling the techie outdoors crowd from both Portland and Seattle to the wild fringes of Whitefish, Montana, and some of the lightest powder skiing in North America. Leave the city mid-afternoon and unwind in the train's dining and sleeping cabins before waking up in cowboy country to the promise of deep turns on a less-than-deep budget in one of Big Sky Country's coolest mountain towns.
 
Japan's Shinkansen
Travels between: Tokyo and Nagano
Combining two of Japan's most defining features, lightning quick train transport and impossibly deep skiing, the Shinkansen (better known to Americans as the Japanese bullet train) is a bucket-list ride for anyone skiing the Land of the Rising Sun. Enjoy a few days poking around Tokyo before loading up on one of the many bullet trains leaving from the nation's capital. Ninety minutes and 250 miles later, you'll disembark in the winter wonderlands of Nagano, site of the 1998 Olympics and some of Japan's steepest terrain. A JR East Pass traditionally accesses the resorts of Hakuba, Gala Yuzawa, and Nozawa (also home to a hot springs resort), while offering lift ticket discounts for anyone buying passes at the train station.
Amtrak Vermonter/Ethan Allen Express
Travels between: Washington, DC and St. Albans, VT (Vermonter); New York City and Rutland, VT (Ethan Allen Express)
Never fear, East Coast skiers and riders, there is a train with your name written all over it. Running straight through the heart of the Big Apple, the Amtrak Ethan Allen Express and Vermonter scoot into the heart of Vermont's Green Mountains every day of the week, depositing winter enthusiasts close to staple destinations like Killington and Mount Snow. Both resorts offer a complimentary bus system that connect directly to base areas and lodging, making the weekend warrior commute a relaxed affair.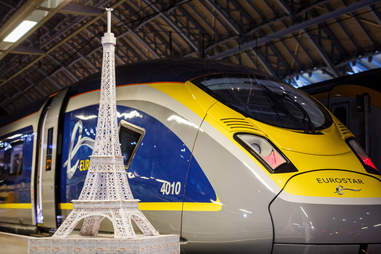 Tristan Fewings/Getty Images News/Getty Images
Eurostar
Travels between: London, England and the French Alps
One of the more ambitious train options for skiers, the Eurostar line brings the French Alps a little closer to home, shuttling snow-savvy Brits to a collection of big name resorts in the south of France. In eight-and-a-half hours, riders can go from the soggy streets of Londontown to the legendary slopes of Val Thorens, Meribel, Tignes, and host of other resorts considered some of the best in Europe. Skis and boards travel free and most of these specialty trains are overnight, providing quality access to skiing minus the transit lag.
Sign up here for our daily Thrillist email, and get your fix of the best in food/drink/fun.
Kade Krichko is a freelance journalist and avid skier. Follow him on ​Twitter and Instagram: @caskade88.