There was a time when "cruising" meant standing in the buffet line and playing trivia with a bunch of olds. And while that might still be a lot of people's idea of a perfect vacation, the industry has evolved. Cruises are actually, dare we say it, kind of cool now. If you haven't been on a cruise liner in the past few years, you should -- and 2018 is a good year to do it.
Gone are the days when ice sculptures and blackjack tables were considered cutting-edge draws. Today, every new floating city that launches sets the bar higher in terms of size, amenities, and crazy onboard activities (think: skydiving, "snow" rooms, and waterslides). Which is why we thought it'd be fun to take a closer look at some of the coolest new ships currently on the water, and a few that will hit the high seas in 2018.
Recommended Video
Join Us for This Year's Best Day of Your Life
Carnival Vista
Carnival Cruise Lines
Routes: Caribbean
Homeports: Miami and Galveston, Texas (launching September 2018)
Carnival's largest and newest ship hit the water in late 2016, with a whole slew of amenities nobody had ever seen before. First, it's home to the RedFrog Pub and Brewery, the world's only shipboard brewery, making all its (actually delicious!) beer from desalinated sea water. On the top deck, you'll find the SkyRide, where passengers pedal around a track high above the sea with a panoramic view. It also has the WaterWorks water park, with slides built for speed and dramatic twists on par with most land-based parks. Even on rainy days the Vista is a great time, with a barbecue joint from Guy Fieri and an IMAX theatre to keep everyone full and entertained.
Silver Muse
Silversea Cruises
Routes: South America, Caribbean, Mediterranean
Homeports: Fort Lauderdale, Barcelona, Monte Carlo
If you're looking for refined European luxury aboard a cruise ship, Silversea's largest ship is for you. The top suites on the ship have beds from famed bedmaker Savoir Beds, whose previous clients include Winston Churchill, among other notable sleepers. The ship has the widest selection of large suites of any in Silversea's fleet, including the 1,000-square-foot Owners Suite complete with a Chesterfield chair and ottoman, and a full complement of vintage ports. The onboard library is the creation of London bookshop Heywood Hill, nestled in the deck 8 Arts Café, which hosts rotating exhibitions of paintings and sculptures. Your onboard food options are every bit detailed as the ship's design, with eight restaurants including the fresh seafood concept Atlantide, and La Dame, the only Relais & Chateaux restaurant at sea.
MSC Seaside
MSC Cruises
Route: Caribbean
Homeport: Miami
The Seaside easily outstrips the ho-hum experience of most ships that depart SoFla. This 20-deck behemoth looks like a floating Miami condo tower, and onboard boasts a boardwalk, a chic top-deck swimming pool reminiscent of the swanky South Beach hotel pools, and a pool on the back of the ship with Scarface-like glass elevators leading down. The ship is among the world's most high-tech large vessels, with a waterpark that eliminates lines using the same slide-boarding technology as major water parks. You'll also find fast Wi-Fi and an app that lets you post pictures to social media, contact your stewards and concierges onboard, and manage your cruising experience. There's also an outdoor fitness center and plenty of outdoor restaurants, so you can eat and work out while keeping your tan.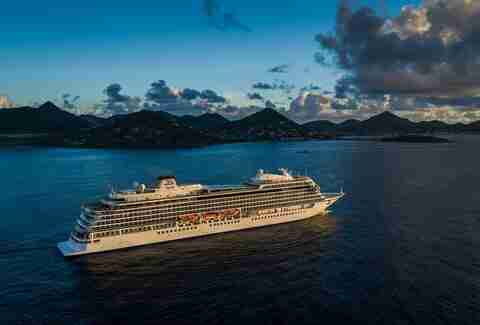 Viking Sun
Viking
Routes: Caribbean, 141-day world cruise
Homeport: Miami
Viking ships aren't ever going to have headline-grabbing superlatives like "world's biggest cruise ship" or "We could fit the population of Luxembourg on deck 6 alone!" But this new ship does offer ample staterooms -- the smallest start at 270 square feet -- all with balconies. The Sun also has a spacious Explorers Lounge, with 180-degree, multi-level glass panels providing a spectacular view in air conditioning. It's also added a bigger gym than its predecessors, and in the price of the cruise includes beers, wine, Wi-Fi, and one shore excursion in each port. While most itineraries run through the Caribbean, the 930-passenger ship will embark from Miami on a 66-port world cruise on December 15 that over 141 days will stop in ports in 36 countries on its way to London.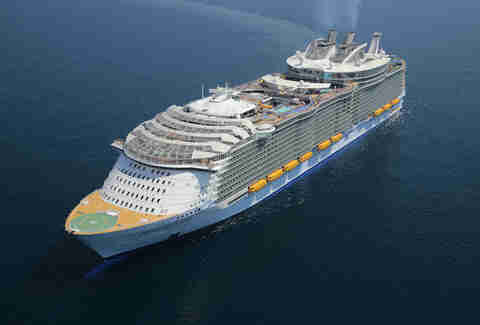 Symphony of the Seas
Royal Caribbean
Routes: Mediterranean (spring/summer 2018), Caribbean (fall 2018)
Homeports: Barcelona, Miami
When it sets sail, the Symphony of the Seas will take over the mantle of world's biggest cruise ship. The 1,200-foot-long, 6,800-passenger floating city reprises the greatest hits from Royal's Harmony of the Seas -- the Bionic Bar, Perfect Storm waterpark, 10-story Ultimate Abyss slide -- and adds a fully functioning sports bar, more restaurants, and a family suite straight out of Silver Spoons. It'll also have an original production of Hairspray alongside ice skating and water acrobatics shows featuring former Olympians. If you feel like taking out aggression on your fellow shipmates, Symphony will house the world's largest floating laser tag arena, particularly useful for siphoning off extra steam after the inevitable sugar rush from the ship's onboard confectionary.
Norwegian Bliss
Norwegian Cruise Lines
Routes: Alaska (summer 2018), Mexican Riviera (fall 2018), Caribbean (fall/winter 2018)
Homeports: Seattle, Los Angeles, Miami
Though Norwegian's newest ship was designed with its surroundings in mind -- there's a 180-degree observation lounge optimal for spying eagles and glaciers -- the onboard activities will have a lot of passengers forgetting where they are. Start with the largest go-kart track ever to grace a cruise ship, looking like someone dropped a miniature Formula One course on the top deck. Bliss also has waterslides jutting from the sides of the ship, sending passengers careening and looping out over the ocean after a sheer initial drop. There's a big laser tag arena, an original production of Jersey Boys, and a Beatles cover band. For food and drinks, the Michael Mondavi wine bar is on this ship, alongside Mexican, steakhouse, and barbecue concepts to complement a much-improved buffet.
Carnival Horizon
Carnival Cruise Lines
Routes: Mediterranean, Caribbean, Bermuda
Homeports: Barcelona, Miami, New York
Looking to capitalize on its mega-hit with Vista, Carnival Cruise Lines is taking the best concepts from that ship and upping the ante on Horizon. This water park is Dr. Seuss-themed, complete with a Cat in the Hat waterslide. The Guy Fieri barbecue adds an onboard brewery to the mix, which'll also be making its beers out of desalinated seawater. The top deck keeps the SkyRide around the perimeter, while inside there's a new Ropes course in case you feel like some impromptu team building. There'll also be a craft cocktail bar called Alchemy, an Asian-fusion joint called JiJi, and movies playing on the big screen by the pool, so you won't have to leave even when the sun does down.
Majestic Princess
Princess Cruises
Routes: Asia, Fiji, Australia/New Zealand
Homeports: Shanghai, Sydney
Princess' newest ship, built for the Chinese market, might be the coolest way to see the Far East from the lido deck. The most hair-raising new feature in the Seawalk, a glass walkway stretching 28 feet out from the ship's side that allows passengers to look straight down at the ocean. At the end you'll find the SeaView bar, where glass panels allow that same sensation, plus cocktails. Majestic also brings the year's best new cruise line restaurant: a Cantonese spot from Richard Chen, whose Wing Lei was the first Michelin-starred Chinese restaurant in the United States. There's also a karaoke bar, natch, as well as a glass-roofed indoor pool that allows for swanky parties even when it's raining outside.
Seabourn Ovation
Seabourn
Routes: Europe (summer 2018)
Homeports: various
This listless wanderer of a ship will be running seven-to-21-day routes through central Europe, Morocco, the Baltic Sea, Scandinavia, and pretty much anywhere else on the continent you'd want to go. Cheap, it ain't. But this luxury liner takes Seabourn's reputation for the finer things and makes it bigger, with a new 12th deck and 600-passenger capacity. The ship includes a couple of exciting new restaurants, including a sushi joint and The Grill from Thomas Keller. There's also a top-level sundeck called the Retreat, with private cabanas and cocktails crafted by Brian van Flandern. The all-suite ship's rooms will all have private verandas, ranging from 300 square feet to the 1,300 square feet complete with private solarium. You'll also find a sports marina on the rear of the ship with kayaks, paddleboards, and windsurfers.
Harmony of the Seas
Royal Caribbean International
Route: Mediterranean: Barcelona, Palma de Mallorca, Provence, Florence, Rome, Naples (May 2016); Caribbean: Nassau, St. Thomas, St. Maarten, Haiti, Jamaica, Cozumel (November 2016)
Let's just start with the obvious: The Harmony of the Seas is going to be the biggest cruise ship... IN THE HISTORY OF CRUISE SHIPS! Yep, this charming vessel will house 5,397 guests in some of the industry's grandest staterooms. There will be virtual "balconies," seven distinct "neighborhoods," and an entire waterpark highlighted by the world's largest onboard waterslide, the 10-story Ultimate Abyss.
Sign up here for our daily Thrillist email and subscribe here for our YouTube channel to get your fix of the best in food/drink/fun.