Though somewhat antiquated, trains keep choo-choo-choosing to remain relevant in our daily lives (and lazily placed jokes). From anthropomorphized locomotives named Thomas to life lessons about optimism embodied by little engines that could, and did… the train remains a testament to the ingenuity and capability of man and machine. It's also a Quad City DJs dance hit that encapsulated the general feeling of 1994-1998. So get your next of kin, your sister, and your friend, and take a look at this list of some of world's coolest train stations.
10. Gare de Strasbourg -- Strasbourg, France
Why it's cool: It's the eastern terminus of the Paris–Strasbourg railway; how many train stations can claim that? Just one. This one. It also has a badass modern glass canopy that shelters the original structure, which dates back to 1883, like a powerful eagle.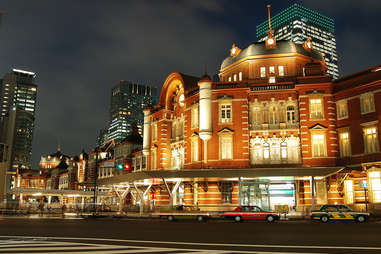 9. Tokyo Station -- Tokyo, Japan
Why it's cool: It isn't. PSYCH! For starters, most of Japan's high-speed rail lines fly into here at speeds up to 200mph. It's also played host to 246 concerts from 1987 to 2000. And, when not launching high-speed trains and providing crisp acoustics for wailing guitar solos, the station is busy looking magnificent as fuck... without even trying that hard.
8. Kuala Lumpur Railway -- Kuala Lumpur, Malaysia
Why it's cool: It features East-meets-West Indo-Saracenic Revival architecture, which, much like the British, enjoyed brief popularity in late-19th and early 20th century colonial India. The building is often compared to the Sultan Abdul Samad Building, which no one really cares about and isn't that important, but it's really hard to make some train stations sound super fascinating when they're just cool-looking.
7. Chhatrapati Shivaji Terminus -- Mumbai, India
Why it's cool: Where to begin... it's a UNESCO World Heritage Site, like the Pyramids of Giza or Persepolis. So, you know, it's pretty important. Originally constructed in the late 1870s, it took ten years to complete, and cost "£260,000 when it was finished in 1888", which by today's standards was probably around half a billion pounds. Finally, the Terminus was prominently featured in Slumdog Millionaire -- y'know, pretty cool.
6. Grand Central Terminal -- New York, NY
Why it's cool: This is the Miles Davis of train stations. It's the largest passenger rail facility in the world based on the number of platforms, son! And on top of that, it serves over 21,000,000 visitors annually; that's more than Disney World. More? Seriously? Alright... there's also a top secret basement (coined 'M42') that you can't find on any map, one of the coolest ceiling murals since Michelangelo's chapel thing, and a Michael Jordan Steakhouse. You'll never find those things together anywhere else in the world. Guaranteed. And if you visit before Christmas there's a special holiday light show. BAM!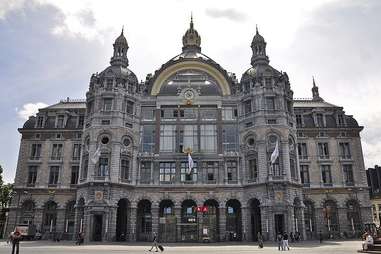 5. Antwerpen-Centraal Station -- Antwerp, Belgium
Why it's cool: For starters, "Antwerpen" is incontrovertibly phonetically pleasing to say, and sounds like a new dance tweens will inevitably regret starting, so there's that. It was also designed by a guy named Delacenserie, who had no particular style in mind when building this guy, so he's pretty much the real life Howard Roark (except portlier and with a cooler mustache). There are four levels, numbered nonsensically as Level +1, Level 0, Level -1, and Level -2 (what I'd be in Dungeons and Dragons if I played that game and/or knew anything about its levels).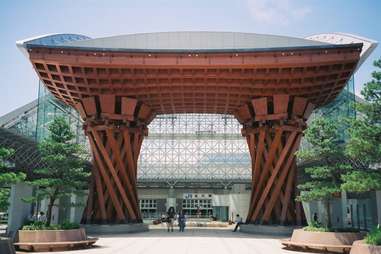 4. Kanazawa Station -- Kanazawa, Japan
Why it's cool: Check out that picture... the prodigious structure you see staring back at your trembling gaze is the Tsuzumi Gate, and although it's completely nonfunctional and has nothing to do with trains (it represents a traditional Japanese drum), it's still something you'd look at and say, "DAMN. That's some cool shit."
3. Southern Cross Station -- Melbourne, Australia
Why it's cool: Aside from the obviously trippy rooftop and opalescent lighting? Umm... well, that's about it, but that is one CRAZY roof, right?!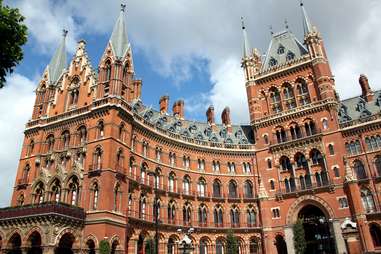 2. St. Pancras -- London, United Kingdom
Why it's cool: Not only serving as a textbook example of Victorian architecture and blowing the minds of historical architecture students studying at "university", this behemoth has a history about as long as the History Channel's apocalypse programming -- HEY NOW! When it was built in the 1860s, it was custom-constructed to be able to accommodate freight trains hauling massive amounts of beer into London. Then, presumably because people were getting colonial-girl-wasted, they built a hotel at the end of the station, dubbed the Midland Grand, which won the hotel design award in 1865 (and still keeps bragging about it today).
1. Estacion de Madrid Atocha -- Madrid, Spain
Why it's cool: Originally assembled in 1851, the first iteration of the Estacion burnt down because it was just so HOTT (kidding, it was only a regular fire), but was reestablished in 1892 and reinforced using wrought iron. Also, because tropical gardens are all the rage, they decided to place one smack dab in the middle of the terminal, presumably so people can forage for mushrooms and seek out cures for diseases as they wait for their train to Bar-thay-lona.