Although wizard sticks and Mario Kart 64 are admirable endeavors and testaments to man's competitive spirit, there are some tournaments out there that test the limits of human endurance and strength... so from cliff diving to extreme ironing, this is the definitive list of the world's most insane match-ups for glory.
Recommended Video
Spoil Your Pup at The Dodo's Best Dog Day Ever Event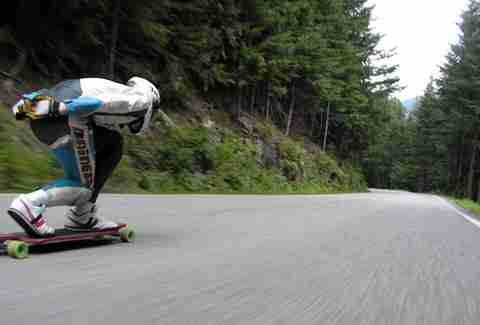 11. Speedboarding
The basics: Grab a helmet, a never-out-of-style leather suit, and a skateboard. Then, bomb hills at insane speeds while racing other leather-clad madmen to see who makes it to the bottom first.
Where to roll: One of the fastest events in the world takes place in Teutonia, Brazil. Racers hit speeds upwards of 60mph, and are nothing more than a blur as they leave you and your Razor scooter in the dust. Tournaments are often held on the DL, as speedboarding is illegal in many places; it's banned in Malibu, much like Jamie Kennedy, as well as San Luis, Argentina. The next big event takes place in Teutonia this November 15-18th.

10. Air Guitar World Championships
The basics: Since its inception in the early '80s, air guitar contests have quite literally taken 20 countries by storm. Like, Norwegian viking metal band Storm. Judging is based on a 6.0 scoring system, and using any actual musical equipment is strictly forbidden.
Where to rock: This year's comp has wrapped, with American badass Eric "Mean Melin" taking home the gold. Fear not, avid air guitar enthusiast -- you can challenge Eric at next year's championship in Oulu, Finland. Yep, that's the same Oulu that's home to both the black metal band Impaled Nazarene and The Vehicle Museum. Score!
9. World Beard & Moustache Championships
The basics: A community of pilose-faced men come together to celebrate their crowning achievements in facial hairstyles. Championships have been held in six countries and counting.
Where to feel inadequate about your soul patch: This year's contest'll be held in Leinfelden-Echterdingen, Germany in November. Pros: It's in Germany, so there's bound to be copious amounts of boozing. Cons: What's a Leinfelden-Echterdingen?
8. Caber tossing
The basics: The caber toss is a traditional Scottish athletic game in which large men in kilts throw an uprooted telephone poll in a large field for no apparent reason, apart from perhaps seeing how far they can throw it.
Where to caber savor: The Highland games take place all over the world, but for a truly authentic experience, hit up the Ceres Highland Games in Ceres Village. Priding itself as the oldest free games in Scotland, Ceres has no qualms getting medieval on your ass, as it's one of the most historic villages in Scotland. The games have been going on since 1314, when Robert the Bruce (best name ever) granted the village permission to host.
7. The Atlantic Challenge Rowing Race
The basics: Racers (either solo, in pairs, or as a team of four) jump in a super-modded dory and row 2,600 nautical miles, from San Sebastian in La Gomera to Nelson's Dockyard in English Harbour -- a natural harbour in freaking Antigua. The race is based on a route that Sir Chay Blyth did in '66, and you can row, row, row that boat this December.
Where to get your beak wet: The Inn at English Harbour; once rowers start to arrive, the celebration kicks in. After denying your offers to shotgun a beer, the rowers will undoubtedly be exhausted, but a huge chunk of the community will be there to stay up all day/ night and welcome incoming boats.
6. The Billabong XXL Pro
The basics: Running from March 20, 2013 to March 19, 2014, big wave surfers (pro and amateur) worldwide will charge myriad breaks across the globe, hoping to catch the biggest and sickest ride of the year. Whoever gets the biggest wave takes home $15,000, and the "ride of the year" pays out a cool $50k.
Where to marvel from the shore: Depending on the time of year, you'll want to hit Pe?ahi on the north shore of Maui for an infamous break known as Jaws. Alternatively, take a quick jaunt to Tahiti and check out Teahupoo -- one the world's most insane waves (Pro tip: it's pronounced 'show-poo'. Not only will you witness some monumental surfing, you'll fit right in and sound like a local).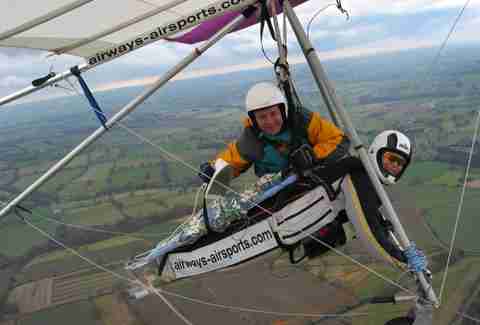 5. Extreme Ironing
The basics: According to the EIB (Extreme Ironing Bureau), "Extreme ironing combines the thrill of an extreme outdoor activity with the satisfaction of a well-pressed shirt". 'Nuff said.
Where to iron: This isn't an official league, so anyone around the world can compete for top honors at any given time. Some sure-fire wins: Get your permanent press on at the Devil's Pool at Victoria Falls, steam it up practically anywhere in Australia (as something's bound to happen), or go for crisp corners while gliding through the sky like these show-offs.
4. Calcio Fiorentino
The basics: A bunch of Italian guys from four corners of Florence create four unique teams. Each team plays another in a "match", which is basically a gaggle of guys in hilarious pants beating on each other mercilessly. It's great.
Where to casually observe: The comp's done for this year, but hop on early tickets to next year's brawl. Three matches are held in mid-June at the Piazza Santa Croce in Florence, the perfect setting to juxtapose the birthplace of the Renaisannce with dudes walloping one another. Enjoy with a locally-produced Chianti.
3. Wingsuit Flying
The basics: When base jumping and parachuting weren't enough (were they ever?), these peeps decided to outfit themselves in flying squirrel jumpsuits and leap off mountains. Seems legit.
Where to Instagram the action: Tianmen Mountain, China. The event's invite-only and features 16 of the best wingsuiters in the world leaping from a platform atop a 900ft cliff face near the summit. They constructed an actual course that allows "pilots" to fly around, over, and under obstacles; whoever has the fastest time, wins.
2. Kloofing
The basics: A bunch of anti-establishment divers walk out onto a 90ft platform and proceed to fall elegantly into the water.
Where to dive into the action: The World Series is taking place October 26th amid the cliffs of Krabi, Thailand. This particular event is pretty epic, as it's the first time the Cliff Diving World Series has been to this locale, and seeing as though Krabi is a sought-after tourist destination, there'll be no shortage of interesting people to impress with your interminable belly flops.
1. Freediving
The basics: Essentially the opposite of cliff diving, freedivers make the conscious decision to swim as deep as possible amid creatures like goblin sharks and blob fish.
Best spot for your pool float: Dean's Blue Hole in Clarence Town (Bahamas). It's the world's deepest saltwater-filled blue hole, clocking in at 663ft of eerie blackness. If you're looking for an adventurous winter jaunt, forego the apple-picking and hit up the Vertical Blue freediving comp November 9th-19th.