If you happen to have a few million dollars lying around and are looking to hit the open road for a National Lampoon-style road trip, or just to evade the IRS, you're going to want to check out Marchi Mobile's eleMMent Palazzo. This rolling mansion is the world's most expensive RV clocking in at around $3 million. And it includes everything from a wireless command center and retractable rooftop deck to a master bedroom with kitchen and bar area.
The design may look like a McLaren had a baby with Big Ben, but this 40ft palace on wheels defeats the need to ever stay in a luxury hotel again. Featuring a 510bhp diesel engine, this RV can hit up to 93mph on the open road. But if you're thinking the interior of this puppy doesn't have enough room for your mobile garden party, think again...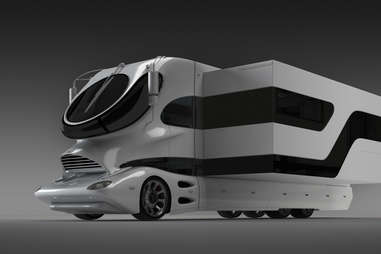 ... because the interior extends, creating a massive 430sqft living space.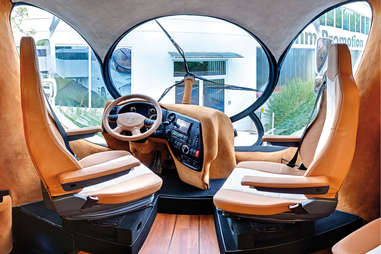 Step into the driver's seat of leather-clad rotating loungers that also give you wireless access to control everything from the temperature to security cameras. You can even call for help in case you get hurt spelunking, skeet shooting, or doing whatever other activities millionaire adventurers do.
The interior is plush with everything a road warrior millionaire could ask for. This living room area hydraulically lifts to become a full bar and features a fireplace and two flat screen TVs. But that's not all...
... the master suite is lavish with an in-room bath, complete with a rainfall shower head that'll get you beyond squeaky clean.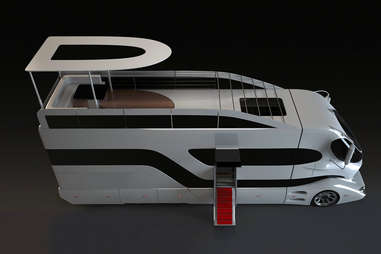 Head up to the roof to gaze at the stars, or just recreate the Big Pimpin' video on land with the push-button retractable skydeck that also features a heated floor.
And if the IRS hasn't caught up to you yet, check out this video for even more features of the mobile tax-shelter.