The world's top party hostels
From Ouzo-fueled toga parties in Greece to stripper poles in Hungary, not all hostels peddle bed bugs and roomfuls of snoring Kiwis. Here are seven where you're guaranteed to get very little sleep, but only because you'll be partying too hard to remember where you bunk is.
The sand might not be that golden, but the beer is cheaper than water, and the Bulgarians love to party like Communism just ended. Pack for foam parties and 500-person bar crawls. Oh yeah, and they also have a live firing range, which seems like a terrible idea.
According to legend: More than 100 former guests have had the letter 'X' tattooed on their bodies as a permanent souvenir of their stay.
Located in a grungy, abandoned building, Retox is described by one horrified TripAdvisor reviewer as "worse than a dumpster"; then again, hygiene was never intended to be a selling point. Retox management warns would-be visitors: "Do not be surprised to witness vomiting, semi-nudity, sexual acts, and very sloppy behavior from staff and guests alike". Now that's an endorsement!
Special features: A weekly "all you can drink" night, (in)famous Jaeger trains, a peep show room with a stripper pole and wraparound couch, and an in-house piercer, for all your drunk regrettable piercing needs.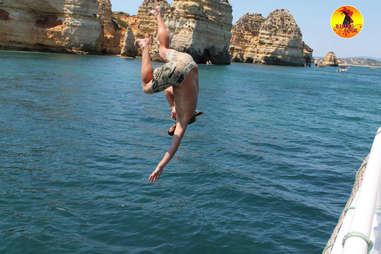 With a name like that, it'd be hard not to make our list (giggity). This Portuguese madhouse in the Algarve's backpacker capital of Lagos started as a three-bedroom apartment that housed up to 30 guests "on the floor, on the couch, in hammocks, and even on (sic: in?) a freezer". Nine years later, the Cock boasts five buildings (for over 100 travelers) and throws wild booze cruises and beach parties.
For the ladies: There's The Hen House, Lagos's only all-female hostel and sister property to the Rising Cock.
Despite efforts by management to dial back the party scene a few years ago, this Buenos Aires hostel remains as crazy as ever. The action's concentrated on both the rooftop terrace and basement bar, while the rooms are sandwiched in-between. So… sweet dreams!
Spot the tourist: Security is tight at Milhouse, and guests are required to wear bright orange wristbands for the duration of their stay. Be careful though, these gringo bracelets are shining beacons to touts, muggers, and anyone looking to rip your drunk @ss off.
This place is run by a Brit, an Aussie, and a Latvian, which not only sounds like the beginning of a hilarious joke, but is also an excellent combo of party-hard cultures. Frank's is located in the old town, overlooks the Daugava River, and boasts its own 24-hour sports bar where they pour complimentary welcome drinks on arrival.
Must do: After pre-gaming downstairs, engage in your typical Latvian cultural activities; you know, like bobsledding or shooting AK-47s at a nearby Soviet bunker. 'Cause you can do both while you're there.
2. Base -- Magnetic Island, Australia
Go "troppo", as the Aussies say, in tropical north Queensland, where the monthly Full Moon beach parties attract big-name DJs and up to 2000 guests partying in bikinis and board shorts. Sober up long enough, and you could even snorkel on the Great Barrier Reef.
Handy hint: Travelers wanting to ditch the dorm rooms to share a meatball with a passing Swedish backpacker [Swedish meatballs = sexin' a backpacker] ought make use of the linen storage tent [a public space known for folks getting it on] (Note to everyone: BYO sheets).
Greece's most famous party hostel, the Pink Palace is almost a city in itself. With four bars serving food and drinks 24/7, there's little need to venture outside the pink walls. In fact, you'd forget you were even in Greece if it weren't for the guests wearing pink togas, drinking ouzo, and smashing plates.
According to legend: Freddie Mercury used to frequent the Pink Palace, and some say he even named it.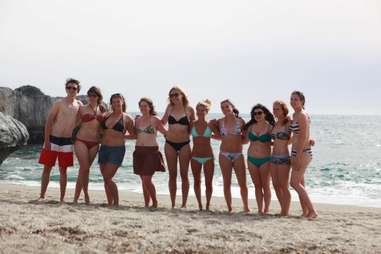 Honorable mention
If you survive the Pink Palace, Youth Hostel Plakias on the island of Crete is a more chilled-out affair. It's less about hard partying here, and more about free loving; the hostel features a "lovers' roof", where anything goes for guests wanting to spend a night under the stars.
According to legend: A few years back, two American writers from a well-known travel publication arrived to review the place. They were drawn into a daytime drinking game that snowballed into a no-holds-barred orgy in the common room. Yamas!