Unless you're Ke$ha, you've never slept anywhere as weird as these hotels from around the globe, where quarters involve ice, mineshafts, and enormous fake dogs. Have a pleasant stay at:
Snoozebox This "mobile hotel" takes all the best parts of living in a "can" from season two of The Wire and puts them on the road, complete with amenities like flatscreens and luxury toilettes.
Airbnb's Beer Barrel Bed Head over to Ostbevern, Germany, and book a private room with this queen-sized oddity. If you have trouble nodding off, just take some sleeping pilsners.
Capsule Hotel Because sleeping in a life raft would be ridiculous, cuddle up inside this escape pod equipped with a chemical toilet, mini-library, and DVD player. You'll feel like a shipwreck survivor without all the pesky angst over not giving a woman/child your spot/chemical toilet.
Bangkok Tree House Nestled deep in the jungle and accessible only by ferry or bike (choose ferry), this Thai resort offers the totally wall- and ceiling-less "View with a Room" or the boss "Tree-Top Nest", which boasts a living room, upstairs bedroom with computer station, and a third-floor green roof. Everybody gets round-the-clock free ice cream, but to complete the tree-fort experience you'll need to bring your own tattered March 1972 Playboy.
Ice Hotel Notable for inspiring the "Ice Palace" in the not-even-remotely notable Bond flick Die Another Day, the frozen jewel of Jukkasjärvi, Kiruna, Sweden is the closest you'll ever come to sleeping in a -5 to -8ºC igloo, unless you have relatives who are Inuits, in which case enjoy Thanksgiving. The beds are literal blocks of ice with a wooden frame, mattress, and reindeer skins ("Make fun of my nose now, Dasher!"), and each morning, the staff will wake you up with a cup of hot lingonberry juice. You should thank god that's not a euphemism.
Das Parkhotel Finally, you can pay money to sleep in a park. Das Parkhotel in Essen, Germany offers rooms in the form of barrels, each one housing a double-wide Eurofoam mattress. Unfortunately, there wasn't much leftover space for a TV, but watching feral squirrels through a skylight beats anything Chuck Lorre has to offer anyway.
Dog Bark Park Inn Located in Cottonwood, Idaho, this dogs-allowed beagle B&B totally puts it in the face of women who think they're psychotically obsessed with small animals.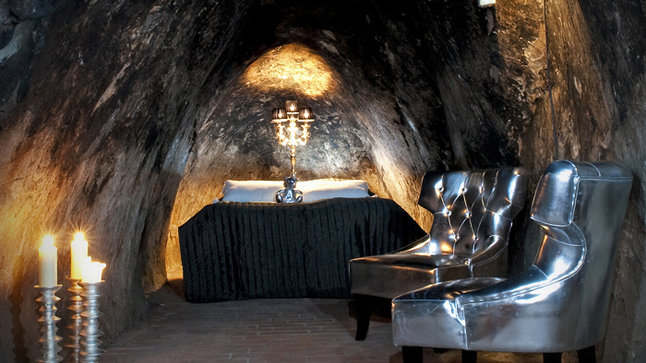 The Mine Suite After arriving at Sweden's Sala Silvermine, you'll be treated to a guided tour of the "Festivity Hall" that culminates in a complimentary refreshments basket full of cheese, biscuits, fruit, chocolate, and sparkling wine. Then they'll take you to your actual mineshaft quarters, 155 meters underground. Test your intercom (cell phones don't really work down there), and take note of the bathroom's location -- about 50 meters from the suite, a super-fun walk when you've really got to go and it's 18ºC.