The World's Weirdest Places to Drink
There's no shortage of madcap bars around this wide, wonderful world... from Señor Frog's Aruba to Señor Frog's San Juan. But we've gone the extra mile to search the planet for even more extreme, provocative drinkeries, minus the neon beer bongs and reckless amphibians. Unfurl your world map and crack open the Absinthe; things are about to get weird.
12. Red Sea Star -- Eilat, Israel

About 230ft off the sandy shores of Eilat, you'd be pleased to find yourself sleeping with the fishes (although the waiters would hate you, as this place is a restaurant intended primarily for eating & drinking). Enter Red Sea Star: an underwater bar and resto that sits 16ft below the ocean's surface, and is surrounded entirely by a thriving reef-garden, which sounds a lot like a reefer-garden (something that'd be awesome to visit before heading to this place).
11. The Rock -- Zanzibar, Tanzania

Taking its name from the behemoth on which it's perched, The Rock is a small seafoodery off the Tanzanian coast that, depending on the time of day, is accessible by boat, doggy paddle, or Aqua Sock stroll from shore. As you can imagine, the seafood's fresh, the drinks are wet, and it's almost impossible to get a DUI on your way home. Unless you're Lindsay Lohan... in which case it's practically guaranteed.
10. The Night Heron -- New York, New York

Imagine being invited to a completely illegal speakeasy set inside an abandoned water tower in Manhattan's chic Chelsea neighborhood. Now keep that imagination going, because this place no longer exists (although for eight solid weekends it did, and it was amazing). Ostensibly, you could still seek out the abandoned water tower, retrofit it with your own cool articles, and invite your friends over for illicit cocktails, but we all know you don't have cool articles.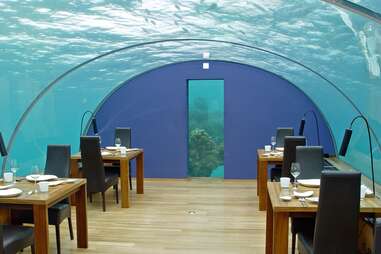 9. Ithaa -- Dhivehi, Maldives

Seating just 14 people and encased in a completely transparent roof, Ithaa slightly resembles the cafeteria of a Bond villain, except instead of serving up a healthy dose of lasers, they're plating up contemporary European dishes with Asian influences (which is decidedly tastier). The resto was constructed in 2004, and after the glass ceiling traveled on a 16-day barge trip to the current location, it was basically thrown overboard and nailed into the ocean floor. Not up for that, Paco "Pistols" Scaramanga? We didn't think so.
8. Floyd's Pelican Bar -- Negril, Jamaica

If you squint ever-so-slightly whilst strolling on the picturesque shores of Negril, you might spy a tiny wooden shack a mile out that looks like a modern day pirate haunt. Inside this shack is a dude named Floyd who kind of just hangs there all day, catches fish, and waits for people to come have a beer with him. The only thing is, you have to pay someone else $140 to take you out there, because Floyd is an entrepreneur of sorts and, naturally, his time is money.
7. Sugarloaf Kiosk -- Rio de Janeiro, Brazil

Once upon a time, someone looked up at that behemoth of a rock and said, "One day I'm going to build a kiosk on that rock. And there will be cable cars, and beer, and online content extolling its virtues!" And he was right. Perched 1,296ft over Rio, the kiosk is only accessible by a 75-person cable car... or by climbing the rock. So, when you get to the top and see a guy carrying rope and carabiners, try to avoid exclaiming: "Man, that cable car ride was INTENSE."
6. Top Mountain Star -- Oetztal Valley, Austria

Perched about 10,000ft up on a crested ridge, in the snow-capped mountains of Austria, Top Mountain Star delivers world-class panoramic views of Hochgurgl (bless you...?). Inside you'll find primo eats, as well as a full-service bar to get you nice and toasty as you prepare to tackle that black diamond on your descent... into awesomeness.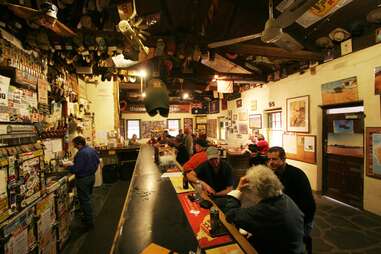 5. Birdsville Hotel -- Simpson Desert, Australia

Legitimately located in the middle of nowhere, Birdsville sits smack-dab in the center of the Outback, about 1,000 miles west of Brisbane. The hotel's often used by patrons hoping to tour the Birdsville Track, a 320-mile stretch of dirt road whose primary purpose is to link one pretty boring town with another pretty boring town. Because of this, tourists often find themselves getting their beak wet at the bar, maximizing the chances they'll see something crazy on that long drive.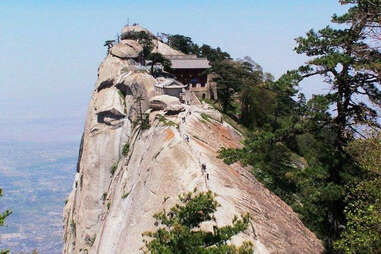 4. Mt. Huashan Teahouse -- Huayin, China

Taoist monks really love solitude... and tea. So it only makes sense they'd build a teahouse on the peak of a mountain that's only accesible after a full day's trek. Along the way, hikers encounter such morality-reinforcers as "the heavenly stairs" (a bridge made of planks that've been nailed into the mountain), and a series of foot-holes with no rope. Unfortunately, there aren't any Yelp reviews of the tea, but seeing as how people have died trying to get to it, it's probably 4-5 stars.
3. Hôtel Sidi Driss -- Matmata, Tunisia

What better way to let out all that Star Wars-to-Disney rage than to get boozed up and yell at Luke Skywalker's Tatooine home in Tunisia? The hotel apparently holds 144 people in 20 rooms that are all interconnected by tunnels, which has Spring Break '14 written all over it. However, don't be surprised when an actual alien shows up to snatch your lady's ears with his sweet, uncomfortable instrument playing at the Mos Eisley Cantina.
2. The Baobab Tree Bar -- Modjadjiskloof, South Africa

What do you do when you come across a tree that's approx. 6,000 years-old? Serve drinks! At least that's what two ex-pat arborists did when they packed up and moved to Africa in the late '80s to create Sunland Resort. The Tree Bar comfortably fits around 15 people, and was once used to house a Dutch ox-wagon repairman... which would've been a super useful character in Oregon Trail, as fording the river was always a wash.
1. Vernadsky Research Base -- Galindez Island, Antarctica

If you happen to find yourself hanging around anywhere in Antarctica, chances are you're looking for either grant money, or a cold one. In this instance, the latter is totally achievable! Disguised as a "research center," Vernadsky is more like an Antarctic fun station -- with a general store, gift shop, kitchen, library, and lounge -- you'll find yourself ripping $3 vodka shots with seismologists who really know how to shake things up. Hey now!