To hear frequent flyers wax poetic about Singapore's Changi Airport, you would think that the airport itself was the destination. It has a rooftop pool, an orchid garden, a butterfly garden, a sunflower and light garden, a koi pond, a FREE movie theater, gaming centers, sports zones, a lounge area for sleeping, and SO much more. It is, quite simply, magical. Though it is not exactly "new," having first opened in 1981, Changi has certainly kept up with the Kardashians in the way it has adapted to modern tech and travel demands.
You'll never hear anyone talk about American airports in quite the same way.
Most of our airports date back to the middle of the 20th century, if not all the way back to before the Great Depression. Even as old terminals have been demolished and replaced with new buildings, the basic planning bones of these airports are 50+ years old, designed during a time of much lighter air travel (and even when they tried to plan for the future, they WAY undershot it) and on parcels of land that would soon be swallowed up by the ever-expanding cities around them. And then there is some just plain weirdness, like in Denver.
So, with help from travel experts -- pilots, flight attendants, former baggage handlers, and frequent travelers -- and our own experience flying through way too many of these hellholes, we ranked the absolute worst-designed airports in America.
10. Washington Dulles International Airport
Opened: 1962
Annual passengers: 21.5 million*
Delayed flights: 16% arrivals, 17% departures**
So, OK, to get to the C gates you have to ride a train past the terminal and walk through a tunnel back to the gates? How is this an actual thing? Granted, as far as airports go, this one -- designed by Finnish-American architect Eero Saarinen -- is quite attractive, but when form trumps functionality in a place where the ONLY thing that matters is functionality, we really can't give any bonus points for being pretty. The convoluted layout with semi-adjoining terminals seems to underscore a design prerogative that had less to do with functionality and more to do with preening to mid-century modern sensibilities. And... the "mobile lounges"??? Sure, they're being phased out, but just so you know, for the purpose of historical knowledge, once upon a time someone -- Saarinen, the architect -- thought it made sense to transport passengers to and from aircraft in a bus-camper-tank-looking thing. And then, naturally, he promoted them with an animated video by the gods of all things mid-century modern, Charles and Ray Eames.
9. McCarran International Airport
Opened: 1963
Annual passengers: 45.4 million
Delayed flights: 20% arrivals, 22% departures
At McCarran -- the Las Vegas airport that is literally across the street from the MGM Grand Casino but will still cost you $18 in cab fare to get there -- you will have a very, very different experience depending on which terminal you're traveling through. The shiny new Terminal 3: no problem, assuming you can navigate the different levels to get to check-in without getting caught in a vicious loop of escalators to nowhere. (The signage is a bit... misleading.) But Terminal 1? If you're condemned to fly out of gates C 1-8, just know that you will walk about one full mile down a crowded hallway congested with slot machines and the world's worst tourists, and every last square inch of it is carpeted, which means it was designed by someone who never once walked a roller bag down a mile-long hallway. There are also smoking lounges and lots and lots and lots of slots. Welcome to Vegas.

8. Louis Armstrong New Orleans International Airport
Opened: 1940 (established), 1959 (new terminal opened)
Annual passengers: 10.9 million
Delayed flights: 18% arrivals, 17% departures
What a sad place this is. You would think with the amount of tourism that New Orleans draws in -- roughly 10 million people and climbing each year -- that the airport would be a little bit more... less gross? It's gross. And sad. And there are, like, four bathroom stalls, and they're dirty. And the options for anything other than sitting and being sad -- i.e., dining, retail -- are equally as -- you guessed it! -- sad. And it's tiny, but not in a charming way; more in a suffocating, sad way. The good news is, a new five-gate airport terminal to the tune of $917 million is currently under construction and should be open by October of 2018, so your raucous visit to New Orleans no longer has to end on a sad, sad note. Because this is truly the sad trombone of American airports. (With all due respect to Louis Armstrong, who also apparently didexperiment with the trombone.)
7. Denver International Airport
Opened: 1995
Annual passengers: 54 million
Delayed flights: 18% arrivals, 20% departures
Having been built from the ground up and completed in 1995 on a vast stretch of empty land more than 20 miles outside of Denver, DEN is by far the newest airport on this list. It certainly has some bells and whistles the others don't/can't, including the largest solar generation system of any airport in the US and the fastest Wi-Fi of any US airport that is also free AND ad-free. But.
Denver's airport (it is often noted because it's a mind-boggling stat) is larger than the island of Manhattan -- you know, where 1.6 million people live -- and the airport's sprawling proportions make every one of its many flaws that much worse. For instance, they also built this SUPER STATE-OF-THE-ART automated baggage system that was supposed to change air travel as we know it. It cost hundreds of millions of dollars, with tracks and conveyor belts run by computers... and it never really worked. So now all that state-of-the-art infrastructure sits unused, and instead the airport uses a labyrinthine underground tunnel system to physically drive luggage from one end of the massive "underground city" to the other. And there's only one driving lane in each direction, so luggage drivers in this Manhattan-sized underground city deal with traffic as bad as Manhattan itself.
One of our airport insiders also noted, "when the airport is that large and spread out, it takes that much longer to get the baggage from one end to the other, which also allows for more opportunities for your baggage to get lost as it falls out of the cart." And we know delayed or lost luggage is the third-worst crime an airport can commit behind flight delays and lengthy security lines.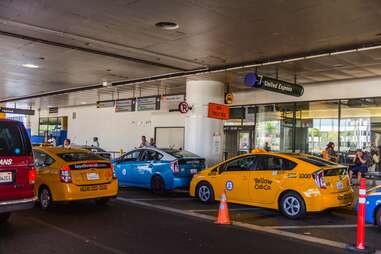 6. Los Angeles International Airport
Opened: 1929 (first established), 1961 (new terminal buildings began replacing originals)
Annual passengers: 74.9 million
Delayed flights: 24% arrivals, 24% departures
When LAX was designed, Los Angeles wasn't the sprawling, smog-choked megalopolis we all know and love today. Which means that when it was first planned 80 years ago, that area was nothing but wheat and barley fields and not the "prime ocean-adjacent real estate" it is now. But that doesn't mean it isn't still a massive and complete clusterfuck to navigate. Renting a car once you land? Allow at least an hour of travel time just to shuttle to the car rental facilities. And if you have to pick up or drop someone off? HAHAHAHAHAHA welcome to the double-decker horseshoe of hell, the most miserable microcosm of LA traffic you never hoped for. Real friends take cabs and don't ask to be dropped off/picked up, FYI.
5. John F. Kennedy International Airport
Opened: 1943
Annual passengers: 56.8 million
Delayed flights: 23% arrivals, 23% departures
Greater New York (including New Jersey) has three major airports and they all suck. Reasons why one sucks more or less than the others are subjective, but JFK sucks slightly less by comparison. The biggest gripe here? The travel time between terminals, which can actually take an hour, no joke. That feeling you get when you're in Terminal 1 and you have to get to Terminal 8 to catch a connection in anything less than two hours? That is the feeling of absolute hopelessness. (Because T1 serves international flights and that means you also need to clear immigration, retrieve your bags, go through customs, re-check your bags, and go back through security in addition to the longest terminal-to-terminal shuttle ride in American history.) The problem is that JFK was built during a time when every airline got its own terminal, which doesn't work for an airport this large. Adding insult to injury: two of the terminals were recently demolished -- Terminal 6 in 2011 and 3 in 2013. [Red angry face emoji]
4. Chicago O'Hare International Airport
Opened: 1945 (first established), 1956 (first terminal opened)
Annual passengers: 76.9 million
Delayed flights: 20% arrivals, 23% departures
Chicago O'Hare is the busiest airport in the world (a distinction it shares, depending on the year, with Hartsfield-Jackson in Atlanta) in terms of the number of flights it handles per year (which is close to 900,000). Busier than LAX. Busier than JFK. And busier than any of the miserable airports on the other side of the Atlantic (Heathrow, Charles de Gaulle). O'Hare is also among the top-five US airports with the worst flight delays. It is also the ninth circle of Dante's hell. We can bitch about long terminal transfers at LAX or JFK -- those are HUGE airports so you have to be a little realistic there -- but they are nothing compared to the endemic ineptitude of everything at O'Hare, which has a lot to do with capacity issues: the airport is simply too small to accommodate its own traffic. The layout is unnecessarily complicated, bad signage increases confusion, the appearance is shabby and dated, gate switches are constant and often last minute, connections are constantly late, and the Airport Transit System from terminal to terminal does nothing to ease the hell of just getting from one concourse to another.
3. Chicago Midway International Airport
Opened: 1923 (first established), 1931 (first terminal opened)
Annual passengers: 22.2 million
Delayed flights: 17% arrivals, 21% departures
And yet... anyone who bitches about O'Hare has never flown through Chicago Midway. Yes, O'Hare is the ninth circle of hell, but it is also the busiest airport in the world, so while we're not really willing to give it a "pass," per se, there is some rational acceptance that goes with the O'Hare experience. But there is no excuse for Midway. The airport is tiny, comparatively speaking, and it serves approximately 8,700 times the number of flyers that it was designed to, and this is never more obvious than when you are in the mile-long cattle corral that is meant to serve as the security line. The last two times I flew out of Midway, the delays in security were so bad that people who were stuck in line and about to miss their flights had to go one by one through the line asking other flyers to let them pass. I was one of those people the first time, but managed to not miss my flight only because it was delayed (natch). The second time was so bad I just gave up and resigned myself to missing my flight, looking on with sympathy at other desperate souls (PLURAL) trying to beg their way through the line. Security lines are never a picnic, but I have yet to experience anything else on the level of Midway's daily disaster.
2. Newark Liberty International Airport
Opened: 1928 (first established), 1953 (first new terminal replaced original)
Annual passengers: 37.5 million
Delayed flights: 25% arrivals, 25% departures
And then there's Newark, which has the enviable distinction of being the worst airport in the country according to math, taking into account factors like the number of cancelled flights, the average delay time, and the number of minutes it takes to taxi to the gate. Newark has long lines for check-in, long lines for security, long lines for club lounges, long lines on the tarmac waiting for take off. Plus it's ugly and dirty and is also at least an hour from NYC, so in the event of a long delay, a trip to the city isn't necessarily feasible. Also expect broken trains and escalators, spotty and not-free Wi-Fi, zero power outlets, and crappy limited seating (with armrests that don't move, so good luck if you get stranded overnight and don't want to pay for an offsite hotel in, ugh, New Jersey).
1. LaGuardia Airport
Opened: 1939
Annual passengers: 28.4 million
Delayed flights: 28% arrivals, 23% departures
And thus completes the NYC airport trifecta. There are endless reasons to hate LaGuardia. It's always crowded and there's nowhere to sit. It's dirty. It doesn't connect to the subway (though that is finally in the works). Food options are bad (it's a minor thing to gripe about, but seriously, is this airport not in the middle of the self-anointed cradle of civilization, New York?) and extra amenities are pretty much nonexistent. The roof leaks, there are holes in the carpet, there is one power outlet per 700,000 people, and you can probably find some mold if you really want to go looking for it. It is the second-worst airport in America according to math. It is a clusterfuck of planning that, honestly, perfectly suits the city. But there is hope, and hope is all we have: LaGuardia is currently undergoing a $4+ billion (with a "B") renovation that will uncluster its fuck into one unified terminal by 2021, which may or may not have something to do with the public shaming it received in 2014 when then-VP Joe Biden referred to it as a "third world country." (Echoing earlier sentiments of now-President Donald J. Trump, who surely wants to make our airports great again, despite a history of less-than-wins with the airline industry.)
*Annual passenger data according to 2015 Airports Council International statistics.
**Delay data according to 2016 US Department of Transportation statistics.
Sign up here for our daily Thrillist email, and get your fix of the best in food/drink/fun.
Nicole Rupersburg flys a lot and is a dedicated Southwest customer, even though that inevitably means flying through all of the shittiest airports, and the shittiest terminals in otherwise nice airports. She also believes anyone who says LAX or JFK is worse than O'Hare has simply not spent enough time in O'Hare. Find her on IG at @eatsdrinksandleaves.