Shutterstock
Shutterstock
Like it or not, hipsters are changing the face of our nation's cities. It's almost impossible to walk through some neighborhoods these days without tripping over a single-speed bike and falling into a cart of kale, or worse, a vintage clothing store with an aggressive section of pre-cuffed skinny jeans.
But the fact remains, a developing neighborhood hasn't truly reached peak gentrification until the hipsters themselves have been priced out -- by, you guessed it, the yuppies. (No, it's not 1985 again. But, yes, we are bringing the word back -- spread it!). Sure, ordinary folks may not be throwing the term "yuppie" around anymore, but affluent young professionals still exist; and where they go, so go the high-end furniture shops, luxury pet grooming services, and sanitized streets paradoxically filled with both gas-guzzling SUVs and eco-friendly hybrids.
In order to help you avoid them (or figure out where you're moving next), we've identified urban zones where DINKS (yep, we're bringing that word back too!) and their modern-day ilk hold the greatest sway -- these are the nine yuppiest neighborhoods in America.
LoDo
Denver, CO
No trendy, expensive, cultural center would be complete without a cutesy, SoHo-style name abbreviation. The Lower Downtown (LoDo) section of Denver's no exception, and despite its propensity for inebriated fisticuffs once last call rolls around, this mile-high hood has seen some of the most extensive gentrification efforts in the city.
Pre-war buildings now mingle with modern high-rise housing, and there's a bustling singles scene in the bars that cluster around Coors Field. They even shot The Real World: Denver here in 2006. Yes, apparently, they were still filming Real Worlds in 2006. Who knew?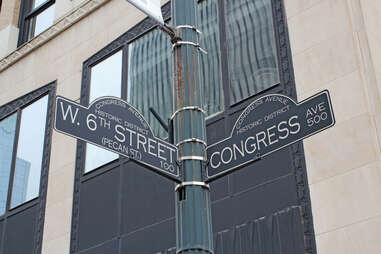 West 6th Street
Austin, TX
While East 6th is crammed with college coeds on the hunt for cheap booze, West 6th is where they all end up once they've left school, gotten a job, and can afford to splurge on overpriced cocktails. As they continue to move down 6th street, the bars and restaurants slowly give way to spas and art galleries, but by that point it's too late -- they've become adults.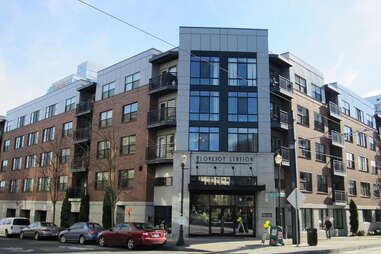 Pearl District
Portland, OR
Formerly just another hipster 'hood in the fixed-gear mecca that is Portland, rising property prices have transformed the Pearl into a sleek oasis of high-rise condos and high-end shopping, where DINKS (keep using it!) of means can live out their materialistic dreams comfortably. Resident foodies aren't hurting for options here, either; this district's home to some of the strongest eateries in town, Cool Moon ice cream and Blue Hour to name a couple. That said, this yuppie part of town remains a source of irritation to the stiff hipster shell that surrounds it.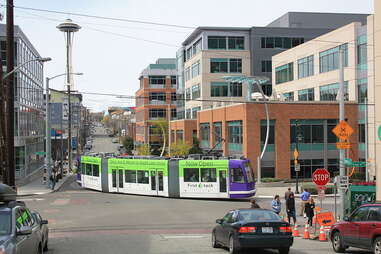 South Lake Union
Seattle, WA
Granted, it's hard to find a neighborhood in downtown Seattle that isn't being gentrified to some degree, but South Lake Union is a special case. Its central location made it a prime candidate for urban renewal, and as a result this recently designated "urban center" has experienced a surge of redevelopment -- it was even tapped as the site of Amazon's billion-dollar global HQ in 2012.
Clarendon
Arlington, VA
This Virginia neighborhood across the river from DC blends the quietude of suburbia with the bustle of city life, which makes it perfect for the professionals who work on K Street. Single and young families alike call this place home, and chain staples like Pottery Barn, Whole Foods, and Lululemon are interspersed with just enough local bars and restaurants to keep the newly minted post-grad yuppie-types from fully realizing the commercial existence they've bought into.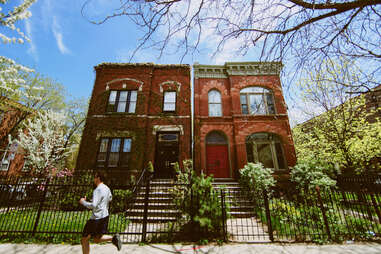 Lincoln Park
Chicago, IL
Lincoln completed the transformation from a somewhat sketchy neighborhood to a haven for moneyed gentry years ago, and it's been top dog ever since -- even in the face of up-and-coming spots like Wrigleyville. The men and women of Lincoln Park (or "Chads and Trixies", if you're still hip to '90s terms) have a median household income of $115,774, more than twice the national average. Which means they've got plenty of scratch to put toward life's little necessities, y'know, like exposed bulb pendant lamps, driftwood accent tables, and friendly holiday decor from The Land of Nod.
As a testament to this hood's upper-crustiness, this year the city opened its first specialty shop devoted entirely to macarons, arguably the most pretentious of desserts.
Back Bay
Boston, MA
Not only is this upscale Boston 'hood known for the overall hotness of its inhabitants (seriously, your head'll be on a swivel as you walk down Newbury Street), it's also one of the most expensive residential areas in the city, with an average rent of $4,100/month. Many of the stately Back Bay brownstones lining the streets north of Boston's High Spine are on the National Register of Historic Places, and can go for upwards of $8 million. The pedigree of the area's architecture, and its close proximity to the city center, make it an obvious choice for well-heeled yuppies looking to return some video tapes.
Brickell
Miami, FL
The city's booming financial center is one of the largest in the country, earning it the nickname "Manhattan of the South". For recreation there's Mary Brickell Village, a mixed-use hotspot where upwardly mobile Gordon Gekko types unwind via happy-hour specials and impromptu retail therapy sessions. There's even a sub-neighborhood here, a small gated island called Brickell Key that sits just off the coast and offers high-rise condos to rich people who want to be separated from other rich people by a bridge.
The Marina District
San Francisco, CA
Unlike the grungier Mission District, the Marina's demo falls squarely into the SUV-driving, spa-loving bracket; ironic, considering the whole area was built on top of a landfill following the 1906 earthquake.

When they're not spending cash at the boutiques on Chestnut Street, the affluent 20- and 30-somethings who call this place home can be found relaxing on the waterfront Marina Green, prowling the arts scene at the Fort Mason Center, or not-so-subtly flashing their BMW keyfobs at each other in the bars on Union Street.

Gianni Jaccoma is an editorial assistant for Thrillist Travel, and he strives to one day have disposable income. Follow his quest for fat stacks on Twitter @gjaccoma.