Neatly connecting East & Central London, Clerkenwell's award-magnet The Zetter has 59 individually curated rooms that orbit around both a lauded resto & a bar from a World's Best Bartender Winner


Lavishing each abode with self described "vintage-modern" style, rooms come with free WiFi, mood lighting, walk-in "raindance" showers, and duck down pillows that'll totally have you lowering your head, but, like, onto them, so you can sleep


Rooms range from singles all the way up to full-on studio flats like this setup here, w/ oak floors, wall-to-ceiling windows, and daily milk/ice deliveries, which is pretty cool.


They also have a private deck you can shuffle straight onto.


Head downstairs to Bistro Bruno Loubet, which's won both London and national UK restaurant awards


Their upscale bistro fare (e.g., wood pigeon w/ sour cherry jam, grilled pork loin w/ kimchi...) also includes this British stalwart: a sirloin-laden Sunday Roast.


When you're stuffed, hit the taxidermy-filled cocktail bar next door, helmed by molecular mixology pioneer Tony Conigliaro.


The classic menu of mixeds includes this Master at Arms (rum & port reduction), and the Somerset Sour, whose cider brandy & hard cider will soon be inside you.
Recommended Video
It's Worth Getting Sloppy For This Grilled Cheese Taco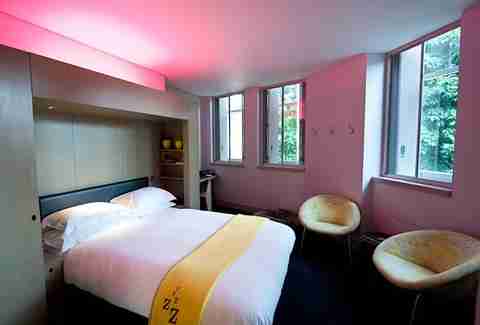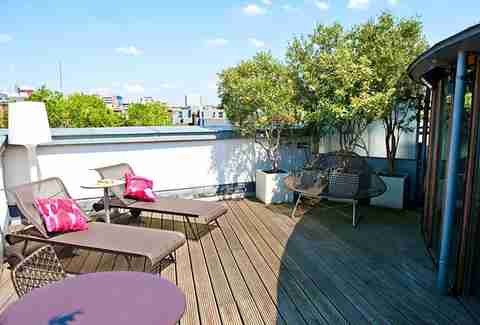 Previous Venue
Next Venue
Venue Description
1. The Zetter Hotel & Townhouse
86 Clerkenwell Rd, London, EC1M 5RJ
The Zetter is actually two distinct hotels, each with individually curated rooms that have unique decor and a dynamite cocktail bar and restaurant. The townhouse might look like your eccentric aunt's living room, but this overly decorated den pumps out some of the best drinks in town. The cocktails here are as ridiculously easy to drink as they are boundary-pushing: think a whisky sour that's been infused with beurre noisette, and a collins concocted with bee pollen.