Get weird in these fantasy suites
As any Bachelor (aside from Sean Lowe) knows, when you're headed to the fantasy suite, it's strictly for the funny business -- but at the NJ Feather Nest Inn, their eight interestingly-themed and seemingly '80s-era fantasy suites may be more suited for those looking for a laugh when not getting down to business.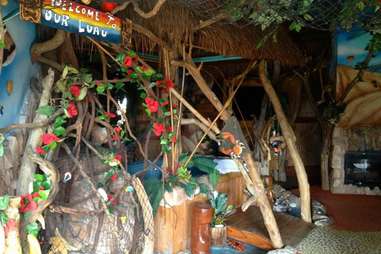 Blue Lagoon
They probably didn't have a two-person jacuzzi in the actual Blue Lagoon, because then you would've for sure seen Brooke Shield's breasts.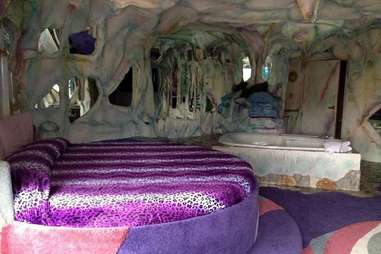 Ice Cave
Bling! Bling! Complimentary Champagne on Friday and Saturday calms the nerves of any ice queen.
Natural Cave
Live like the caveman did... w/ a 42" flat screen and gas fireplace.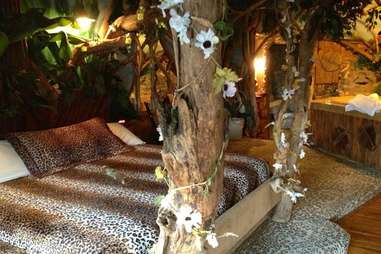 Tree House
That cheetah spread hopefully doesn't pertain to your speed in bed.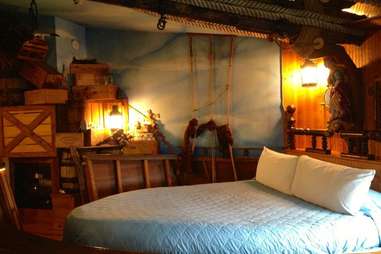 Treasure Island
The bed resembling a boat bow would have DEFINITELY been used on Treasure Island, but the free WiFi... well, that probably wouldn't have come in handy.
Space Odyssey
2001 is an epically entertaining 1968 British-American science fiction film. Trying to re-create said film in this themed room w/ its in-room sound effects, as it turns out, is also epically entertaining.
Pagoda
Commonly associated w/ Buddhist culture, the bed resembles a pagoda's tiered towers, and's perfect for tired people.
King Tut
Know who's not laughing? King Tutankhamun. Know why? Had he just traveled to NJ, pyramids & palm trees would only have run him $300 a night.