Walk through the streets of Havana, and you'll feel like you're in a movie; a complicated movie, but a good one nonetheless. Home to a storied past, welcoming locals, vibrant architecture, classic cars, potent mojitos, and cobblestone streets that come alive with salsa dancing, there's so much to do and see in Havana. So if you only have one day there, it's hard to choose just what to do. But we have you covered. From driving vintage cars through "Habana Vieja" and biking through the countryside to rolling real Cuban cigars, here are all the ways to make the most of one day in the "City of Columns."
Tour Habana Vieja in a classic car
If you're going to explore Old Havana, do it the same cheesy, traditional way every other tourist does: in a bright, museum-worthy car. The Havana we all see in pictures, "Habana Vieja," is a UNESCO World Heritage Site. Here, local tour guides will drive you down the Malecón esplanade, past the Capitol building and the famous Plaza de la Revolución, through Avenida del Puerto, past Plaza de la Dignidad (which pays homage to Elian Gonzalez' return to Cuba), and in and around other famous Havana sites in something as classic as the location itself -- like a vintage Oldsmobile, a Chevy convertible, a Ford, a Buick, or even a pastel-colored Chrysler.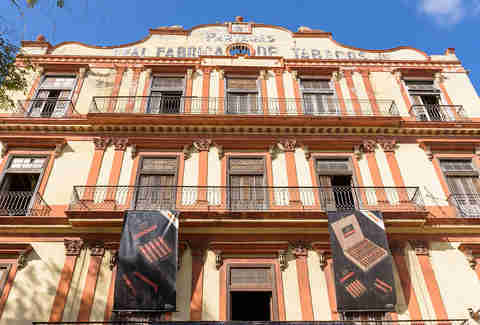 Get (and learn about) real Cuban cigars
Cuban cigars are a Cuban icon, and you can only go to Cuba to get the real thing. But before you smoke them, find out how they're made. The Partagas factory -- where 400+ employees roll 20K cigars a day -- is the largest Cuban cigar factory in Cuba (or anywhere), and it hosts guided tours that put you right in the heart of the action. For a real local experience, follow your tour with a stop at Casa Abel, a popular bar, restaurant, and cigar lounge that's just a short walk away. Run by Jose Abel Espósito Díaz, who rolled cigars at Partagas for almost 20 years, Casa Abel invites you to indulge in the pastime like you were meant to: in a comfortable cigar lounge, with a glass of rum and the "puros," or cigars, of your choice.
Get a daiquiri at the place where daiquiris were invented
Whether they bring back happy memories of your family getaway to the Bahamas, or flashbacks of that college spring break trip, one thing's for sure: daiquiris are timeless. The original was invented at a restaurant called El Floridita, in Havana. While frozen versions flavored with sugary strawberry mixes seem to be the daiquiri of the day, the original only had three ingredients -- rum, lime, and sugar. If you only have one day in Havana, take your afternoon sightseeing break at El Floridita, where you can try the original with a twist: a little Maraschino cherry liqueur.
Make your Instagram dreams come true at Fusterlandia
If you didn't put your trip on Instagram, did you even go? Lucky for you, Cuba makes Instagramming your every envy-inducing adventures easy to do -- especially when you go to Fusterlandia. A rundown neighborhood-turned-street art sensation, Fusterlandia was the invention of local artist Josée Fuster, who moved into a wooden home in that area (then called "Jaimanitas") in 1975, and out of pure boredom, covered his art studio in mosaic tiles and turned it into a work of art. Inspired by the result, Fuster wanted to do to all of Jaimanitas what Gaudi did to Barcelona. After getting the green light from his neighbors, Fuster got to work and created what is now one of Cuba's gems. Just 20 minutes outside of Havana, every structure in the neighborhood of Fusterlandia is completely covered in colorful mosaic tiles, from doctors' offices, bus stops, and fountains, to benches, gateways, and yes, even houses. It's like Fuster knew Instagram would be a thing.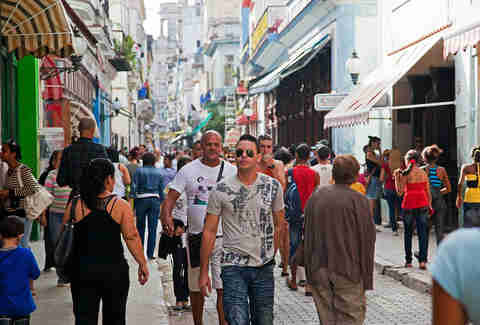 Stroll down Calle Obispo
Every trip calls for shopping, and in Havana, Calle Obispo (which means "Bishop's Street") is where you go to do it. Dating back to 1519, and created just four days after Havana was founded, this pedestrian-only street is covered with restaurants, local boutiques, cigar shops, bars bursting at the seams with live music, locals posing for photos with tourists, art galleries, and La Bodeguita Del Medio, the place where the mojito was invented. The latter is famous for being both a major Hemingway hangout and dirt cheap, so go in and get an original mojito (literally) for $5.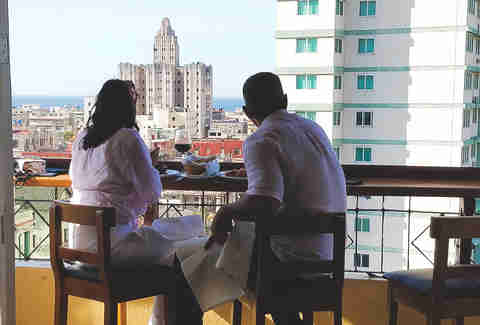 Eat lunch or dinner in a converted Cuban home
For a real taste of Cuba, eat in a Cuban home. But because bursting into a Cuban home is probably frowned upon, the best way to do it is to dine in a "paladar," a converted Cuban home that now holds a family run restaurant. You won't have to walk far to find one; they're everywhere. Get your fix of the Cuban classics -- like ropa vieja, moros, rice, fried plantains, flan, and more -- in popular paladars like Nao Bar, the celebrity-favored La Guarida Cafe, and Laurent, which occupies a penthouse apartment on top of a classic 1950s building.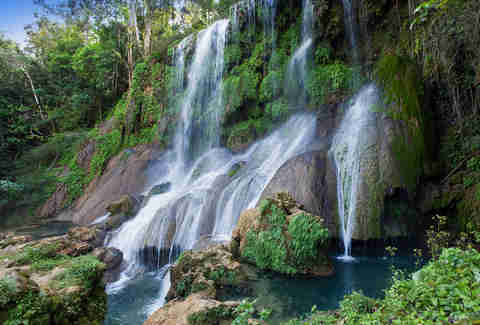 Bike or hike through the "rainbow of Cuba"
As beautiful and interesting as Havana is, there's so much more to Cuba that's worth seeing, too. One such place is Soroa -- a reserve in the Sierra del Rosario mountain range -- known for its towering trees, birdwatching, 20K-plus different kinds of flowers, 350-plus types of orchids, the Salto de Soroa and Salto Los Manantiales waterfalls, crystalline pools perfect for swimming, the Medieval-style "Castle in the Clouds," nearby coffee plantations, Roman baths, and the ecological town of La Rosita. Adding to its fame, Sierra del Rosario is actually Cuba's first UNESCO Biosphere Reserve, the highest part of the greater Cordillera de Guaniguanico range, and before it was a reserve, it was an artists' colony. While you enjoy the area's cooler weather, lack of crowds, unbelievable views, and Soroa's most popular activity, bike riding, open art studios will remind you where this special spot came from.