These Two Out-of-Towners Ate and Drank Their Way Through Savannah
Aaron Greene/Thrillist
Aaron Greene/Thrillist
PayPal and Airbnb's "Meet Halfway" tool (which gives you $50 off now) lets any two far-flung friends discover the exact middle point between them. Thrillist decided to have two of their trusted writers -- Mandy Baca from Miami and Leo Schmid from Washington D.C. -- try it out and meet halfway in Savannah, Georgia. In this case the writers didn't know each other before the trip, but became fast friends when they got to eat & drink their way through a new city, exploring and meeting locals along the way. Below hear the their personal experiences about spending the weekend halfway between their homes in "The Hostess City of the South."
9:30pm
Arrive at the Airbnb

Leo Schmid: I was ready for our mission to eat and drink our way through Savannah's many famed eateries, as well as explore the cobblestoned historic district, immaculate parks, and drive past its horse-drawn carriages.
Upon arrival, we settled into a charming two-story, three-bedroom/three-bath Airbnb apartment located on Rucket Row in the historic district, lined by giant live oaks and drooping Spanish moss. The quaint house interior featured pine floors, exposed brick, authentic Victorian furniture, and all your modern amenities -- satellite TV, Wi-Fi, and wood burning fireplaces. It was the ideal place to call home for the weekend while we explored the great southern city of Savannah.
Mandy Baca: Leo and I became instant friends in our three-hour layover at Charlotte Douglas International Airport's Carolina Beer Company doling out fast facts about our lives. Interesting twist: we discovered that we'd both previously worked for the same company, aside from Thrillist.
After a 40ish minute flight to Savannah, we were ready to take on the weekend. Straight off the plane, the scent of money invades every crevice of your nostrils, given the fun fact that Savannah was once home to the world's largest paper mill. It's still there, just no longer the largest for eco reasons.

Located in the heart of the historic district, between weeping willows and quaint streets, we found our 1886 2-story home. Inside was authentic Victorian furniture, brick walls, original fireplaces, modern finishes, and touches of eclectic non-matching bro-cool like Chinese tiger art, which perfectly captured the ever-changing soul of the city -- where the old lives amongst the new.
Friday
10:15pm
Dinner at The Public Kitchen and Bar

Leo: Our first destination was a late dinner just down the street at The Public Kitchen & Bar. The "contemporary fresh American" fare included a large craft beer selection and locally sourced 8-ounce grass-fed burgers. The decor featured exposed brick, bulb lighting, and (non-locally sourced) grass-covered walls.
Mandy: Disoriented and starving, we chose to stay close to "home" and luckily stumbled upon this mid-century modern new American eatery. Overall, the menu is influenced by its Southern surroundings with Shrimp & Grits and Pimento Burger. But, they also go off course with things like Thai Coconut Red Curry. If you like being comfortable while you dine, make sure you grab a seat next to the grass-covered walls.

11:30pm
Drinks at Pinkie Master's Lounge

Leo: Following dinner, we decided to lay low and check out the casual yet elegant Pinkie Master's Lounge. Voted "third best dive bar in the South," Pinkie's turned out to be anything but a "good-decision" bar, as we proceeded to slam cheap beer, chum it up with the locals, and learn on the walk home that Savannah is filled with rather similar looking city squares. Very similar (a.k.a we got lost). Which was rather hilarious, considering I came to find out Mandy's sense of direction was just as bad as mine. Bonding!

Mandy: It was on the way home, so we headed to this local favorite that has been around for 65 years, but looks and feels like it's stuck in the '80s, complete with jukebox, home-popped popcorn and lots of PBR.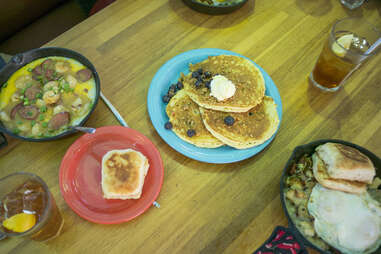 Saturday
10:00am
Brunch at J. Christopher's

Leo: Brunch the next day was decided by necessity more so than recommendations (thanks, Pinkie's), so we landed at the Georgia breakfast/lunch chain, J. Christopher's. Here, local art adorns pink walls, and they serve up "familiar food with flair," which turned out to be disappointing, especially considering the Nature Boy didn't even show up.

Mandy: I'm not a morning person and love to sleep in, so I wasn't the happiest camper on the way to brunch, when I discovered that Leo was a morning person. But Leo's big energy turned out to be a great help not only in the morning, but also throughout the entire day.
Even though it was around the corner from our Airbnb, we opted to not wait the 30 minutes at historic breakfast spot Clary's, and ended up at the eclectic J. Christopher's. We waited 20 minutes for a booth. Good decisions are not made before coffee.
11:30am
Drinks at Top Deck

Leo: With a beautiful day ahead of us, and Mandy's jokes about my poor brunch choice behind us, we set course to the nautically themed Top Deck on the roof of the Cotton Sail Hotel. Best part? It overlooks the Savannah River: The outdoor wrap-around bar has wonderful 360 views of the river and city, as well as an expansive cocktail and beverage list.

Mandy: We needed to remedy our hangover, and figured a nautical rooftop bar in the historic Cotton Sail Hotel overlooking the city, the Savannah River, Hutchinson Island, and Talmadge Memorial Bridge would do the trick. It did. We even saw a cargo ship roll on through. Call us tourists, but it was awesome!!!
1:30pm
Drinks at Moon River Brewing Company

Leo: After drinking, we decided it was probably time to start drinking again at Moon River Brewing Company. Upon hearing the brewery was haunted, it was outside for us -- we enjoyed 10-beer flights on the 5,400-square-foot pergola-covered beer garden, where the scariest thing was the fact that I knew what a pergola was.

Mandy: Time for MORE drinks, 'cause we already decided we wouldn't drink all of our host's liquor. You had two seating options -- the haunted indoor bar or the outdoor beer garden. Their flights are hardcore. Served on two half moon wood holders, it includes 4 ounces of the entire menu of 10 beers, from Brewgurl's ESB to Yoga Pants (probably not the best choice for a beer name). If you only have one, make it the Swamp Fox, their American IPA.
3:00pm
Lunch at Zunzi's

Leo: Due to an afternoon of drinking, the need for late-night food was upon us and we headed to Zunzi's, the quintessential college late-night sandwich spot that's oddly only open at 3pm. But after getting past that quandary, we went ahead and ordered up a Godfather, jammed full of marinated grilled chicken and homemade kielbasa sausage on French bread and crudely foreshadowing "shit yeah" sauce.

Mandy: If you ever find yourself in Savannah, you will soon learn that this hodgepodge of Swiss, Italian, South African, and Dutch food is an institution with everyone, but definitely most popular with the local co-eds, who are on a limited budget and hoping to get 4 meals out of one item. We shared The Godfather because we didn't want to whack our appetite for later. The line may be long, easily snaking along the brick building's exterior, but you can kill time by taking turns holding spots in between games of cornhole.
4:00pm
Afternoon coffee at The Collins Quarter

Leo: Needing a slight pick me up, we popped into Collins Quarter café bar for a caffeinated beverage to get us back on the eating wagon. Taking a seat in their shiny red tufted banquettes, we quickly decided alcohol with our caffeine was the best solution, and were brought the Eventide Dry Irish Stout from a nitro pour and a shot of espresso.
Mandy: Figuring we needed a pick me up before our long night ahead, we headed to the most Instagram-ready restaurant in all the land. From perfect natural lighting to marble counters, carved wooden high-tops, and red leather banquettes, this Aussie-inspired spot features everything from brekkie to dinner, but is best saved for artsy heart foam lattes and nitro stouts with extra shots of espresso.
6:20pm
Dinner #1 at The Grey

Leo: And after our giant hoagies and coffee, it was off to dinner at the Grey, recently named to Food & Wine magazine's 5 Best Restaurants of 2015, and to our surprise "best place for dinner after eating giant hoagies!" Restored to its original 1938 art deco Greyhound Bus Terminal, the Grey would not disappoint with knockouts like fried veal sweetbreads, sizzling smoky pig, and catfish tagine. Mandy ordered up the Snickerdoodle ice cream, and decided not to share. I quickly realized my new traveling partner would meet halfway as long as dessert wasn't involved.

Mandy: Located inside a restored 1938 Greyhound Bus Terminal, you'll spend most of your time checking out the art deco details that are everywhere. Insider tip: don't forget to look up. Aside from the award-winning food, which is a tour through the updated South with fried veal sweetbreads, catfish tagine, and D.O.M. Hearts of Palm (all items we met halfway on), their cocktails are some of the best in town. Inspired by the port interests of the city, they offer Atlantic Trade Flights, 1-ounce pour flights of single spirits like rum, gin, and sherry. They also feature ice cream from another local favorite, Leopold's. I chose Snickerdoodle. I didn't share, and didn't feel guilty about it.
8:50pm
Dinner #2 at Elizabeth on 37th

Leo: We ended our eating extravaganza at Elizabeth's on 37th, a 1900s-era southern mansion adorned with white tablecloths and plantation-style furniture, and owned by two Buddhist brothers, one of which was our humble waiter. The kind, older gentleman regaled us with stories of their history at the restaurant (their journey from waiters to now part owners), while we dined on their delightful Harris Ranch pepper-crusted beef tenderloin and a healthy dose of humility for dessert.

Mandy: More than anything, Leo and I both know and love great food. No picky eaters here. Picking menu items was easy because we both have the same taste in food and the knowledge was there, he instantly knew what worked and what didn't. Plus, it's good to have someone that knows how to rally beside you. Eating all day long is no easy feat for the novice foodie.
We ended our night of gluttony at this lavish 1900s southern plantation-style mansion. Go big or go home. The Southern coastal cuisine was very much fine dining, but what keeps this institution alive is the service, which is all at once motherly, familiar, and yet still cool. They even suggested a salad, since they figured we hadn't eaten vegetables all day. Yeah, yeah, they were right. Insider tip: ask to see their Nobel Peace Prize.
10:30pm
Drinks at 22 Square at the Andaz Savannah

Leo: So, what does one do after a bit of self-reflection? Get a stiff drink. The bartender, at the modern 22 Square Bar in the Andaz hotel, helped guide us through their cocktail menu with a favorite being the Andaz Sazerac with 13th colony whiskey, Leopold bros. absinthe verte, and orange bitters.

Mandy: We couldn't leave town without trying this institution and we made it in time for a couple cocktails. Behind the bar, you'll find the hot and talented Jane Fishel, and rest of the crew (and swanky decor) which ain't too shabby either. The easiest way to win over a mixologist: ask them to make you "their choice."
12:00am
(Cheap) Drinks at McDonough's
Leo: In need of a true southern ending to the night, we hit up a dive karaoke bar, naturally. Voted "Best Karaoke in Savannah" for the past eight years, the bar was slammed with future Guitar Hero idols all taking down $3 beers and a whole bunch of rail liquor. Needless to say, it was easy to tell who was still haunted by childhood dreams of becoming the next pop icon. Oddly enough, Mandy and I did meet halfway on Dropkick Murphy's being one of the better bands for karaoke songs.
Mandy:
With ample drinks in us, we decided to try our hands at karaoke (from the sidelines, of course). It's not the most authentic Irish spot, but you can help them out by belting out your best of the Dropkick Murphys while someone holds your Guinness.

Midnight+++
Drinks at Pinkie Master's Lounge

Leo: Because we just couldn't get enough of Pinkie Master's Lounge (and it was across the street), we returned for one final nightcap and ended up running into the mixologist from 22 Square. We then made our way home, hitting about 22 city squares before finally making it back home.
Mandy: After some karaoke and bad dancing, we ended the night here again. Who can blame us? It's diagonal to McDonough's and we left before hearing our songs on the jukebox the night before. Plus, never-ending PBRs…
Sunday/Conclusion
Leo: I awoke the next day realizing the trip had come to a close and started collecting my belongings and thoughts to start doing a little self-reflecting on the trip: from the terrific meals at The Grey and Elizabeth's on 37th to the vivid scenery all over this charming southern city, I realized Savannah truly has a wonderfully haunting mystique, all its own, and I would gladly visit there again.

Mandy: Between all the eating and the drinking, we snuck in some time for sightseeing at some of the city's 22 squares, which are dispersed all around the historic district and make walkability extra easy. The most famous is Chippewa Square (aka the park in Forrest Gump) and we posed for some requisite cheesy pics in not the exact bench, but one that looked like it since the original was moved to the Savannah History Museum. Alongside the river, we ran into a monument called The Cracked Earth, which was very appropriate for our "meet halfway" situation. A stop into the Cathedral of St. John the Baptist helped us shed some of the weekend's sins. Sunday and Monday hurt a bit, but I'll take a little hangover in favor of a tour of Savannah any day.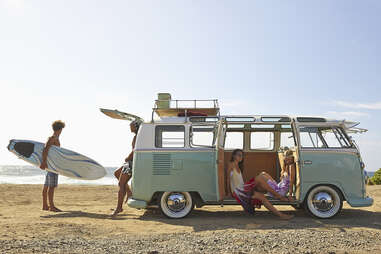 Book now and get $50 off your stay!
Offer Terms: Book an Airbnb using PayPal and get $50 off your stay of $200 or more. Offer valid for U.S. residents only. Bookings must be made within the offer period on eligible bookings. Must have a valid Airbnb and Paypal account, use the coupon code at checkout, and use PayPal as the sole method of payment. Limit one code per person. Restrictions apply. Learn more and get the coupon code at paypal.com/meethalfway.