Things Nobody Tells You When You Book a Cruise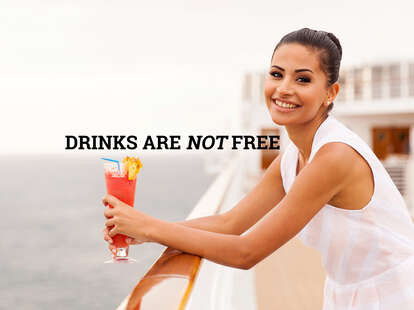 For travelers with limited vacation time, cruises can be an attractive option -- you fly to a departure city that's probably nicer/warmer than your hometown before getting whisked away to exotic locales on a big-ass boat for a week of fun and sun and all-you-can-eat shrimp buffets. It sounds amazing! Too good to be true, even! (Unless, of course, you're cruising solo.)

Yeah... here's the thing about that. When something sounds too good to be true, read the fine print. And the entire $40 billion cruise industry is built on fine print. So before you get too caught up in mid-winter "dear Lord, please get me out of Buffalo" discount-cruise mania, here are some secrets that you really need to know.
Book very early or very late to score a deal
If you want a good deal on a good room -- and choosing a room can be akin to playing chess blindfolded with Bobby Fischer -- book as far in advance as you can. Yes, waiting until a few weeks before departure can result in a sweet deal, but you could also end up sleeping near the engine room. Even booking a cheaper "guarantee" cabin is a gamble, since it works like Priceline; you're guaranteed a certain "class" of cabin, but you no longer get to pick the exact one. Sometimes it pans out, and sometimes not.

ALWAYS buy the travel insurance
Look, no one wants to cancel a vacation. No one books a vacation like they buy a giant screen TV before the Super Bowl, with the intention of cancelling/returning it later. You usually need to bail because something big came up that you couldn't possibly have planned for. But what if need to cancel your cruise. Easy peasy, right?

LOL. And you thought the airlines were bad.
Unlike said airlines that simply slap you with a $150-$200 penalty to change or cancel your flight, unless you cancel a cruise more than 91 days in advance, you are going to eat the cost. And you're not just going to eat the cost of the cruise itself; you're eating the cost of any hotels and excursions booked as part of your package, possibly the fees charged for canceling, and, let's not forget, the airfare you likely booked separately.
It might sting to pay the extra money for travel insurance after shelling out all that cash on the cruise itself, but would you rather pony up 4-9% of the total trip cost now or potentially be out 100% of thousands in the future?

Build in a day on each side of your cruise when booking flights
Why? Because if you miss the boat, see the above explanation on cancellation policies. The same goes if the boat returns to port late, and you miss your flight.

You can avoid some of this headache by booking a cruise package that includes flights, as they often offer some kind of assistance in the event that a delayed or cancelled flight causes you to miss embarkation. That said, they also come with their own service fees, you lose almost all control over your flight reservation (which airline, flight times, etc.), and you typically still pay the airlines' published fares -- so you're not even really getting a discount.

Nine times out of 1o, you can find a better deal by booking the flights yourself, just don't cut it too close -- allow two extra overnights in or near your departure city.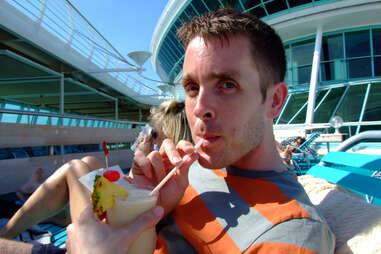 There's no such thing as "all-you-can-drink"
Cruises don't really position themselves as "all-inclusive" because they are NOT; while most cruise lines include food and some non-alcoholic beverages in the fare, they NEVER include booze. In fact, alcohol is one of those areas where cruise lines make a huge profit, so expect standard restaurant pricing.
Some lines do offer ALMOST all-you-can-drink packages but there is, again, a lot of fine print attached; some limit the selections, some charge more for premium packages, some automatically add a 15-18 percent service charge, some are only available during meal times, some cut you off at 15 drinks, and most do not include mini bar or room service purchases. For most of the major lines, expect to pay $45-$70 per person per day for quasi-bottomless booze.

Also, if you think you'll just be "savvy" and BYOOB (bring your own on board), think again; this is not their first high-seas rodeo and you are not the first person who thought of this brilliant idea. Bags are scanned when you board and liquor is confiscated (although there is sometimes a two-bottle allowance per room, but with a high corkage fee), including anything bought on an excursion in a foreign port.

Booking a cruise cabin gets you... a cabin on a cruise. Nothing else.
If you book a cruise, you are basically reserving a spot on a ship that will take you to a designated locale(s). Sure, you can get on and off the boat as much as you want on a port call, but if you want to explore the area on any of the planned excursions or guided tours, that'll cost you extra. Excursions are not free and are NOT included in the price of your cruise.
Not only that, but if you book the excursion through the cruise line, you're paying a higher markup for something they just booked through a local operator anyway. Do your own excursion booking to save money, and don't let the cruise company scare you into thinking you're better off going through them -- 'cause you're not.

Be aware of port charges and taxes
Often significant, these fees are not factored into the advertised, "Only $50 per night!" cabin sale you booked online. Nope, port charges and taxes are added to the total cost of your booking, so don't be surprised when your final bill is double what basic math would dictate -- combined they can tack on another several hundred dollars. And, unfortunately, there's no way to avoid or lower them.
Prepare to get nickel and dimed on extras
Much like airlines make big bank by charging you for the seat you choose, checked baggage, carry-on baggage, Wi-Fi, TV, snacks, and so on, cruises also rely on extras for profits. In fact, these "ancillaries" -- including alcohol, Internet access (up to $25 AN HOUR!), spa services, specialty restaurants, certain premium food items, yoga classes and wine tastings, excursions, laundry services, even fountain soda and bottled water -- comprise about one-quarter of the largest cruise lines' overall revenue.

You have to tip pretty much everybody on board
You could complain about having to tip everyone, but you could also acknowledge that US labor laws do not apply to ships registered outside of the United States. About 75 percent of the crew works 10-14 hours each day to make your stay more pleasant, while earning just $1,000 per month for doing it. (Though recent changes have set a max on the number of hours worked in a week at 91 hours. Per week.) So yes, you must tip everyone; and you can do so with prepaid gratuity packages, or automated service charges, or cumulative cash tips at the end for those who worked specifically with you, or cash tips along the way for particularly exceptional service. Tipping etiquette can be daunting, so start by reading this. Also, if you've ever wondered what it's like to work on a cruise ship, anonymous employees reveal all the secrets here. It's insane.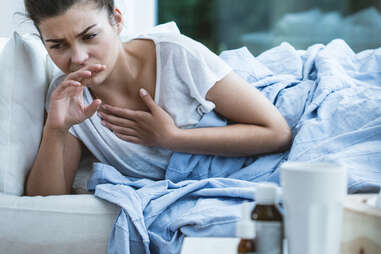 Cruise ships can be breeding grounds for germs
Right now, it's all about dat Zika virus, while the norovirus remains an ongoing threat. The thing is, cruise ships -- with their close, tight quarters and frequent turnover -- are much like schools, hospitals, and prisons: breeding grounds for germs. And the truth is, while every effort is made to prevent and curtail them, outbreaks do happen. The Cruise Lines International Association says that your chance of getting caught in an outbreak are one in 14,000 based on 2013 data. But do the math: with over 20 million people taking a cruise in 2013, that's still over 1,400 people getting sick.
Now that said, the odds of getting sick on a cruise for reasons other than seasickness or the Irish flu are surprisingly small given the close conditions. But still, if you're a germophobe or are susceptible to the plagues of other people, keep it in mind. The CDC requires ships to report outbreaks of gastrointestinal illnesses that affect three percent or more of the passengers and crew, so if you want to check out the stats on a particular ship, you can do so here.
Sign up here for our daily Thrillist email, and get your fix of the best in food/drink/fun.
Nicole Rupersburg has not changed her mind about cruises after writing this story and is unlikely to do so until WiFi costs less than $100 a minute for the equivalent of dial-up. Catch her on land on IG at @eatsdrinksandleaves.