Mission Beach

| Bradford Tennyson/Thrillist
Mission Beach

| Bradford Tennyson/Thrillist
The Biggest Mistakes People Make When Visiting San Diego
If you're even thinking of being in San Diego, check out the rest of our DestiNATION: San Diego guide. It's stacked with expert advice from locals on what to eat, where to drink, and what to do.
Thousands upon thousands of people flock to San Diego each year for the beautiful weather, beautiful beaches, and beautiful people -- but even paradise has its pitfalls. Sure, it's stupid-easy to get sucked into the "anything goes" philosophy here and spend your days bar-hopping from patio to patio down Garnet. But when you end up "napping" on the sand by noon and suffering a brutal sunburn for the remainder of your stay, don't say we didn't warn you. So before you dive head-first into the SD experience, here are a few crucial mistakes to avoid while you explore "America's Finest City" -- and how to keep from getting a gnarly case of hepatitis.
Swimming in the ocean after it rains
As tempting as it may be to dive back in after you get rained out at the beach, urban runoff is a real thing in San Diego, and it is gross. Pesticides and herbicides, plus sewage from leaking waterlogged sewer pipes, get washed into the ocean and contaminate the shore for at least 72 hours. Swimming or surfing in that mess means risking gastroenteritis, hepatitis, respiratory illness, and a whole slew of other vacation-ruining health problems. It's a good idea to check the beach water quality on the County of San Diego website to be safe. Welcome to Southern California!
Ordering a non-local or non-craft beer at the bar
Yes, your bartender is judging you. With more than 100 craft breweries in town, ordering a Bud Light is not going to cut it. You're in the craft-brewing capital of the world, for God's sake. Humor us and at least ask to try a taste of something local.
Not checking the flags before you go swimming or surfing
It might look like everyone in the water is just splashing around all willy-nilly, but there is some organization to the chaos. There's a specific area for surfing and an area for swimming, so before you charge into the water all Baywatch-style, check the flags on the beach. This will save you the embarrassment of a lifeguard yelling at you to get out of the water, or even worse, having someone hang 10 right into your dome. If you're not sure what the flags mean, just ask, or check out this handy beach safety reference guide.
Openly enjoying an adult beverage on the beach
Thanks to a Labor Day debacle almost 10 years ago, drinking on the beach has since been completely outlawed. If you're caught drinking on the beach nowadays you'll be slapped with a ticket and a pretty hefty fine. Just do as the locals do and imbibe at one of the beachfront bars or take your chances pretending there's only Gatorade in that bottle.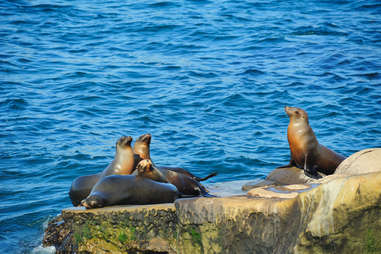 Taking selfies with the seals in La Jolla
They may look all lazy and adorable wriggling around and sunning themselves on the beach, but make no mistake, they are wild animals and they will bite your face off. One of the reasons the seals come to the beaches of La Jolla is for pupping season. To protect them, there is no beach access at Casa Beach at all from December-May, so mind the barriers and take your selfies from afar.
Trying to find parking anywhere in the vicinity of Belmont Park/Mission Beach during the summer
Either stake your claim on a parking spot at the crack of dawn or just take an Uber or Lyft. The alternative is wasting your entire beach day circling the parking lot like a vulture and stalking people returning to their cars.
Going to the Gaslamp for a "historical experience"
There's no doubt that the Gaslamp Quarter is really old, but visiting "The Historic Gaslamp Quarter" expecting an immersive historical experience will probably leave you disappointed. There are a few guided tours that will point out the architecture and spots where you're most likely to have a ghostly encounter, but at the end of the day the only reason to visit the Gaslamp is for dinner or the nightlife.
Forgetting to validate your parking in Horton Plaza downtown
Parking downtown is scarce and can be astronomically expensive. The trick? Horton Plaza is an enclosed garage with plenty of spaces right in the thick of the action -- plus, the first three hours are free! Here's the rub: It's only a steal if you bypass all of those tempting "pay here" machines on the way back to your car. Walk through the garage and into the mall, find one of the little black validation boxes, and make sure to stamp your parking ticket. Otherwise you won't be allowed to exit without emptying your bank account and promising them your firstborn child.
Wearing a bathing suit on Black's Beach
You shouldn't just show up in San Diego and head for any ol' beach. There are tons of them -- all gorgeous, but many offer their own unique vibe and cater to a specific crowd. Know what you're getting yourself into with our handy beach guide, lest you show up to a nude beach wearing anything more than your birthday suit. Awkward.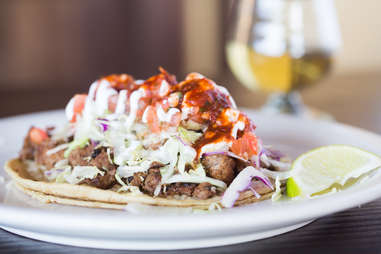 Gorging yourself on cheap tacos on Taco Tuesday
But they're SO cheap, SO delicious, and SO tempting! Believe me, we know. But too much of a good thing is, well, not. Just because tacos are a buck each at almost every taco-serving establishment you could possibly stumble into doesn't mean you should challenge your friends to a fish taco-eating contest. Pace yourself.
Trying to drive to North County after 3pm
No matter which freeway you're on, getting from San Diego to North County in the afternoon is nearly impossible. Save yourself the anguish and take another nap on the beach until the gridlock passes.
Crossing the border into Tijuana without a passport
Hope you love your new home in Mexico. Getting back stateside without that little blue book is going to be a challenge.
Drinking more than one Red Bull vodka slushy at Shore Club
The brain freeze alone can take down a grown man, but the next-level hangover may very well wipe a day from your vacation itinerary. If you're brave enough to take down a few of these babies, make sure you remember to hydrate like your life depends on it.
Parking on J St during baseball season
There are very tiny, very confusing, and very poorly placed parking signs that tell you the date and time of all the Padres games, when your car is almost guaranteed to be towed. But even if you can decipher that code, parking downtown is going to be a chaotic nightmare on a game day no matter what. You're better off Ubering, or parking in another part of the city and catching the trolley downtown. When the game's over, find a bar to wait out the rush.
Trying to visit several breweries in a row without a guide
There are more than 100 breweries in San Diego, but that doesn't mean there's one on literally every corner. Most are spread throughout the city miles apart from one another, so attempting to conduct your own brewery tour without a designated driver is simply not going to work. Sign up for one of the multi-brewery tours instead. You won't regret it.
Sign up here for our daily Thrillist email, and get your fix of the best in food/drink/fun.
Sara Norris is an adventure-seeking freelance travel and food writer and photographer. She would love nothing more than to wander the world with just a backpack, notebook, and her camera. Follow her latest adventures on Instagram @saraknorris.