This is a public service announcement: Greece does have a winter. We're here to debunk the myth that land of the gods is only cerulean blue seas and endless summer. Don't get us wrong, it is—but it's also so much more. Greece's alpine villages and winter scene are perhaps the country's best kept secret.
So if you've been mourning the end of summer on Mediterranean islands, don't fret. The party continues in the mountainside town of Arachova. A winter-version of Mykonos, if you will, this cool and chic ski town is a destination for in-the-know Athenians—and now you, as well.
Located a short two-hour drive from the capital of Athens, Arachova sits at the foot of Mount Parnassos and is buzzing with a cosmopolitan weekend crowd looking for a cozy and classy escape from the city. The day begins and ends at Lakka Square, the meeting point of the town and the spot to see and be seen. In between skiing, expect to find overflowing cafes filled with a jet-set crowd sipping frothy cappuccinos, shopping at concept stores, and warming up fireside in the town's taverns and bars.
This idyllic alpine town with a touch of glamor will have you reconsidering Greece during "off-season" months. Here's our insider's guide to Arachova.
Hit the Greek slopes
Yes, you can ski in Greece. Mount Parnassos is Greece's largest ski center. At an altitude of 5,250 – 7,400 feet (taller than anything in ski-loving Vermont), it delivers facilities and runs for all skill levels. With two sections, Kellaria and Fterolakka, connected by lifts and runs, Mt. Parnassos' snow-covered peaks and swanky resorts attract a local and international crowd.
Ranging 32 – 37 euro for individual tickets, the prices are a steal. An on-site chalet has a central fire place and a well-stocked bar for all your aprés-ski needs. It's not Mount Olympus, but Parnassos is still full of its own mythology, so you can imagine fleeing the fluctuating moods of Zeus as you zoom down the slopes.
Eat Greek tapas and feta-filled soup
Arachova may be a small town, but it has no shortage of delicious places to eat. For sprawling views and your carnivorous fix, head to Kaplanis, where you'll find a menu of traditional Greek dishes that will be sure to warm your bones. Sharing is caring and Greeks take their family-style meals seriously. You'll find a table filled with ορεκτικά, which are the Greek equivalent of tapas. Fill up on the usual suspects of tzatziki, spicy feta dip, Greek village salad, xορτόπιτα (a flaky phyllo pie filled with wild greens and herbs), sausage made from wild boar, and if you're brave enough, κοκορέτσι, a Greek delicacy of intestines wrapped around offal and grilled to perfection.
Meander down the cobblestoned streets and pop into To Tsoukali, a pastel-hued taverna with stone detail and a cozy atmosphere centered around a hearth. With locally sourced and seasonal dishes, you can't go wrong with the daily specials or anything straight from the menu. Don't leave without trying the rooster with Hilopites, handmade pasta, bouyourdi (baked feta with tomatoes, peppers and spices), and a bowl of piping hot and rustic Trahanas soup. Traditionally a farmer's breakfast, Trahanas is one of the world's oldest foods and the tart and milky flavor of this comforting porridge is still very much a staple of traditional Greek winter dishes.
For chalet-chic vibes, Le Sapin's rustic decor and French dishes may have you confusing Arachova for Chamomix in the Alps. Dive into an amuse bouche of foie gras with sour apple, raisins, and ginger, then eagerly await the tataki black angus served with arugula pesto, truffle crème, and parmesan crisps. Be sure to stick around for innovative cocktails and popping tunes after 11pm.
Drink cozy cups of cheer from day to night
Warm up fireside and spend your recovery day at one of Arachova's cafes. While coffee culture runs strong in Greece, O Tea Pineis has a lovely display of teas from around the world. Stock up on chocolate, dried fruit, and nuts while sipping on locally-grown, organic mountain tea. For a sweet treat, head to Belleville Pastry Bar, serving brunch and traditional Greek desserts like melt-in-your-mouth homemade loukoumades (bite-sized honey donuts).
If you're looking for some serious aprés, the nightlife does not disappoint. If you're lucky enough to snag one of the four bistro-style tables in the narrow alley outside of Room Cocktail bar, we recommend grabbing a nightcap and then staying for the DJ spinning house and electronic music until early morning. There's also locally loved Red Six Bar, which is still as popular as it was 25 years ago, as is Sehre Cafe, which transforms into a club after midnight.
Pick up a new ski outfit or a last-minute souvenir
Been too busy living your best life to grab gifts for all your jealous family and friends? We've got you covered. Hop into the traditional shop Oreon Gefsis, a tiny yet abundantly overflowing store selling local, traditional goods like herbs, jams, honey, dried Trahanas, and their famous pomegranate juice.
Upgrade your wardrobe with trendy fashion staples, both from Greek and international designers at Lousso and 2803 Ave. Loft. Or consider scouring the luxurious lifestyle and decor pieces at Costa Lekka off the main square.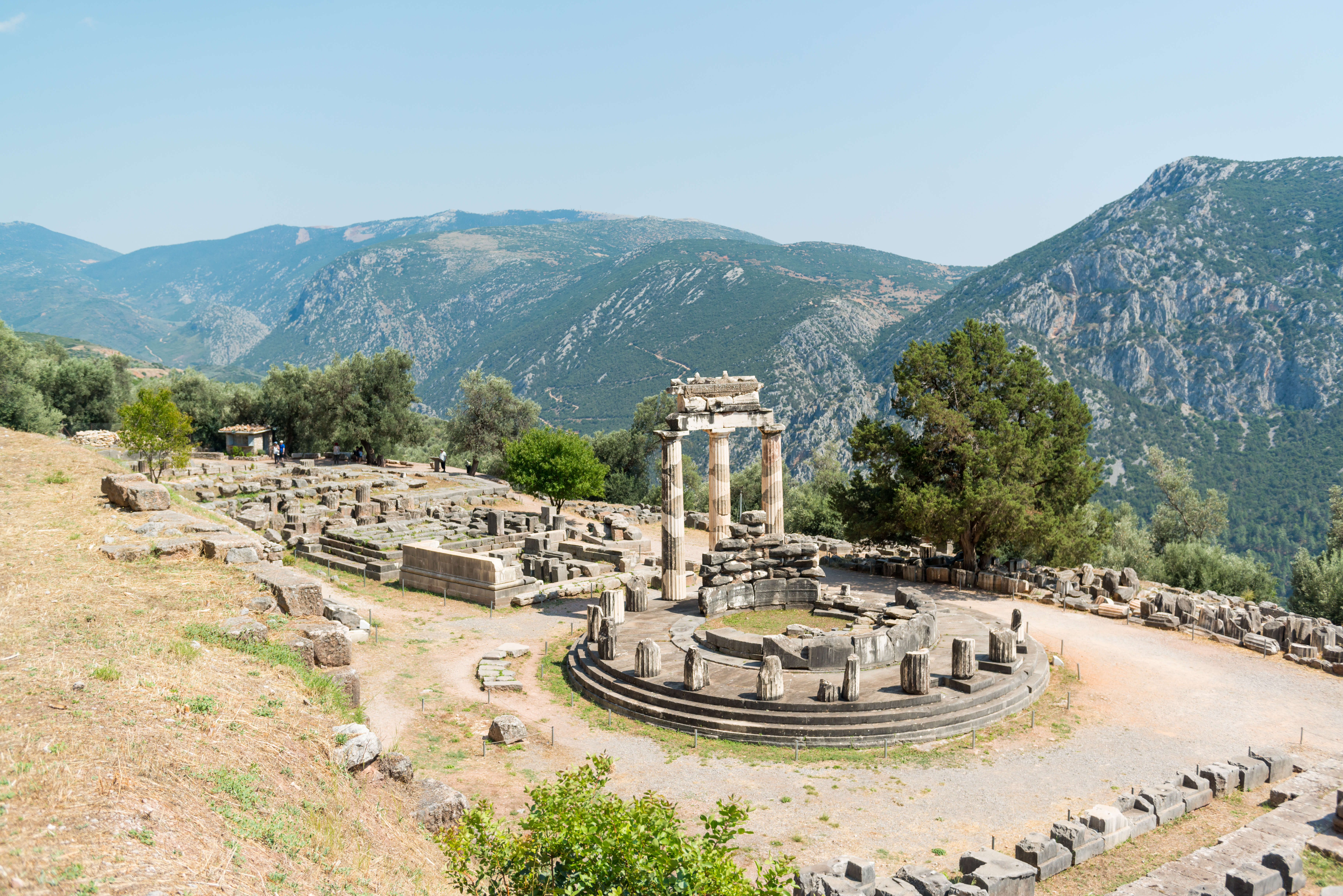 Take a day trip back in time
In between hitting the slopes and sipping cocktails, make sure to squeeze in a bit of history and culture. Only a 15 minute drive is the UNESCO world heritage site of Delphi. You'll want to pack sensible shoes for your trip back to ancient times; the archeological site is spread over a steep hillside, but the views of the olive groves and monuments are well worth the hike. Before heading back to Arachova, check out the museum for an impressive collection of ancient art spanning from the second millennium BC.
Rest and recharge at the best hotels
While Arachova has a great deal of lodging options, this small town has a high demand during winter months and tends to book up rather quickly, so check well in advance. Bookmark Santa Marina Arachova Resort & Spa for an understated taste of luxury. The stone-built property has impressive views and a full-service spa that instantly makes this a serene and elegant mountainside retreat.
Arachova also has a handful of xenones, which are traditional guest houses, where you can experience a more quaint, home-away-from-home vibe. The unbeatable location of Afanos offers a touch of country exclusivity in a restored family mansion. Seamlessly blending heritage with modern amenities, Afanos excels at the traditional hospitality the region is known for.
For those who like to plan well ahead, put Elatos Resort and Spa on your list. It's currently closed for renovation, but this more secluded option will be well worth the wait. The all-inclusive luxury accommodation offers wooden chalets where you'll wake up to the frosted evergreen and snow-covered mountain tops. Each chalet has its own fireplace and terrace, while the common area offers a heated swimming pool and restaurant with sprawling views.