The Ultimate Guide to Universal Studios Florida
The wildest rides, best restaurants, and more to check out.
There's a lot more to Universal Orlando than wizards and wands. Yes, Potter stans should 100% visit The Wizarding World of Harry Potter—it's so fantastic, we have an entire guide dedicated to it.
Other than hanging out with Harry and the wiz kids, there are classic rides and movies to fawn over, easter-egg laden queues, dancing lemurs, velociraptor attacks, Sideshow Bob's attempt at revenge, and the pride you feel when you max out the score (999,9999) on Men in Black Alien Attack, which is allegedly possible. With dozens of adventures on deck, here's our guide to the best rides, places to eat, money-saving tips, and things to keep in mind on your visit to Universal Studios Florida.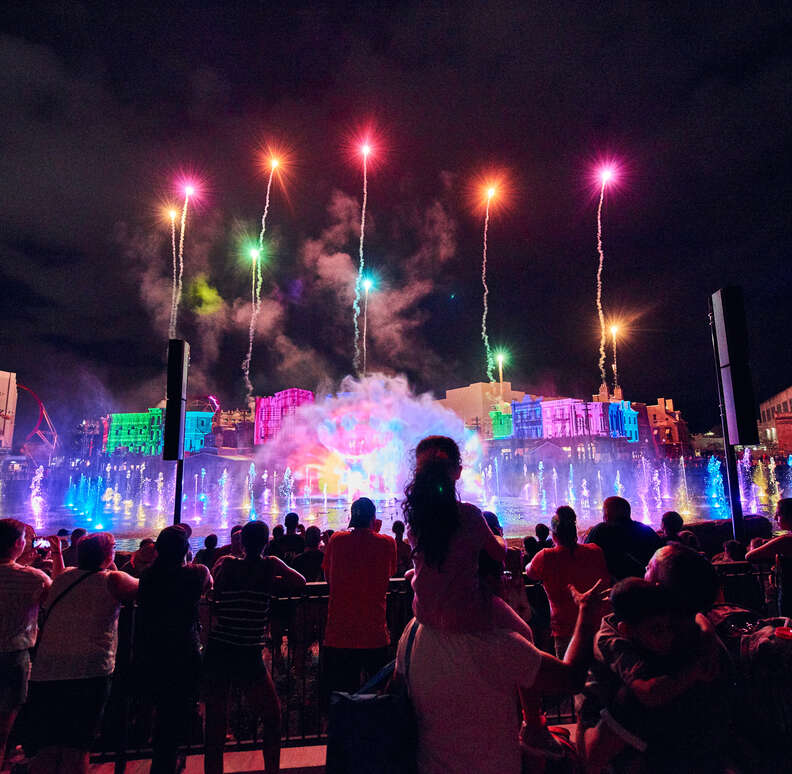 But first, what's the difference between Universal Studios Florida and Islands of Adventure?
Universal Orlando is comprised of three unique theme parks: Universal Studios Florida, Islands of Adventure, and Volcano Bay. Just outside the parks, there's also Universal's City Walk, where you'll find restaurants and stores.
Universal Studios features classic rides and attractions themed around movies and films. It's all about things like shooting aliens, hanging out with the Simpsons, and getting lost in New York with Jimmy Fallon. From the Harry Potter universe, you'll find Diagon Alley and the Escape From Gringotts ride.
Islands of Adventure is more about fantasy and thrill rides and is home to some of the newest roller coasters, three of the four Wizarding World rides, Jurassic Park attractions, a Marvel (but not MCU) theme land, and a couple of water rides. Volcano Bay is Universal's water park and opened in 2017.
Each park requires a separate ticket and entrance fee. Depending on the time of year, ticket prices range from $119 to $139 for a one-day, one-park ticket. But you can often get a good deal if you buy tickets for more than one day or more than one park at a time. If you only have the time and money to visit one, you'll have to choose wisely, my friend!
The best rides at Universal Studios Florida
One thing Universal's got going for it over that other Orlando theme park is that there are some pretty legit, thrilling rides. Of course, there's plenty of kid-friendly stuff too, plus some old classics (yep, including the E.T. ride, which is alive and well). Here are some of our favorites.
Harry Potter and the Escape from Gringotts: It's not a visit to Universal Studios without a visit to The Wizarding World of Harry Potter, amirite? This is an indoor/simulated roller coaster combo, but it won't disappoint. You'll join Harry, Ron, and Hermione as they attempt to navigate the bank's tight security and escape from their nemeses' grasp.
Waiting in line is almost as exciting as the ride itself; this is one of the most intricate waiting areas you'll ever see. And once you venture outside after the ride is over, be sure to look up and wait around 10 minutes until you see the dragon roar and spit out fire over Diagon Alley.
Hagrid's Magical Creatures Motorbike Adventure: The Hogwarts gamekeeper is the centerpiece of the most recent addition to the Wizarding World, and it's the best The Wizard World has to offer. The outdoor coaster has you hop aboard a motorcycle with only a lap restraint, which leaves you feeling a bit like this couldn't possibly be safe. You're rocketed forward into the Forbidden Forest to see magical creatures, through fog banks that hide what's coming next, and down to a free-fall onto another track. Like most of the Harry Potter rides, there's a lot to see during the in-line experience, so the long lines are a little more bearable.
Revenge of the Mummy: This indoor roller coaster is definitely not for the faint of heart since it features a sudden terriyfing plunge into total darkness. As you run away from evil Imhotep, your car will run into a swarm of insects, warrior mummies, and fire (yes, real fire!) Make sure you carefully listen to the video at the end, because you might hear Brendan Fraser say "Ooh, that feels good." (And once you hear it, you can't un-hear it). Revenge of the Mummy is an older ride, but don't let that fool you into thinking it's not as good as the newer attractions. This is a classic for a reason.
Jurassic World Velocicoaster: This is the newest ride at any Universal Florida park. The Jurassic World-themed roller coaster features the steepest drop of any Universal ride, two launches that hit 70 mph in 2.4 seconds, multiple inversion, and an intense barrel-roll at the end. The concept is that you're in a pre-Indominus Rex disaster Jurassic World theme park, and the latest ride takes place inside the velociraptor paddock. The ride manages to match the intensity of its conceit, and it may be the best roller coaster at the park.
The Incredible Hulk Coaster: This ride is themed after the Hulk, but it's really just an excuse to give you a wild roller coaster experience. It kicks off with a huge loop and only gets better from there. Like Hagrid's Motorbike Adventure and the Velocicoaster, you're often looking at some of the longest lines in the park, but it's absolutely worth the wait.
Men in Black Alien Attack: Nestled somewhere between The Wizarding World and Springfield: Home of the Simpsons, Alien Attack is easily overlooked—but real talk, this is the most underrated ride in all of Universal.
On this competitive ride-and-shoot combo unlike anything else in the park, there are a few secret tricks that'll help you get a higher score than your buds. You'll score more points if you shoot the aliens that are "hiding," like in windows or behind trees. And you can earn an extra 100,000 point bonus: At the end, once you see the big monster, listen carefully to the speakers in your seat and press the red button before anyone else in your car. No bonus points, unfortunately, for knowing all the words to the Will Smith song.
Always ride the outdoor rides first
Among the many things non-Floridians don't know about the Sunshine State is the fact that there ain't a whole lot of sunshine around 3 o'clock in the afternoon. In the summer months, Orlando's tropical weather often results in a regularly scheduled afternoon downpour.
If your heart's set on outdoor rides like Hollywood Rip Ride Rockit or Kang & Kodos' Twirl 'n' Hurl, then make sure you hit them earlier in the day. The rides will shut down if there's lightning within five miles, so you may be impacted even if there isn't any rain directly above you.
Not all rides are acceptable for little kids
Several rides in the park won't allow children under 40 inches (about three feet) to ride. Luckily, Universal's "rider swap" (or "baby swap") program provides a nifty workaround for families. Basically, Adult #1 waits with the too-short kid (aw) in a designated area, while Adult #2 and the tall-enough kid enjoy the ride. Once they're done, Adult #1 can swap in for their turn—without having to wait in line again. Here's the list of rides that currently offer rider swap.
The best times to visit are during school hours
While summer might seem like an obvious time to go, I would strongly recommend avoiding the June-August months. Crowds are at their worst, and it's Florida's hottest, muggiest, steamiest time of year.
Instead, go right after school starts in September and October, when you'll catch some amazing Halloween Horror Nights decorations and attractions. Or try April and early May before school ends (just avoid Easter weekend!). Price varies, but single-park tickets are often cheaper on weekdays than on weekends.
Splurge on the Universal Express Pass
I recommend shelling out some extra bucks for the Universal Express Pass ($69.99 if you want express access just once per ride, $89.99 if you want unlimited express access). It allows you to bypass a huge chunk of the regular line on almost any ride (except for Fievel's Playland), saving you a lot of time even during the off-season. There have been a few times when I've simply walked onto the Hollywood Rip Ride Rockit or Men in Black Alien Attack rides, just because I had the lucky combo of the express pass and the right time of year.
Ride solo
If you don't go for the Express Pass, look for "single rider" signs on rides. It's not always clearly marked, but many rides have a separate line for single riders. If you're willing to be split up from your group to fill in seating gaps on rides, this line will get you to the front of the queue fast. Sometimes, it's just as fast as Express Pass.
Travel between parks smartly
If you've got a multi-park pass for both Universal Studios Florida and Islands of Adventure, you'll find that it's a bit of a walk between the two if you're going to hoof it. (It's manageable, but let's be honest, you've been walking all day and want to take every shortcut you can find.)
That's why the Hogwarts Express is your best friend. The ride is the easiest way to move between the two parks, but it's only accessible if you have a pass for both since it starts in one and ends in another. It runs in both directions with endpoints in Diagon Alley and Hogsmeade, the two Wizarding World areas at Universal.
Bring your own reusable water bottle
This is probably the best way to save money at Universal Orlando. The last time I went, my partner and I brought one bottle between ourselves and had no trouble finding water fountains to fill it up. We saved something like $50 on bottled water just by doing this. It's Florida, it's hot, you'll get thirsty. And consider the planet, people!
Stay at one of Universal's hotels for easy access and special offers
It's certainly not the cheapest option, but it's definitely the most convenient. Staying at one of the Universal hotels (such as Loews Sapphire Falls Resort or the recently-opened Endless Summer Resorts) can save you a ton of time. With the hot Florida sun and near-constant walking, it's especially satisfying to get to the park early, leave around lunchtime for a break and a cat nap, and come back in the early afternoon to stay 'til closing. This helps you avoid a lot of the big lines that tend to form around midday, plus you can save some money by eating outside of the park.
Many hotels have special offers, such as early-morning access to the parks and direct access to Universal CityWalk via boat or bus. Of course, there are also other (usually more affordable) options nearby, like the Holiday Inn & Suites Across From Universal and the DoubleTree by Hilton Hotel at the Entrance to Universal Orlando. Just be prepared to spend time in morning traffic getting to the park. Speaking of which...
If you're driving in, prepare to pay for parking
Traffic gets especially hectic in the later morning, around 10 am until lunchtime. And parking isn't cheap: $26 for regular parking and $36 for prime parking. There's also valet service, which costs $26 for two hours anytime before 6 pm, and a designated pick-up/drop-off location for rideshares. If you're at one of the Universal resorts, however, free shuttle buses will take you to and from the park and are available every 15-30 minutes, all day long.
Where to eat and drink in Universal Studios
Best for lunch: Moe's Tavern
Located in Springfield USA
For the best lunch with the most options (read: if you're with picky eaters or you, yourself, are a picky eater), head straight for Fast Food Blvd. in Springfield. They'll be playing some classic scenes from The Simpsons at Moe's Tavern, but there's also a Krusty Burger, and Bumblebee Man's Taco Truck.
Runner up: If Springfield isn't to your liking, head to the New York section of the park. Finnegan's is a traditional Irish-American joint offering classic dishes like shepherd's pie, bangers and mash, and Guinness beef stew. The Today Cafe near the entrance to Universal Studios Florida plays The Today Show on big screens with studio lighting. Here you'll find typical American fare like breakfast sandwiches, and New York-inspired dishes like sandwiches piled high with deli meat.
Best place to drink during the inevitable afternoon rainstorm: Eternelle's Elixir of Refreshment
Located in The Wizarding World of Harry Potter
You'll find Eternelle's inside of the Carkitt Market. These tasty, non-alcoholic (sorry) elixirs transform when combined with water. It's hard to choose a single drink (I always get the Babbling Beverage), but the best part might just be the incredible views of Diagon Alley—a great people-watching spot for sure.
Runner up: You can't mention good drinks in Universal Studios without mentioning the classic Duff Brewery. It's got an open-air bar with lots of seating, though it may not be the best place to park it if you're looking for a break from the afternoon rain. There are beautiful waterfront tables with umbrellas where you can sip on your Duff favorites—and to be clear, these beers are NOT non-alcoholic.
Best for a sweet treat: Florean Fortescue's Ice-Cream Parlour
Located in Diagon Alley, the Wizarding World of HP
Do not, I repeat: Do NOT even think about going anywhere else for dessert at Universal. Located inside Diagon Alley across from the Gringott's ride, this ice cream parlor serves a wide variety of flavors of ice cream, including butterbeer and sticky toffee pudding, plus a damn good soft serve (ask for two flavors because why not).
Don't forget about all the great restaurants at Universal CityWalk
There are some fantastic restaurants in Orlando outside of Universal, such as Santiago's Bodega. But you don't necessarily have to venture far for delicious fare. If you're already staying on Universal property, hit places like VIVO Italian Kitchen, the newly-opened, upscale restaurant Bigfire, and The Cowfish Sushi Burger Bar, where fans of surf 'n turf will be pleasantly surprised by the weird and exciting fusion foods they've created. There's also the world's first Burger King Whopper Bar, with a menu featuring burgers you can't get at a normal Burger King. (Keep in mind that this is Universal, so don't mistake "fast food" for "low-cost.")
Finish your day with a chocolate feast
If you're even considering trying to eat semi-healthy while visiting Universal, then fuggedaboutit. Those aspirations will come to an abrupt end as soon as you lay your eyes on the magical Toothsome Chocolate Emporium & Savory Feast Kitchen at Universal CityWalk. This full-service lunch and dinner restaurant is, as the name might suggest, best known for their chocolate. Their milkshake menu is enough to bring out the kid in you, but it's the eight different varieties of sundaes that you'll really go ga-ga for.