Take the Train to Busan, Where Mountains Meet Soju Bars
Plus beaches and bathhouses—but nary a zombie in sight.
Busan is a city of contrasts, just like Korea itself. One minute you'll be crossing a busy, uber modern intersection like you're on a movie set, and the next moment you'll find yourself delightfully lost along a tiny street with nothing but kimbap shops and locals selling greens from the countryside.
It's also a place where you can spend the morning in the mountains and relax at the beach by late afternoon and into the evening. Then unwind with some barbeque at a local spot before heading out for a night of discovering the latest speakeasy or yakitori bar, where there's bound to be seemingly endless shots of soju taken back at almost every corner.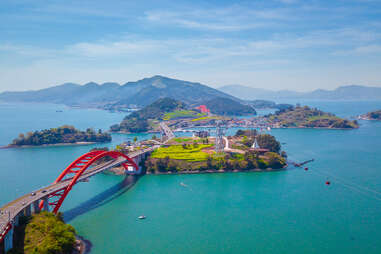 It's an activity in itself to explore the little corners of town and hear the ajummas and ajoshis speaking the colloquial satoori Busan dialect to each other. You'll be wandering through areas soaked in history with such a story to tell and trendy neighborhoods reinventing themselves with every season.
If you're coming from Seoul, you might want to take the train to Busan (minus any zombie apocalypse vibes). Initially, the rolling hills amongst the high rises with LED lights may seem endless on the tiny, southern peninsula of South Korea. As you pull into the station, with the shipping docks on one side and the mountains on the other, it might seem a little overwhelming at first. But you'll soon feel the calm call of the bathhouses, temples, and beaches, mixed in with adventurous hiking and restaurant hoping. Here are all the ups and downs, fast to slow, and nature to city experiences to have in the seaside city of Busan.
Hike sea cliffs and temple-filled mountains
For many local Busanites, a typical weekend always includes a hike. Busan literally translates as "south mountain" in Korean, so you'd be remiss to not experience what life is like here a few hundred feet above sea level.
One of the best things about hiking in Busan (and just most of South Korea, for that matter) is that you can pair the adventure with some landmark sightseeing. Some of the best temples in Busan can be found along the city's top hiking trails, so get your camera ready while you're catching your breath.
Located in the northern edge of the city is Geumjeongsan Mountain. Hike the whole 5.2-mile circuit or conquer a shorter route—either way, you'll get amazing views of the ocean and city below. On the route here you'll find Beomeosa Temple, one of the most significant Buddhist temples in Korea.
A seaside city like Busan also means that you'll find some pretty picturesque coastal hikes. One of those is Oryukdo. This hike starts at the skywalk, where you'll wander over a glass-screen pathway to view some rocky islets just off the Busan coast. Then follow the trail signs and walk along the coastline as far as your heart desires or until you hit Gwangan Beach, whichever comes first.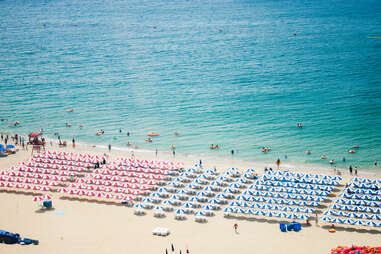 Beach hop for days (and nights)
Beach culture here in Busan is taken to another level, where it's all about the views, the vibes, and the eats, not to mention a few thousand selfies along the way.
Start in Haeundae Beach, where you can wander the long strip of beach (with an iced Americano in hand, as the locals do) while admiring the swanky high-rise apartments and the colorful Dalmaji Hill in the distance. Haeundae is a popular beach to visit year-round, but be sure to come here early on the weekends during peak summer months if you want to snag a sun lounger. The strip is packed with stylish coffee shops, bars, and restaurants, so you can easily spend your entire day here.
Gwangan Beach is another shining star of the Busan beach scene. With the Diamond Bridge providing the perfect beach backdrop, it's hard not to fall in love with Gwangan. Come here on a Saturday and you'll be treated to a free drone light show that's themed for that particular month or season.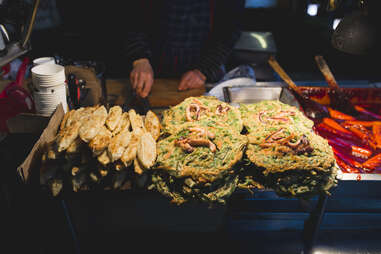 Eat all the oysters, tteokbokki, and kimchi
Many people know about Korean BBQ, but the local delights in Busan really get to the heart of the nation's cuisine. Tteokbokki, one of the favorite snacks of Busanites, is a rice cake that's soaked in gochujang (red pepper sauce). Grab a bowl for 2000 won (about $1.50 USD) and you've got yourself a spicy, filling snack for the afternoon.
It's no surprise that seafood is a specialty here in Busan. But it's more than just a grilled piece of cod, this is transcendent seafood served in spicy broths or next to tangy kimchi. Head a little outside of town to Gijang or to Songjeong Beach and you'll find beachside restaurants and cozy pocha (tent) eateries that serve up a true Busan delicacy: grilled clams. Freshly caught just a block away, book a table anywhere that calls to your nose and you're in for a real treat.
Melt into the spa culture
If you're familiar with K dramas, then you know a little something about Korean bathhouse culture. While these jimjilbangs are notorious throughout the country (and very sought-after in LA's Koreatown), in Busan you may find one of the best bathhouses of them all.
Located in the shiny and ultra-glam Shinsegae Department Store, Spaland is one of the top bathhouses in the country. Complete with 13 themed rooms (the Himalayan salt room is where I've sweat my sorrows away on more than one occasion) and an outdoor foot spa, even the roughest adventuring will give in to relaxing here at Spaland.
Where to stay in Busan
Lots of the top real estate in Busan comes with beach views in Haeundae. Splurge at the stylish Signiel Hotel, where you'll be treated to panoramic views of Haeundae and the Diamond Bridge in the distance. Guests will get free access to the hotel's exclusive Salon de Signiel Lounge, where you can sip on your morning coffee and gaze down at the sparkling blue East Sea below.
For prime beach location and lots of amenities to boot, check in at the Westin Josun Busan. This property is just steps away from Haeundae Beach and Dongbaek island, so you won't have to venture too far from some of the best sights in the city.