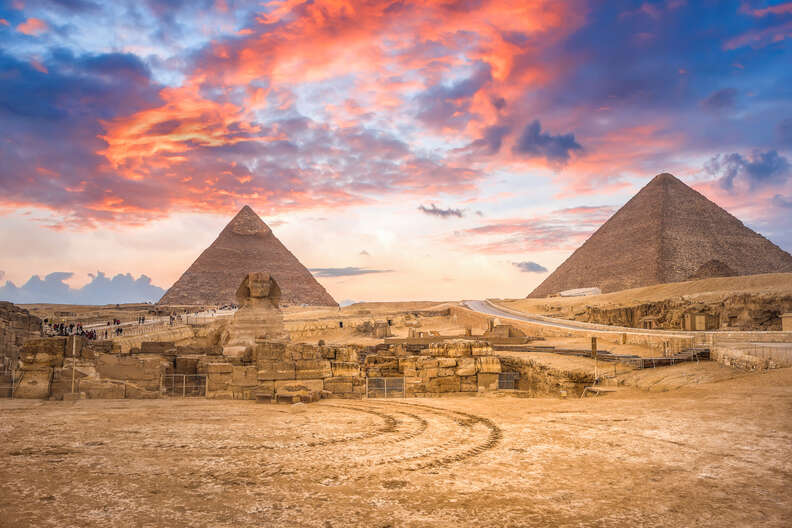 Explore the Pyramids and So Much More In Egypt's Ancient Capital
Cairo is a city that has captured the imagination of travelers for nearly two millennia. With its legendary, historic pyramids, ornate mosques, bustling streets, and ancient architecture, the sprawling and awe-inspiring Egyptian capital has a rich and regal history that transcends beyond books and continues to evolve into the present. With more than 20 million inhabitants in the metro area, it's the second largest city on the African continent, making it big enough to fit the population of New York City inside two and a half times over.
It's a city that all but demands to be explored, and with the US Dollar currently at 1 to 16 Egyptian pounds, now is an optimal time to get to know this legendary city, which juxtaposes centuries of Egyptian history with ultra-modern city life. It's a place where rich culinary traditions meet glam shopping and nightlife, a city vibrant with residents and tourists alike discovering something new around every winding bend in the road.
Having had a political revolution in 2011, a lot of tourists still wonder if Cairo is a safe place that is worth seeing. The short answer is: yes and yes. You'd be a fool to miss out on this majestic oasis that merges ancient traditions, cultures, and art with contemporary comforts that make it much easier to navigate like a pro. Here's what you need to know, and how to maximize your visit in this stunning city.
When to visit Cairo
It's always best to consider a trip to Cairo when the weather is milder, the crowds are smaller, and the accommodations cost much less. The summer months can be very daunting, especially when navigating around outdoor spaces in the heat. From October to November and March to the beginning of May, the temperatures are much less overbearing and the city is not as packed with tourists. Surprisingly, Cairo does have a cold winter from December through February, so you're more than likely going to need a coat handy and other winter wear if you book a trip during that time.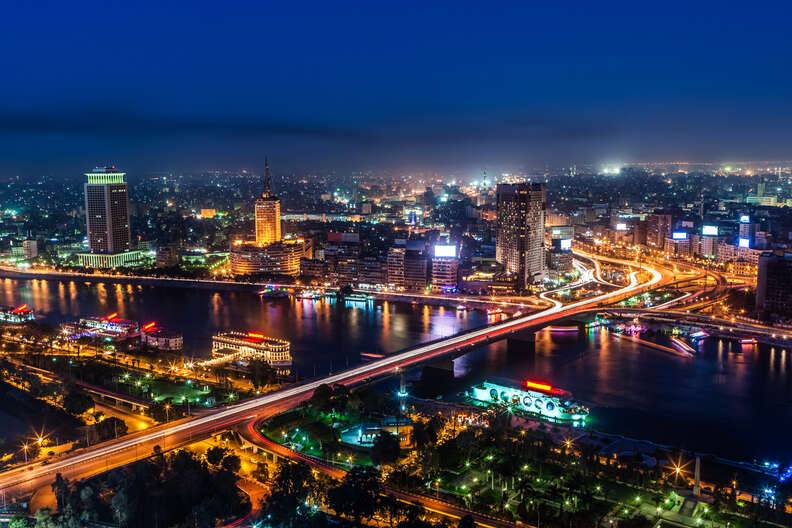 The best areas to stay in
Cairo is huge: The metro area covers a massive 660 square miles, so deciding where to stay based on the experience you want to have is essential in maximizing your trip, whether you're there to see historical sites, explore the city, or just kind of relax. These areas are your best bets.
New Cairo: This charming suburban area is fantastic for shopping and less-crowded streets. It's much more familial and offers a few high-end hotels not too far from the airport, including Dusit Thani Lakeview and The Westin. New Cairo is a great area to stay for folks who get paranoid about missing flights because of traffic -- it's a scant 20 minutes from the airport. It offers more of an open, modern-Cairo neighborhood experience, and is home to the American University of Cairo, luxury accommodations, western food options, and beautifully constructed malls such as Point 90, Cairo Festival City, and Downtown Katameya.
Maadi: This lively area of the city along the Nile is lively and foreigner-friendly, with western-style restaurants and hangout spots/cafes along Road 9. Although located in a predominantly Islamic country, many visitors frequent this area because they can find alcohol along with a robust nightlife at places such as Cheers Bar and The Tap Bar and Grill. The best options for accommodations in this area are Airbnbs due to the high congestion and wealth of options therein. The Airbnbs are often furnished with more updated looks to attract guests, and are more or less essential due to the lack of hotel options in Maadi.
Zamalek: Parallel to the historic Nile River, this area is surrounded in upscale shops, cafes, and felucca boat rides. Many people gravitate toward staying in this area due to its close proximity to tourist sights including the Cairo Opera House, El Sawy Culture Wheel, and Cairo Tower. Also, the beauty of the city when it's lit up in the evening is majestic, and gives this older, busy Cairo development, have more of a modern flare. For accommodations, The Sofitel Cairo Nile El Gezirah boasts itself as an "urban oasis": Located on its own island along the Nile, guests will be in awe of its views seen in all 433 rooms and the hotels luxurious design.
Giza: This city is the third largest in Egypt and located about 45 minutes to an hour from Cairo's international airport. More importantly, it's home of the pyramids you no-doubt planned to explore. Streets here are typically thronged with tourists and locals going about their busy day-to-day. For that essential Insta shot with the pyramids as a distant backdrop, the Marriott Mena House is the way to go. It's a tourist-favorite that puts the pyramids in a first-class view and brings both the posh accommodations and a little history: This popular tourist accommodation was once a royal stay for Isma'il Pasha, the Viceroy/Khedive of Egypt from 1863 to 1879, and later turned into a hotel in 1886.
You absolutely need to visit the Pyramids of Giza...
Egypt houses over 100 pyramids. The most famous of them all -- and probably in the world — are the Pyramids of Giza. The three main pyramids in this cluster include the Great Pyramid of Khufu, the Pyramid of Menkaure, and the Pyramid of Khafre, which stand behind the Sphinx. The largest of the three, the Great Pyramid, stands at 481 feet tall and is big enough to climb portions of the outside and tour the inside. It's also is the first pyramid you come to when walking into the main gate and is the oldest of the three.
These pyramids draw millions awe-struck and bewildered tourists annually, and have for centuries. Made of limestone blocks, the smaller ones have been measured to weigh roughly 1.3 tons, while the largest are 6.5 to 10 tons. The magnificence of the exteriors gives way to wonderment upon seeing the multitude of tunnels and rooms that exist on the inside.
...Just know what to expect
When opting to tour the inside of the Great Pyramid, bring water. If you're claustrophobic or prone to passing out, do not go inside: It is an extremely hot, condensed space that requires climbing and duck-walking to see the inner portion. Due to the physical exertion involved, it might also be hard to tackle if you're traveling with small children.
Be sure to give tours a minimum of two hours because the area is widespread, the outdoor landscape is multileveled with hills and rocks, and it's a site that's worth taking your time — getting a morning start is your best bet.
Additionally, be very wary of anyone who approaches saying that they need your ticket to visit the pyramids: It's a lie, just keep moving. Also, if someone asks to take your picture, they will expect money for it.
Although the Pyramids of Giza are a more popular site in Cairo, the oldest pyramid is less than an hour from Giza: The Pyramid of Djoser, which became a UNESCO World Heritage Site over 40 years ago. Also known as the Pyramid of Saqqara, it is over 4,700 years old and was built by Imhotep, a chief official to the Pharaoh of Djoser. This ancient site is very serene and less touristy, making it worth the extra time and distance. You'll need to go by car, since it's not accessible by public transportation, but getting there is pretty easy.
MORE: Scientists Just Discovered a Giant Mysterious 'Void' Inside the Great Pyramid
You're going to want to eat everything in Cairo
For breakfast, seek out foul. Pronounced "fool," the dish is comprised of mashed fava beans seasoned with spices, garlic and chili pepper and served with Egyptian flatbread and pickled veggies. It's a very cheap dish that is filling and something I'd enjoy regularly if I could. Foul is traditionally served on silver food carts or at mom & pop restaurant nooks. It is the ultimate eat-with-your-hands dish that locals and tourists alike love.
At lunchtime, koshari, pronounced 'ko-sha-ree,' is my absolute favorite dish in Cairo. It is a combination of macaroni noodles, vermicelli pasta, chickpeas, and lentil beans accompanied with garlic vinegar, marinara, and chili sauce and topped with crispy onions. This dish can be eaten family-style at a sit down restaurant or grab on-the-go at restaurants like Sayed Hanafy or El Tahrir, two koshari-famous eating establishments that are widespread throughout Cairo. It is a modest dish that is also very inexpensive, but is the quinnessential taste of Cairo.
For dinner, think outside of your comfort zone. At Kababgy El Azhar Farahat Restaurant, located in Old Cairo in the area of El Azhar, stuffed pigeon is the star of the menu. A local delicacy, the pigeon is first stuffed with rice that is seasoned with bayleaf, cardamom, and cinnamon before being tenderized in a stock and finally pan seared. The pigeon is served with a traditional Egyptian salad which is usually chopped tomatoes, onions, and cucumbers and a small bowl of tahini. Anthony Bourdain, in his roadmap to Egyptian eating, described this dish as "utterly delicious."
Other dishes that are a must-try include hawawashi, a spicy, minced meat prepared with peppers and onions and served inside a flaky pita bread; shawarma; and falafel, which is at its best served inside Egyptian pita bread with tomatoes, cucumbers, and tahin.
How to get around Egypt's capital
Cairo's public transportation includes buses and trains. However, the buses can be extremely crowded and, as with many huge cities, pickpocketing is an issue, so make sure to secure your belongings and stay vigilant. In addition, if you're a novice to the bus routes, you will have to learn by trial and error: There's no set website or formal schedule with the pick-up and drop-off points, which means if you are unfamiliar with where to get on and get off, you could end up completely lost.
The metro operates with two-main lines that navigate to some of the main tourist sights, including the Nile and the Pyramids of Giza. The metro train in Cairo was the first full metro system built in Africa and operates from 5am to 12:30am, with extensions during Ramadan.
Long-distance trains are also available in Cairo, and are best used when traveling to cities such as Alexandria, Aswan, and Luxor. Cairo's two main stations are Ramses in downtown Cairo and Giza. Tickets can be purchased online without the hassle of waiting in unruly and crowded lines.
Cairo has walkable areas, but is not typically a walkable city. Sidewalks are not consistent throughout the city and can often land you walking in the street, even in suburban areas such as New Cairo City. That's doubly dangerous here: due to non-strict traffic laws, cars tend to make their own rules, set their own speed limits, create extra lanes, and ignore the small number of traffic lights that exist in the city. Curbs are often much higher off the ground in Cairo as a direct result, so it's important to pay close attention when walking so you don't abruptly step into harm's way.
As a part of its efforts to create a more modern, safer alternative to fighting with taxicab drivers over prices or jumping on and off crowded buses, Cairo offers Uber and Careem, a similar car service based in the Middle East, Africa, and South Asia. Both services will get you to where you need to be, but make sure to know the correct name and address of where you'd like to go: many drivers have a small understanding of English and will simply follow the GPS.
Uber in Cairo is very similar to everywhere else, but with a couple twists. You can pay in cash or use a credit card instead of paying through the app. In December 2018, Uber CEO Dara Khosrowshahi launched the first bus service that would connect riders with the already established minibus services in Cairo. The Uber Bus is a very cost-effective way to get through the congestion of the city.
Know the language and stay safe while exploring Cairo
Walking in Cairo streets is not the time to be aloof. There's no "right" time to cross the street: Just as the locals do, you'll find yourself playing Tetris to get from one side to another. This means swiftly walking or running in between cars as you find any break in traffic. Basically, always have the expectation that a vehicle is coming, even if you don't see it.
Also, while many may assume that being in a predominantly Muslim country women need to be completely covered, that's not the case. Out of respect when visiting holy sites, dress modestly and be sure to have your legs and arms covered. However, when walking around the streets wear what's comfortable, keeping in mind that some outfits can bring you attention as a foreigner. In more rural areas like Giza or the Old Cairo area of Khan El Khalili, blending in ism more beneficial than standing out.
Haggling is a way of life here. And if you're a haggler by nature, it'll be a lot harder to negotiate prices if you appear to look like you have money to burn in shops and at markets. You're already an easily identifiable foreigner, especially if you're unfamiliar with the Egyptian Arabic language, but the flashier you appear the more prices will magically triple.
In terms of language, this is a place that draws tourists from all over the world, though you shouldn't assume people you interact with are going to understand English. Some phrases that are good to help with navigating your trip are:
Sabah El-Khair (sa-bah ul care): Good Morning
Laa, shukran (shoo-krahn): No, thank you
Aywa (aye-wah): Yes
Bas! (bus): Stop!
Bekam (became): How much?
Yameen: Right (opposite of left)
Shemāl (shay-mel): Left (opposite of right)
Aala tuul (ala-tool): Straight (directions)
It's also helpful to learn numbers up to 100. This will save you a lot of time when shopping, getting transportation, and gaining a general idea for the costs of food and other things.
MORE: How to Haggle While Traveling Abroad
Imani Bashir is a full-time writer on a quest to see if all Caramel Frappuccinos are created equally. Follow her at @sheisimanib.