Welcome to Cassadaga, the Psychic Capital of the World
Mediums, psychics, vortexes, and fairy gardens await in this backwoods Florida town.
Photo by Joleen Zubek for Thrillist
Photo by Joleen Zubek for Thrillist
Not far from Orlando's theme park corridor lies a much more discreet—and, many would say, far more otherworldly—attraction. The tiny town of Cassadaga is home to the largest Spiritualist community in the Southern United States: the Southern Cassadaga Spiritualist Camp.
Never heard of Spiritualism? It's a religion based on the belief that spirits can communicate with the living (through mediums)—and that there is a continuity to life wherein you don't die, but rather your unique identity lives on eternally on "the other side" of life.
It all started during a Victoria-era seance, where the camp's founder, George Colby, was foretold he would go south to initiate the community. Stick with us here. Allegedly, Colby's Native American spirit guide, named Seneca, led him to Jacksonville and then by foot through the truly wild wilderness of Central Florida. Today, Cassadaga covers a few oak-lined blocks and has 55 homes where Spiritualists reside on approximately 57 acres. In addition to the 37 mediums and 28 healers, Cassadaga is home to psychics and palm readers in shops selling crystals and pendulums, a forested trail lined with magical trinkets, a haunted museum full of creepy dolls, and more than one vortex.
Mediums officially certified by the Southern Cassadaga Spiritualist Camp don't use tarot cards, crystal balls, and the like to channel spirits, but rather rely on their mental gifts. (Although you'll find tarot card readers, Reiki healers, past-life regression specialists, Akashic record readers and others here, too—particularly at Hotel Cassadaga, which doesn't belong to the camp, but deals in its own spiritual healings and services).
And if you think you might have a "gift" for channeling "Spirit" (since, according to Spiritualists, it's inside us all), you can come to the camp to sit in on a service or course at the Colby Temple, study mediumship, and even become a certified medium yourself one day. Or you can just come explore and have some foretellings of your own. Read on to see your future in Cassadaga, Florida.
Book a reading from the camp's official welcome center
Windchimes, totems, and sunflowers (a symbol of Spiritualism) adorn the historic homes of Cassadaga, spread across just a few pretty blocks. It won't take you long to find the camp's official welcome center, which should be your first stop. The building occupies the main corner in town and doubles as a gift shop and meeting space for Spiritualists (and those who've come to learn). Inside, a sign above reads "Expect a Miracle."
After you've browsed the wide array of pendulums, crystals of all kinds, fairy figurines, dream catchers, wind chimes, souvenir magnets, new age books, incense sticks, and more, head to the back room.
Here, a dry erase board is scrawled with the names of the camp's certified mediums available for readings that day (there's a wall of business cards for others who may or may not be on duty, too). Then ring up the medium or healer who most speaks to you, and see if you can slot in an appointment for a session.
The camp's mediums host readings mostly in their homes. So walk to your meeting place, settle in, get comfy, and wait for your miracle when whichever spirits "come through." Most readings cost around $70 for half an hour, and most mediums are cash-only.
Stay at a haunted bed and breakfast with two vortexes on property
A short walk from Cassadaga's historic district, The Ann Steven's House makes for a supernatural night. The 10-room property, split between the main house and a carriage house, was built in 1895 by a Michiganer named Ann Stevens, who was one of the early Spiritualists to come develop Cassadaga.
Listed on the National Register of Historic Places, the bed and breakfast is said to be visited (don't say "haunted" in these parts) by the spirit (don't say "ghost") of a little girl named Marjorie and a gardener named Virgil who lived nearby. Both have been seen during spirit-hunting rituals on the property and by guests, purportedly, too. A doll that psychics say belonged to Marjorie sits on its own little chair in the bed and breakfast's parlor.
The inn's gorgeous grounds are fringed by 123-acre Colby-Alderman Park, where you can walk along deer-prone hiking trails and scout for owls at dusk. But a more unique part of the property are the inn's two vortexes.
In case your own energy intuition doesn't lead you right to them, the owners, Spiritualists who moved here from Texas, can point you to the vortexes. And actually, standing over one, a pendulum held between one's fingers will start moving in rapid circles due to no apparent reason. Trippy stuff, to be sure. The vortexes are open for inn guests only. But on Thursday nights, a small pub here, Webster's Tavern, welcomes the public starting at 7:30 pm.
Have a seance or reading at Hotel Cassadaga
In addition to the official welcome center for the Southern Cassadaga Spiritualist Camp, which is right across the street, Hotel Cassadaga is a main cornerstone of the town and likely to be your second stop here, if not your first.
The two-story property is independently owned and not affiliated with the Spiritualist camp in any way—but it is reportedly haunted. Children aren't allowed to stay overnight at the hotel, yet guests consistently report waking to the sounds of their laughter and tinkling tricycle bells in the corridors.
You can also consult specialists here. Browse the wall full of brochures in the lobby (just outside the reception desk/gift shop, where hundreds more crystals-for-purchase await) and book a session with a healer that speaks to you—perhaps someone to do a past life regression or a tarot card reading. There are monthly seances held at the hotel, too, as well as mini readings (10 minutes), in case you don't want to splurge on the half-hour or hour-long rates.
The hotel is also the only place to eat in Cassadaga's historic district. The onsite restaurant, Sinatra's, is helmed by a chef from Italy, with offerings like bruschetta and a mean burrata on the menu. The food is surprisingly good, but what's even better is arriving here on a Friday or Saturday night, when a piano bar and karaoke take over the restaurant and a surprisingly lively nightlife ensues.
Shine a flashlight on possessed dolls and ouija boards at a creepy AF museum
Across the street from Hotel Cassadaga and next to a psychic shop, look for C. Green's Haunted History House & Museum.
"Part history, part oddities and all haunted," according to its website, the museum occupies a former post-office from the 1900s that's been in the same family for three generations. It's totally worth the $10 admission fee (or free for kids eight and under, who are likely to be terrified by the place) to spook yourself for a spell.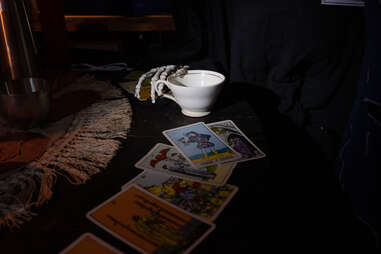 Inside, a warren of nine rooms get darker and darker the further back you venture (you're given a flashlight to explore). There's a haunted doll collection that might make you gasp it's so ghastly, a haunted Ouija board collection, old town photos, and artifacts including George Colby's original seance table.
Naturally, there's a gift shop onsite, with haunted dolls (designated so by—who else?—psychics who've felt their vibrations) that you can purchase alongside the usual array of incense and, yes, more crystals, just in case you haven't already purchased your fill.
Visit the local cemetery to see The Devil's Chair
Just north of the camp, on Kicklighter Road, you can stroll past tombstones from the 1800s belonging to early Spiritualists in the Lake Helen-Cassadaga Cemetery. George Colby, who died in 1933, is laid to rest here, with just a humble, unassuming marker atop the ground. But there are rumors, so far unproven, that his body isn't actually interred here.
People also visit the cemetery—which closes at sunset—for a more curious reason. They come to see a graveside brick wall and bench (a noted 19th-century memorial sculpture) known as The Devil's Chair. One sinister legend maintains that those who take a seat here will find themselves visited by the devil himself. But a stranger tale also exists. As local lore goes, an unopened can of beer left on the bench will be empty by morning time. Before you conclude that either pranksters or the gravekeeper get a lucky gift on the regular, consider this twist: the liquid disappears from the can whether or not it's been opened, taken, or still present but completely sealed. There just might be some thirsty spirits about.

Wander through a fairy forest full of manifestations, tributes, and dreams
It's a five minute stroll from the welcome center to the Fairy Trail and Horseshoe Park. This beautiful wooded space on the outskirts of town serves up a slice of old Florida forest that must look just as it did when Colby first arrived back in the day—with a few additions.
As you enter the park, you pass through white pillars into the realm of "nature spirits," according to a sign. Birdsong fills the air as you walk along pathways shaded with towering oak trees, and unseen critters (or is that something else?) make crunching sounds in the undergrowth. But it's the addition of sentimental tokens left by visitors that will most likely capture your attention and imagination.
Scattered throughout the woods, you'll find a figurine of a gnome, fairy, or toadstool; a child's note in a mesh bag asking fairies to appear ("They're everywhere," they've written. "Send me a sign."); Tibetan prayer flags; holiday lights; Mardi Gras beads; and one very weird statue of a limbo-ing Grim Reaper. People leave photos of loved ones, handwritten notes of regret and hope, polaroids of orbs captured around town, and inspirational messages that say things like "You are loved" and "Embrace the journey." And, of course, there's the odd opportunist who's left their business card, too, for a moving service or mortgage broker, looking to capitalize on the fortuitous energy of the place. This is one of those places that can really be as magical or inner-childlike as you want it to be.
Terry Ward is a freelance travel writer in Tampa, Florida, who has lived in France, New Zealand, and Australia. Follow her on Instagram and find more of her work on terry-ward.com.